Our Cars: Audi A6 3.0 TDI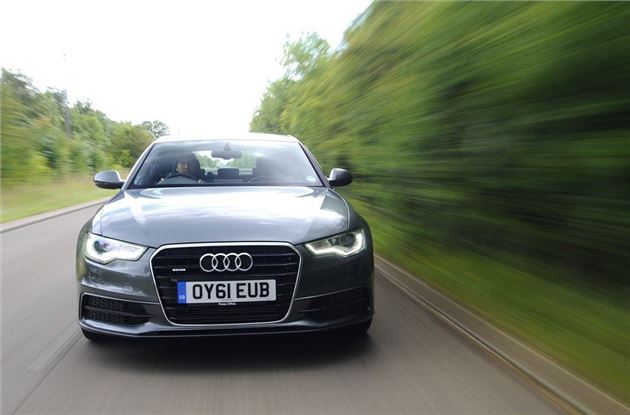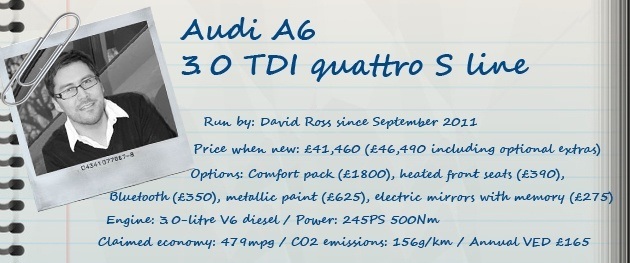 10 April 2012: Auf Wiedersehen to our Audi
The Details
| | |
| --- | --- |
| Current mileage | 10881 |
| Claimed economy | 47.9mpg |
| Actual economy | 43.2mpg |
It only seems like a few weeks ago that our A6 arrived, all shiny and resplendently grey. But just six short months later the Audi is going back - and it will be sadly missed. We've covered more than 10,000 miles in that time and the A6 has proved faultless throughout. Not that I should be surprised. From day one it's been earning its keep, taking us to the Frankfurt motor show in October and since then it's racked up the miles, mainly on Britain's motorway network.
This is the environment the A6 is truly designed for. It's superbly refined at speed and incredibly quiet while the great S line sports seats provide good side and lumbar support. If you drive long distances you'll appreciate what a different a supportive seat makes. There's also plenty of room - you'll particularly notice the legroom if you're on the tall side and it's better than a BMW 5 Series in that respect. Despite having the privilege of driving a variety of different new cars during the course of my job, it always feels good to get back behind the wheel of the A6.
My one reservation about the A6 was the ride. As it's an S line model is gets stiffer sports suspension and a lower ride height. Combine that with the low profile tyres of the big 20-inch alloys we specified and it wouldn't appear a great recipe for comfort. However, it's proved surprisingly good and only really suffers on the kind of rough road surface that would similarly affect most cars. It's never crashy or bouncy and feels anything but stiff, yet the A6 is still very composed in corners with little in the way of body roll. It certainly doesn't feel like a big car.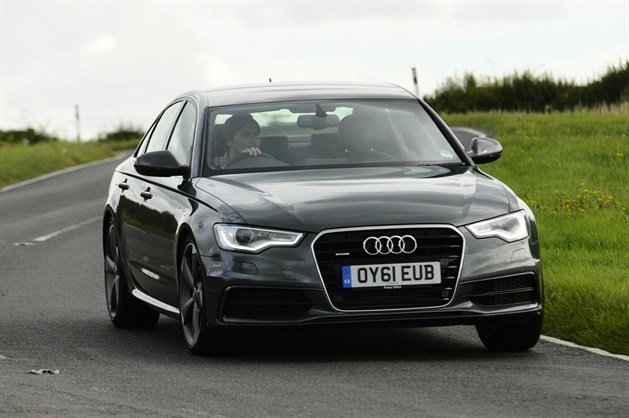 I'm pleased I went for the quattro model too. It's more expensive than the front-wheel drive 3.0 TDI, but does have more power with 245PS compared to 204PS. It also gets an extra 100Nm of torque plus it's fitted with the more responsive S tronic automatic rather than the Multitronic CVT gearbox. Having four-wheel drive certainly made a difference when the A6 had to cope with snow and ice, as did having Dunlop winter tyres fitted.
The extra traction is very noticeable if you drive a quattro and then a standard front-wheel drive A6 back to back. The quattro is better away from corners or roundabouts, putting its considerable power down with much more ease. The S tronic gearbox is much more responsive too with faster shifts, so it kicks down with a bit more vigour.
I still love the look of the A6 too. It may not be especially daring, but in my opinion it's unfussy and stylish with a purposeful front end. The revised Audi A4 now shares the same look while the soon to be launched Audi A3 has a similar rear end - surprising considering how much smaller it is. The front daytime running lights give it a very distinctive look as do the rear light clusters. And with its Daytona Grey paintwork and those matching titanium-look alloy wheels our A6 still gets plenty of looks.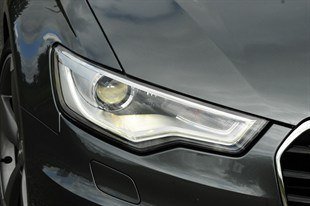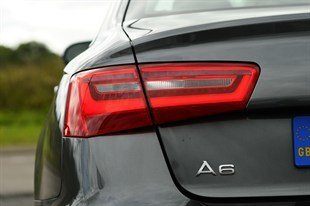 And the negatives? Well nothing has gone wrong in the last six months, not that you'd expect it on a car of this quality. My only gripes are that there's no iPod connection in the A6, although the absence of one in our car was purely my own fault for assuming it would come with as standard rather than be an optional extra. It does have an SD card slot as standard but when you're used to an iPod it's a bit of drag to have to spend time sorting out another medium for music.
The obvious comparison for anyone considering an A6 is with the BMW 5 Series. But there's also the Mercedes-Benz E-Class plus the Jaguar XF. And it's the the last of these which will be replacing our A6. Like the Audi it has a 3.0-litre V6 diesel engine with similar power and torque so it will be interesting to go from one to the other.
The A6 will be very sadly missed though. As well as the good looks (and those great wheels), its blend of effortless performance, tidy handling and superb refinement has made it the perfect car. Audi likes to talk about the quality of its cars and the engineering that goes into each model. Six months with the A6 has proved that it's not just all talk. It's a car that has quality running throughout it.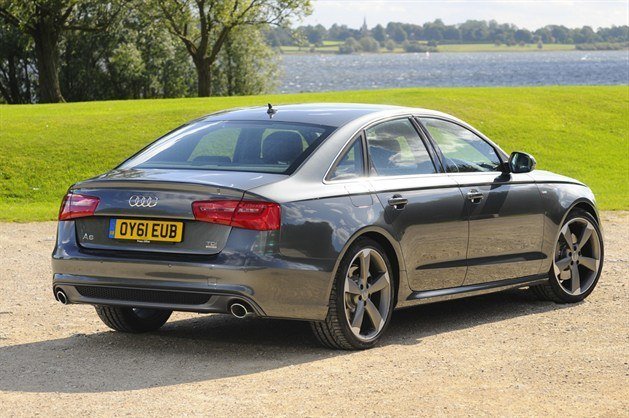 « Earlier: The front fog lights mystery