8 Reports of Volkswagen Tiguans Losing Power After EA189 Emissions Fix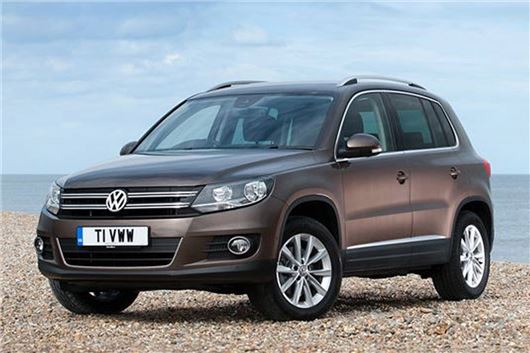 Published 03 September 2016
We have now received eight reports of Volkswagen Tiguan TDIs losing power and rattling between 1,500 - 2,250rpm After the EA189 emissions software remap.
The remapping programme for Tiguans seems to have started in early July. We are not aware of any widespread problem yet with EA189 engines in other vehicles after the remap. And the problem seems to be mainly with post-2010 Tiguan 2.0TDI 140 Bluemotion DSG automatics. 
It is manifested in a lack of torque between 1,500rpm and 2,250rpm leading to a "rattle" and the the transmissions changing down. We think the software remap reduces the fuelling so we have recommended owners to try their engines on higher cetane 'superdiesel' such as Shell V-Power Nitro Plus or BP Ultimate that generally gives more torque at low rpm and might help.
These are the reports as they came in:
12-7-2016: Report that VAG NOx software fix to 2014 Tiguan 2.0TDI 140 DSG has resulted in a significant clatter under load at speeds up to 40mph and engine speeds up to 1600rpm. Suggests that the software fix reduces fuelling and therefore torque at low rpm.
11-8-2016: Another report of a Tiguan TDI, this time a 2012, developing "a horrible rattle in engine when changing up between 2 and 4." VW told owner she needs to pay for a diagnostic test and if it shows that it is due to the fix then they will refund. She had the fix done by a mobile unit from VW direct. She asked the nearest VW dealer how much this diagnostic test would cost and they quoted £100 but also said they had seen several Tiguans with this problem following the fix and that there was updated software that could be applied and if she'd had the emissions fix with them they would suggest doing this first before a diagnostic test. She needs to get onto the original supplying VW dealer and tell him to sort it out FoC or she will sue.
14-8-2016: Third report of knocking from the engine of a Volkswagen Tiguan 2.0TDI after the VAG EA189 emissions software fix, this time on a 2013 Tiguan. It recently went to the VW dealer to have the software update supposed to address the emissions problem. Prior to the update the car was running perfectly well, but after the change it started to rattle very noticeably under light to moderate acceleration along with increased fuel consumption. Subsequently the dealer took it back for investigation (apparently involving info from the VW factory) which took a week. (Owner was provided with a loan car.) This resulted in a further software modification. Owner got car back a week ago. Since then it has started to exhibit the same rattling and fuel consumption symptoms. Having given it what he thinks is a reasonable amount of time and mileage, owner will report the present problem on Monday 15th and see what the dealer proposes to do. (This Tiguan owner wrote again on 3-9-3016: "The latest is that my car has been with the dealer for over a week, during which they were to test drive it and investigate further. The car was returned on Thursday last. The dealer says that they were unable to identify any problem and technically it's OK. I can confirm that the rattle problem has not gone away, and consumption is significantly worse than prior to the recall. I now intend to speak to VW GB on Monday for their comments and have registered my interest with Slater Gordon (solicitors).)
17-8-2016: Fourth report of emissions modification to a a 31k mile 2012 VW Tiguan 2.0TDI failing and leaving the owner with "a noisy, unresponsive machine completely at odds with the driving experienced prior to modification. The car was returned to the dealer who, in concert with Volkswagen, retained the car for almost 6 weeks. It was returned last week and if anything is worse, possibly dangerous with unreliable throttle response." The dealer visited the owner's home on 16th August, acknowledged the issues but has done nothing. He cannot fix the car to a satisfactory standard and will not buy it back. Owner had the car from new and it is modified for disabled use.
27-8-2016: Fifth report of rattle from engine of WW Tiguan 2.0TDI after the EA189 Emissions Defeat fix. This was a 2014 Tiguan, performing perfectly before the one and a half hour fix, but started to rattle on the owner's drive home from the dealer. The noise gradually got worse. Owner returned it the dealer, dealer mechanic confirmed the fault and described it as "pinking". Dealer then asked owner to bring car back on 30th June 2016 and has had it ever since. VW sent a specialist from HQ who couldn't fix it. Car then transported to VAG HQ at Milton Keynes. Dealer has supplied courtesy cars but owner has not had use of his Tiguan for 2 months. VW Customer Services in Leeds told the owner his was a "unique case". So that's five "unique" cases reported to HJUK.
3-9-2016: Sixth report of problems after 'emissions fix'. 2015 VW Tiguan 'fixed' noticed that the engine sounds noisier and the idling speed seems faster. The mpg is not good anyway. 
3-9-2016: 7th failed emissions defeat software remap reported on a VW Tiguan. This is a Tiguan 2.0L 140bhp Bluemotion DSG. Emissions Software Service Action 23R7 version 9977 was installed on 5th July 2016 by Cheltenham Volkswagen. Recorded mileage was 22,789. Owner was given a certificate of completion which reiterated the statement of VW's June 2016 letter that performance, fuel economy and noise would not be affected. Owner was very unhappy with the loud knocking noise between about 1,500-1,800rpm (typically 30mph in 4th gear auto). He contacted the dealer and arranged for a road test with a technician. The technician was very concerned about the noise and didn't want me to drive the car. Owner was loaned a courtesy car for a week. It took a week for dealer to get a decision from VW technical department on what to do next. He had in the meantime checked that the software had been correctly installed. He was told to install version 9978 on 22nd July. He did this and the car was returned to the owner with a copy of the report which stated "road tested again, all OK". It was a very hot day when he collected the car, but when he was able to reduce the aircon fan speed he could hear the noise again. It was slightly less loud, but still within the same rpm range. He returned the car to the dealer on 11th August, having run the supermarket fuel onto reserve as advised and refuelled with Shell Regular Diesel and was again lent a courtesy car for 2 days whilst a further investigation was carried out. He was informed that version 9977 had caused complaints on some other cars and that the 9978 version was working OK on my car, the noise now being "injection noise". He was advised to again run the fuel onto reserve and refuel with Shell, which I did. There was no reduction in noise. It appears that the 23R7 recall instruction to technicians did not include a road test. In short, after two attempts, VW has failed to reinstate the car to its previous noise level, whilst performance and economy appear to be OK. It was previously a very smooth engine, with no roughness at any rev. range. [Repeated HJ suggestion is to try running on higher cetane Shell V-power or BP Ultimate.]
3-9-2016: 8th report of post emissions defeat remap on a Tiguan: "The 2012 Tiguan has just has the emissions fix done for VW by Lookers and it seems down on power. It is holding onto lower gears in the auto box when it would have changed up and drops down a gear at 70 mph on long slight inclines. Both are new characteristics and the engine sounds more strained. We have just been to a Country Show on short grass and parked on a hill and there was a smell like hot or burning clutch which again is new. Car has done 33,500 miles and is booked for an annual service." ["Hot" smell might be the DPF actively regenerating.] 
Comments
Author

Honest John
Latest