Audi quattro coupe concept
It's been 30 years since the original Audi quattro was first shown and to mark the occasion, Audi has unveiled this - the Audi quattro concept.
It uses the same 2.5-litre turbocharged engine that's in the TTRS, with a whopping 408bhp. This combined with a lightweight aluminium body to turn-in some serious performance figures, powering the quattro from 0-60mph in just 3.9 seconds.
The Audi development engineers shortened the wheelbase by 150 millimeters (5.91 in) and lowered the roofline by around 40 millimeters (1.57 in) compared to the four-seat coupé on which it is based. Like its predecessor from 1984, the 2010 show car is now also a two-seater. The heavily modified body is made primarily of aluminum, with the bonnet, the rear hatch and other components made of carbon.
The low weight of the superstructure leads to significant secondary effects in other components of the vehicle, such as the transmission, the chassis and the brake system. As a result, the Audi quattro concept weighs just 1,300 kilograms (2,866.01 lb), almost exactly the same as the Sport quattro from 1984.
Inside, the instrument cluster is completely digital. The large, three-dimensional visor-like display contains all of the information required by the driver and thus also replaces the classic MMI central display. The driver will find another reminder of the Ur-quattro's cockpit on the sides of the cockpit cowl: On both the right and left sides are four flat buttons. The ones on the left control the stopwatch function in racing mode, and the ones on the right are for the menu of the MMI system.
A customizable web radio can use the driver's mobile phone to connect to digital radio stations all over the world, if desired, for a sheer endless array of genres and musical styles. Playback of the driver's own files and playlists is also supported.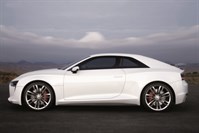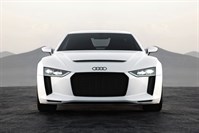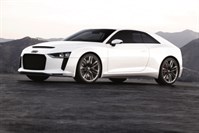 Click here to read our 2010 Paris Motor Show A-Z guide