Audi A3 Cabriolet (2014 – 2020) Review
Audi A3 Cabriolet (2014 – 2020) At A Glance
The second generation Audi A3 Cabriolet is an elegant and sophisticated-looking car. Its long, flowing lines work much better than the dumpy original, looking more like a premium convertible rather than a drop-top Volkswagen Golf with a posh badge. The likeness to the pricier Audi A5 Cabriolet is obvious. A good quality interior is another bonus, while engines are largely on the punchy yet economical side – with the exception of the rorty, high-performance S3 Cabriolet. 
Compact and relatively affordable convertibles have a small but loyal following here in the UK. You'd think, with our weather, we'd be the last people to favour open-top four-seaters, but perhaps it's because the sunshine feels so special that British buyers like cabrios.
Audi was an early mover in this sector, and gained plenty of publicity in the early 1990s when arguably the world's most famous woman, Diana, Princess of Wales, drove an Audi 80 Cabriolet. The A3 Cabriolet is a modern-day equivalent to that car, offering greater affordability and accessibility than the more expensive A5 Cabriolet – and, as a result, easily outselling its larger sibling.
Elegant styling is an undoubted draw. This second generation A3 Cabriolet is longer and leaner than its predecessor, giving a more upmarket and sophisticated look. The fast-fold soft-top hood is smoothly integrated and its reasonably swift operation – up or down in 18 seconds – is handy, as is the fact it can be operated at speeds up to 31mph.
Inside, the Cabriolet carries over the same sophisticated interior as the regular A3. This includes an option of a fully digital instrument cluster with widescreen sat-nav mapping, giving a futuristic feel behind the wheel. Quality is excellent, as is the premium attention to detail. It's reasonably spacious in there as well – certainly in the front, and not bad in the rear.
Despite its upscale vibes, engines are on the sensible side, proving efficient and economical to run. They're not slow – every motor, be it diesel or petrol, has a turbocharger for good pulling power – but the most efficient turn in extremely impressive fuel economy figures.
We particularly like the 1.4-litre TFSI (later enlarged to 1.5 litres) as a great all-rounder, especially when paired with one of the slick-shifting S tronic automatic transmissions.
The A3 Cabriolet is smooth to drive, in that familiar Audi way. It's not exciting – you'll want the BMW 2 Series Convertible for that – but is calm and unruffled in almost all situations. Sit back, relax and enjoy the ride: it's great for fuss-free cruising with the roof down. The only time the ride gets a bit firm is on higher-grade S line models fitted with the largest optional alloy wheels.
S line is, admittedly, our favourite trim, because it looks good from the outside and has nice sports-style seats and interior finishes within. Even entry-level SE is well equipped, though, and doesn't feel particularly basic. Sport spec is a good all-rounder, as it has crisper styling details without the price tag of S line models.
Speaking of prices, early cars can now be found for less than £15,000. As the A3 Cabriolet has only recently been phased out, this is a bargain way of getting into something that still has a very contemporary feel. S line versions are generally found from just under £20,000.
Sitting at the top of the range is the high performance S3 Cabriolet, with plentiful power, spluttering exhausts and a suitably hunkered down feel behind the wheel.
It's exciting, but we think the more easygoing nature of the regular A3 Cabriolet is preferable. It's easy to see why buyers are so loyal: it's just the thing for today's Lady Di devotees.
What do owners think of the Audi A3 Cabriolet (2014 – 2020)? Check out our
Owners' Reviews
from people who live with the car day in, day out.
Reviews for Audi A3 Cabriolet (2014 – 2020)'s top 3 rivals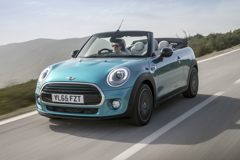 MINI Convertible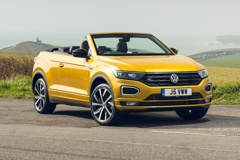 Volkswagen T-Roc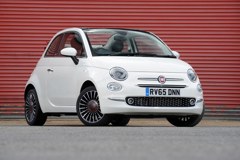 Fiat 500C
Ask Honest John
Has Volkswagen fixed the issues with the 1.5-litre engine?
"Have Volkswagen Group cured the kangarooing problem with the 1.5 petrol engine? I'm considering buying an Audi A3 convertible with this engine because all the pre-reg deals and stock cars have it. If I test drive it then what am I looking/listening for?"
In theory, yes. Although, we're still getting a few reports of issues from readers. It should be pretty obvious when you test drive it - make sure the engine's cold and see if there's any obvious kangarooing when you're pulling away.
What new car should I replace my Peugeot 206 CC with?
"I have a 15-year-old Peugeot 206 CC and want to replace it with a modern alternative, what should I look at?"
Consider a MINI Convertible. It's a fashionable choice with a premium interior. An Audi A3 Cabriolet is another good choice. Alternatively, a Mazda MX-5 is fun to drive and affordable, although not very practical.
What's the best convertible for comfort and reliability?
"I'm 75 years old and would like to buy a comfortable convertible as my last car. I'm not interested in speed but more comfort and reliability. I would also like room in the back for my three grandchildren. If possible I'd want an automatic petrol. "
A Mercedes-Benz C-Class Cabriolet would be a lovely choice, but it's not cheap - a C180 automatic starts at around £41,000. If you'd prefer something smaller, consider an Audi A3 Cabriolet. Or, as something a bit different, how about a Ford Mustang? The 2.3-litre EcoBoost will be fine for your needs.
Which is the best convertible car to buy?
"I have always wanted a convertible car and at 62 I would like to buy one. There seem to be problems with the mechanics on the roofs of some. Which one would you recommend?"
Car manufacturers went through a period of making electric folding hard-top roofs increasingly complicated, meaning they can get problematic when they get old. I'd be looking for something with a fabric roof. A Mazda MX-5 is a good choice with a very simple roof but only has two seats and limited boot space, so it may not be practical enough for your needs. You can get soft-top versions of the Citroen C1 and Peugeot 108, which are very affordable little city cars, but they're not really 'proper' convertibles. An Audi A3 Cabriolet is a good mix of style and practicality, as is the MINI Convertible.
More Questions
What does a Audi A3 Cabriolet (2014 – 2020) cost?