BMW 2 Series Convertible (2015 – 2021) Review
BMW 2 Series Convertible (2015 – 2021) At A Glance
The BMW 2 Series Convertible occupies a special niche in the market, being a compact drop-top with genuine driver appeal. Thanks to a range of powerful engines, the 2 Series impresses on the open road, but is just as satisfying for commuting through town. Having an upmarket badge on the bonnet certainly adds to the appeal of the handsome styling. There's also a well-made interior that includes plenty of standard equipment. The only drawback is limited practicality, with diminutive rear seats and a boot compromised by having to store the folding fabric roof.
Since launch in late 2014, BMW has managed to sell more than 750,000 examples of the 2 Series Coupe and Convertible across the globe. Given that sports cars typically sell in smaller volumes, it is a glowing endorsement for the car's overall package. 
Such success was undoubtedly helped by the handsome styling of the 2 Series Convertible, which boasts sharp lines and neat details. It certainly looks expensive, while the higher trim levels add an additional layer of sportiness to proceedings. The folding fabric roof drops beneath the rear deck in just 20 seconds, leaving clean lines on the exterior. It does eat into boot space, though.
Adding to the appeal is an interior that befits the premium price tag. Ignore the slightly cheaper-looking trim lower down the cabin and almost everything you touch feels like a quality component. The seats offer plenty of adjustment, with the sport versions on some trim levels adding further support for cornering. Features like a digital dashboard and leather upholstery on key models further push the premium feel.
There are, however, limits to what BMW can do with a compact convertible. While the two front occupants may feel comfortable, cramming anyone beyond child-size into the rear seats is almost a human rights violation.
They are notably short on legroom, and the roof severely limits headroom when raised. The optional wind deflector, which does a great job of stopping buffetting when cruising top-down, renders the back seats unusable. 
As mentioned, boot space is restricted by the need to store the folding roof when lowered. Even with the roof up, 335 litres of cargo capacity is hardly something to boast about. But the 220-litre space with the hood retracted means your shopping plans will need to be carefully considered. Alternatively, make use of the back seats for carrying extra bags. 
There will be few complaints about how the 2 Series Convertible drives. Compared to rivals such as the Audi A3 Cabriolet, the BMW is in another league when it comes to handling.
Its steering is incredibly precise and accurate, letting the driver thread together their favourite bends. It's also reassuringly easy to park, and will cover motorway miles without any drama. Only a stiff ride on M Sport cars with larger wheels can cause some irritation.
There's a range of engines on offer: three petrols and two diesels. Performance stretches from mild to wild, with an option to suit all needs and budgets. The two diesels favour long-range motorway cruising, especially with the excellent automatic gearbox. Alternatively, the M240i petrol delivers true sports car pace. 
It leaves the 2 Series Convertible with remarkably few faults. This is a car that absolutely nails the brief for a compact premium cabriolet. 
What do owners think of the BMW 2 Series Convertible (2015 – 2021)? Check out our
Owners' Reviews
from people who live with the car day in, day out.
Reviews for BMW 2 Series Convertible (2015 – 2021)'s top 3 rivals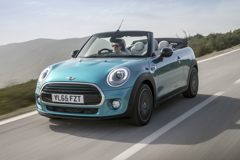 MINI Convertible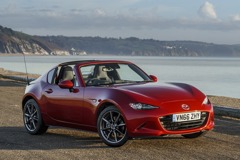 Mazda MX-5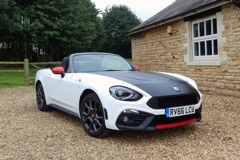 Abarth 124 Spider
Ask Honest John
Is there a two-seater sports car that has room behind for a small dog?
"Many years ago I drove an MGB GT which was basically two seats plus a shelf, but handy for a small dog. I now am looking for a more up to date sporty soft top car with similar features. What do you recommend? I'm keen on the Mazda MX-5, but there is no room and certainly no space behind the seats."
Unfortunately, I think you might have to look at something slightly bigger, like a BMW 2 Series Convertible, to have the space you require. Alternatively, consider a Toyota GT86 - it's more practical yet as fun to drive as an MX-5, but isn't available as a convertible.
What's the best physical car security device around?
"My daughter has just bought a new BMW 2 Series Convertible which has to be parked on our drive. What device would you recommend she could attach to the steering wheel for extra security?"
We've reviewed both the Stoplock Pro and the Disklok. Reviews are here; Disklok (https://kit.honestjohn.co.uk/reviews/review-disklok-steering-lock/) and Stoplock Pro (https://kit.honestjohn.co.uk/reviews/stoplock-pro-review/). However, there are better methods of security than just physical deterrents. Relay theft on keyless entry cars is one of the most common ways newer cars are stolen, and BMWs are one of the most at-risk because of their high value. The number one way to prevent keyless entry theft is to stop the key being vulnerable by blocking the signal. Thieves use relay devices (which you can easily buy online) to amplify the signal from the keyfob in your home to a transmitter near your car, which essentially tricks your car into thinking the key is present. This allows the thieves to enter the car and drive away. Faraday bags are a good preventative measure, they work by blocking electromagnetic fields. This stops radio frequencies from being amplified, all you have to do is put your key in the little bag (https://www.amazon.co.uk/MONOJOY-Blocking-Antitheft-Protection-Security-2-x-Signal-blocker/dp/B076KZF645/ref=sr_1_5?s=electronics&ie=UTF8&qid=1537178803&sr=1-5&keywords=faraday+bag) However, there are also videos on YouTube that explain how to make your own Faraday Bag using materials around your house if you don't want to spend anything.
Answered by
Georgia Petrie
What convertible should I buy for £20,000?
"I currently have a BMW 318is which is getting on and have £20,000 to spend on a new car. I would like something used that's a nice, petrol, manual and possibly a convertible. The pedal positioning in my BMW suits my arthritic knees so that has to be taken into consideration. I'm used to two doors, so not a problem, and this time hope it is a two seater."
The E36 318iS was a good car. You'll probably be happiest in a BMW 2-Series convertible. Take your choice of engines and transmissions from 6-speed manual to 6-speed and 8-speed automatic. Better petrol than diesel because that avoids potential DPF problems.
Are turbocharged petrol engines reliable?
"Our car is a BMW 120i coupe "non-turbo". The latest 218 etc has twin turbos. In view of all the warnings you have issued over the years regarding turbo bearing failure doe to overheating, would we be storing up double trouble for ourselves? We are OAPs covering about 5000 miles per year. "
Not twin turbos; twin spool turbo. The big advantage of turbo petrols in the winter is they heat up much faster than non turbos. Most petrol engines are now smaller capacity and turbocharged.
More Questions
What does a BMW 2 Series Convertible (2015 – 2021) cost?