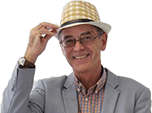 Renault celebrates 20 years of the Clio by offering 1000 at 1990 prices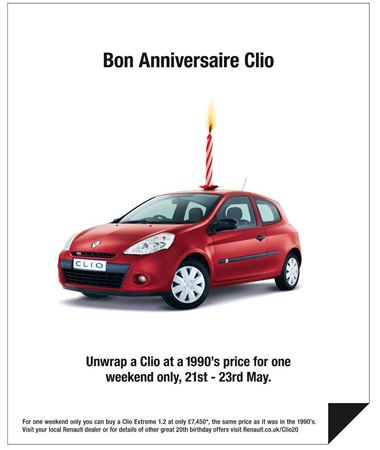 This weekend, Renault will be celebrating 20 years of the Clio by offering 1000 1.2 Extremes available for just £7,450, the same price as a Clio RL 1.2 from the 1990s
As part of a 20-day festival to mark the iconic Clio's 20th birthday, between 21 and 23 May 2010, Renault dealers will sell 1,000 Clio Extreme 1.2 models for the same price as a Clio RL 1.2 from the early 90s. Taking the modern day version's price down to £7,450. That's £3,590 off the £11,040 list price.
In addition, until the end of June, Renault dealers throughout the UK will give customers the chance to win a Clio 20th Special Edition, worth almost £15,000, simply by entering a prize draw after taking a test drive in a New Clio.
There are also 20 romantic weekends at a Mr & Mrs Smith hotel in Paris to be won. And, the first thousand customers that go for a spin, will get a copy of another French icon, the Mr & Mrs Smith French Hotel Collection guide, worth £20. Fresh off the printing presses, the book comes with a year's 'Blacksmith' membership, entitling the bearer to a wealth of perks and privileges at their hotels.
Famously launched in 1990, the Clio was the star of one of the most successful UK car advertising campaigns ever, featuring Nicole and Papa. The success of these adverts continued throughout the 90s, until the phrase 'Va Va Voom' was uttered for the very first time in the 'Size Matters' campaign starring seductive French actress, Hélène Mathieu, for the launch of the first Clio Renaultsport, the 172. Three years later, French striker, Thierry Henry, built on the phrase's cult status in his series of ads which ran from 2001 to 2004 and the phrase is now part of everyday speech, with a place in the Concise Oxford English dictionary.
Indeed, the popular supermini has come a long way since launch, selling more than 10 million worldwide, and one million in the UK. It's also still the only car to have been voted European Car of the Year twice; in 1991 and 2006.
Now in its third incarnation, the current Clio retains all of the traits of its forebears, such as impressive levels of comfort, safety and refinement.
Priced from £14,950, the Clio 20th Special Edition has 20th edition badging, newly-styled front bumpers, sporty 16" Lyria alloy wheels, sport upholstery, extra tinted rear windows, integrated Carminat TomTom satellite navigation, climate control, cruise control with speed limiter, 4 x 20W radio CD sound system with MP3 connectivity and Bluetooth hands free connectivity.
Comments