Renault Laguna (2007 - 2012)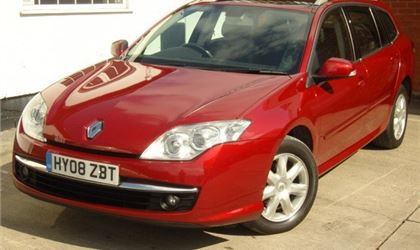 Dynamique 2.0 dCi 150 Nav Estate
reviewed by Timothy Beeston on 2 September 2020
4
Tax/Insurance/Warranty costs
5
Cost of maintenance and repairs
5
How you rate the manufacturer
Probably the best car I have ever owned
I umm'd and ahh'd for a long time before buying this car because of the high mileage 99000 at the time. It has loads of features, phone, navigation, cruise control, speed limiter and a panoramic roof with opening sunroof etc.
It is now on 200200.It has been so good, any repairs have been done by a local independent garage. It is easy to drive comfortable very economical and practical. It had the air con pump replaced soon after I bought it, this done under dealer warranty, and 6 years later another one, however the air con is always on.
On a run it can easily achieve 50+ mpg and normal running returns 46 easily.
It has one peculiar fault though, when the battery gets to a certain health, not state of charge, it flattens itself for no apparent reason, and even though it will charge, it becomes unreliable. But heyho, 2 batteries in 7 years, can't complain. I wish Renault hadn't stopped producing them. Can't get rid of it, if it costs £1000 to replace a clutch say, I'd just do it, then it's done and got a fabulous car back again. I'll probably have to keep it until it becomes a classic!
reviewed by Anonymous on 19 July 2018
reviewed by arno65 on 9 April 2018
reviewed by BigDawg on 1 May 2014
reviewed by dans1977uk on 7 September 2013
reviewed by Crazy Harry on 15 May 2013
reviewed by sadoldgit on 29 April 2013
reviewed by addyboy1982 on 5 January 2013
reviewed by Fat Monkey on 6 May 2011
reviewed by sadoldgit on 4 April 2011
reviewed by flintho on 14 February 2011
Write your review
About this car
| | |
| --- | --- |
| Price | £16,040–£27,100 |
| Road Tax | B–J |
| MPG | 33.8–67.3 mpg |
| Real MPG | 86.9% |
Just reviewed...