Renault Grand Modus (2008 - 2012)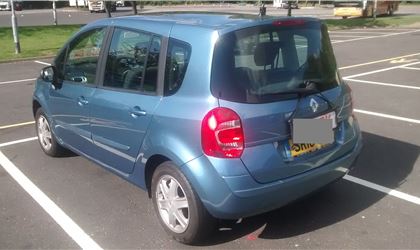 Grand Modus Dynamique 1.5 dCi 86 QS5
reviewed by Calmore on 19 September 2017
3
Tax/Insurance/Warranty costs
1
Cost of maintenance and repairs
1
Experience at the dealership
1
How you rate the manufacturer
Renault service is woeful! Can't repair their own gearboxes!
UPDATE: The QS/Quickshift 5 gearbox went wrong - it juddered on take up. Renault were unable to fix it, one dealer quoting £2300 to investigate with no guarantee of repair. One dealer even accused me of "riding the clutch" even though it has no clutch pedal! That shows the level of Renault Dealer's knowledge of this system! The Renault Tech admitted they essentially keep replacing parts at the owner's expense until the problem goes away. Speaking to previous owners this car had issues from the start, something Renault denied...documentation proves otherwise. Whilst the Modus is good I would suggest NEVER buy one with a semi-automatic gearbox. If you end up with SR10 JHJ, check the gearbox system has been properly repaired/replaced before buying.


Previously, I drove a Citroen Berlingo. I was looking for a smaller replacement with lower tax but with some of the practicality.

I wasn't looking for a Grand Modus but this one came up at a sensible price, so I went for it.

This review is based on my initial impressions.

Firstly, the bad points..

The robotic gearbox can take a bit of getting used to. The accelerator is very sensitive to pressure when pulling away and this can lead to 'bunny hopping'. The key is to treat the accelerator with what I can best describe as a fluid type motion. In addition, the gears are much longer than they were in the Berlingo. However, you get used to all this and actually start to enjoy the relaxed nature of having no clutch pedal.

Open the bonnet and, well, you can't see an awful lot. Much of the engine is obscured by the plenum chamber. It's easy enough to remove for maintenance - I just like to be able to see the engine to check for leaks etc.

There is a little exhaust resonance around 2,000 rpm and the engine can sometimes sound agricultural, but then again, it's a diesel.

Now the good points:

The car feels very well put together. It was apparently a joint design with Nissan of Japan and I can't find anything to grumble about with regards to build quality. To me, the car feels slightly reminiscent of the new Golf Diesel - solid and well engineered. It drives pretty well, feels safe and generally goes where you point it. Steering is light but there's a little bit of under steer in the corners. Acceleration is good once you get out of first gear and the all round disc brakes means it stops quickly.

The engine is the 1.5 dCi, the same that is used in the Qashquai and various Mercedes models.

The QuickShift 5 gearbox is Renault's answer to the "Tiptronic" box used on VW's. It takes some getting used to but stick with it. Once you get used to it you'll wonder why you put up with a manual.

It's comfortable to sit in and all the controls are in sensible places. The display panel is in the centre of the car (ala Mini) but this seems to be a natural place for it. AC is good at de-misting the windows. It isn't ultra-cold as in some cars but does a satisfactory job.

The full length sun-roof is absolutely brilliant - certainly worth paying extra for and I love the way the rear seats slide forwards and backwards to give more boot space or rear legroom as desired.

I'm not a fan of the seat belt buckles being recessed into the seat cushions - if the kids drop biscuits or whatever, the buckles soon fill up with crumbs making the seatbelts hard to operate!

The under floor storage is a bit of a nonsense too. There is probably about enough space to store a first aid kit and that's your lot.

Tax is a miserly £30 per year and I'm getting about 55mph on the daily commute which combines motorway with urban roads.

All in all, given Renault's low resale prices I think the Grand Modus offers real value for money. If you are in the market for a mini MPV I'd suggest the Grand Modus is on your short list.
reviewed by Calmore on 30 June 2017
reviewed by potholer on 17 December 2015
reviewed by potholer on 3 November 2011
reviewed by Honest paul on 16 May 2011
Write your review
About this car
| | |
| --- | --- |
| Price | £11,150–£14,575 |
| Road Tax | B–I |
| MPG | 36.7–68.9 mpg |
| Real MPG | 91.0% |
Just reviewed...