Renault Wind (2010 - 2012)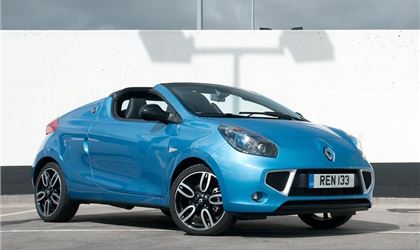 GT Line 1.2 TCe 100 2dr Open Car
reviewed by don1964 on 13 July 2017
5
Tax/Insurance/Warranty costs
4
Cost of maintenance and repairs
5
Experience at the dealership
5
How you rate the manufacturer
Absolutely love it
I ride a kymco downtown 300i all year round, my wife is a worrier and doesn't like me riding, especially during the winter months!
Last November she asked if I would like a little car for the winter months, so after a short think, i asked what she was willing to part with cash wise, she said up to £5000!!! After scraping myself off the floor I hastily agreed, not realising she had an alternative motive!!
That was to get rid of my scoot!
Anyhow, moving swiftly on to the car!
I had seen a wind when they first came out in 2010 and thought to myself what a lovely looking little car, so I started my search on the usual outlets, a few high milers, a couple of sheds etc, the nearest I found was in Leeds, just a little too far, I was however prepared to wait, a couple of weeks went by and then my wife emailed me an advert, it was from a local franchised dealer 3 miles away, I phoned them to make sure they still had it.
We went to look at it the following morning, took it for a test drive and fell in love with it!!
Now, not being a car enthusiast, just a plain old fashioned driver, to me it drove brilliantly with a nippy enough little engine, the thing I love most about it? Every time I get in there is a big grin all over my face!!!
This little car is a keeper!!
The dealer who I bought my wind from was also superb, they threw in a 12 month comprehensive warranty which was totally unexpected!!
All in all I love my little wind and would have no hesitation in recommending it to anyone!
reviewed by Rotti on 11 May 2011
reviewed by Mr£4Worth on 4 May 2011
reviewed by jimmyhoops on 19 January 2011
Write your review
About this car
| | |
| --- | --- |
| Price | £12,995–£18,200 |
| Road Tax | F–G |
| MPG | 40.9–44.8 mpg |
| Real MPG | 84.1% |
Just reviewed...