Renault Megane Coupe (2009 - 2016)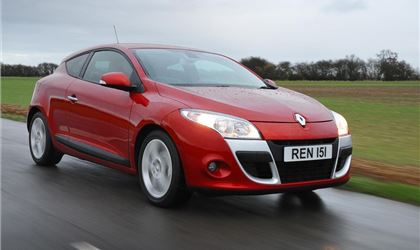 Dynamique 2.0 TCe 180
reviewed by Anonymous on 9 May 2021
5
Tax/Insurance/Warranty costs
5
Cost of maintenance and repairs
5
Experience at the dealership
5
How you rate the manufacturer
Incredible all round car!
Love my car to bits its been amazing so far!!

Pros:
Incredible Torque (322NM vs Renault officially quote 300NM! all these cars seem to have way more power on the dyno).

Punchy acceleration up to a certain point but this is very useable on UK roads!

Proper drivers car which rewards your precise input with big smiles!

Fantastic grip with the right matched 4 tyres. Goodyear F1-5AS suit this car perfectly providing amazing comfort, safety & cornering grip at all speeds & weather conditions & last forever.

Traction control is very handy to prevent wheelspin & maintain incredible road grip & traction in all weathers. So far I have driven in snowstorms, torrential downpours & on icy roads & not once did the car feel like it was slipping away from me.

Clutch is very light to use & 6 speed gearbox is a little notchy & clunky until you get used to it then once you do so easy to use everyday for long or short journeys.

This is a very safe car as well due to a 5* NCAP safety rating & multiple air bags.

Such an easy car to drive with fantastic power steering & very lightweight but precise movement.

You can easily cover 200 miles in a few hours & not feel any driver fatigue as its so simple & easy to drive all day!

Surprisingly large boot can easily hold a weeks worth of supermarket shopping! or the essential supplies for a day at the beach!!

Low running costs overall (apart from needing petrol that is!). Full tank of petrol will take you around 430-450 miles.

Stylish looks from most angles & fantastic lights as standard.

Seats are very comfortable & have several adjustable regions.

Cons:
Fuel consumption when driven hard with the massive turbo boost is around 19MPG. If you just cruise around without using the turbo much at lower revs then yes you can easily get 30-35 MPG.

Paintwork is easy to damage any little scrape or road debris impact needs attention (most cars from this 2010s era use soft paint).

Rear is a little cramped but still manageable for anyone up to say 6ft. Anyone over 6ft would struggle in the back seats due to leg room being limited.

Overall:
For 2 adults plus 3 children (child seat in the rear) or 2 adults plus 1 or 2 medium sized rear passengers then this car is just fine.

Overall its a fantastic road experience & so cheap compared to other hot hatches which cost twice as much but have a more prestigious badge on them but do not offer anything worth twice what this little Megane with its 322NM engine can achieve (same engine as the RS Megane just slightly less power but can easily be chipped to achieve similar results if 322NM is not enough)!

I love the car so much that as soon as my salary permits I am going to blind buy the 2021 Megane RS300 as I am so impressed with what Renault have managed to achieve here for a very competitive price!!
reviewed by Anonymous on 16 January 2020
reviewed by confusedbuyer on 5 September 2014
reviewed by nipper9 on 5 June 2014
reviewed by Caerwent1 on 17 April 2012
Write your review
About this car
| | |
| --- | --- |
| Price | £16,620–£26,745 |
| Road Tax | A–I |
| MPG | 36.7–80.7 mpg |
| Real MPG | 75.1% |
Just reviewed...