Renault Megane Coupe (2009 - 2016)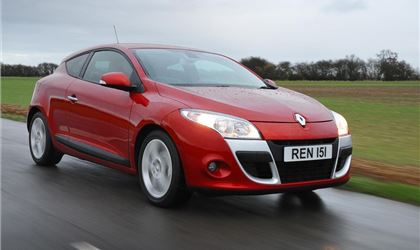 Dynamique TomTom 1.5 dCi 106
reviewed by Anonymous on 16 January 2020
5
Tax/Insurance/Warranty costs
4
Cost of maintenance and repairs
5
How you rate the manufacturer
Far better than you might think and oustanding used value - I love it!
I wanted something economical, comfortable, big enough for 4 adults when required, reasonable performance and more than anything something a bit different. Well, 50,000 miles later I can honestly say that it has fully met all my requirements and is the best 4000 quid I have ever spent on a car ever, and I've had quite a few now. Although its a 10 year old design now, its a very good looking car and I still get a buzz out of driving something that looks far more sporty and classy than the perceived value of its badge. I've never been bothered about the badge of any car I drive but have to admit that even I was originally wary of buying a Renault, with their previous poor reliability record, but his car has been totally and utterly reliable, with only routine maintenance required at each (long) recommended service interval. It seems that Renault have turned something of a corner in this regard. Its just as well designed inside with quality materials that still look new, whilst the driving position is great and the seats exceptionally supportive and comfortable. Handling is frankly astonishing for what is just the (very slightly tweaked/lowered) coupe version of a mainstream hatchback and the 1.5 diesel pulls great once you get above 1500 rpm. I must admit the engine is pretty flat at low revs but you soon get used to it and adjust your driving style. The brakes are well weighted and very re-assuring. With quality tyres fitted this thing sticks to the road like you would not believe and inspires huge confidence. I've never even come close to finding its handling limit. My day to day commuting mpg is around 55, with 60 plus easily achievable on a long drive. If it wasn't so much fun to drive I could probably get even better than this! Its nearly done 100,000 miles and probably isn't worth very much but there's absolutely no reason to even consider changing it since it does everything I ask and more and based on previous reliability I would expect it to hit 150,000 miles at least without any issues. Finally, it is very well equipped with everything you could possibly need and the TomTom SatNav is brilliant. To summarise this car is massively underrated and overlooked, but that is good for you as they are consequently ridiculously good value. If you're considering one, don't hesitate. I imagine the models with the later, more advanced, engines are even better.
reviewed by confusedbuyer on 5 September 2014
reviewed by nipper9 on 5 June 2014
reviewed by Caerwent1 on 17 April 2012
Write your review
About this car
| | |
| --- | --- |
| Price | £16,620–£26,745 |
| Road Tax | A–I |
| MPG | 36.7–80.7 mpg |
| Real MPG | 75.0% |
Just reviewed...