Our Cars: Audi A6 3.0 TDI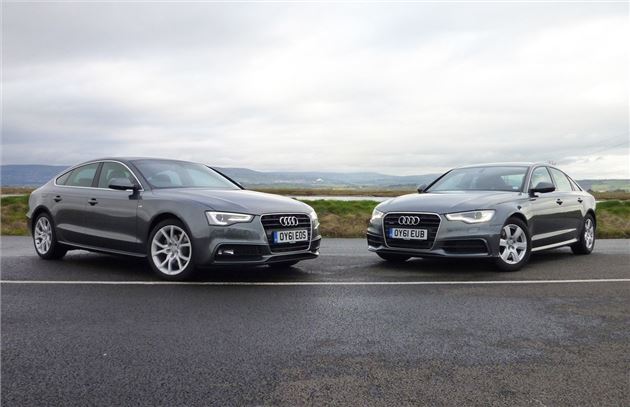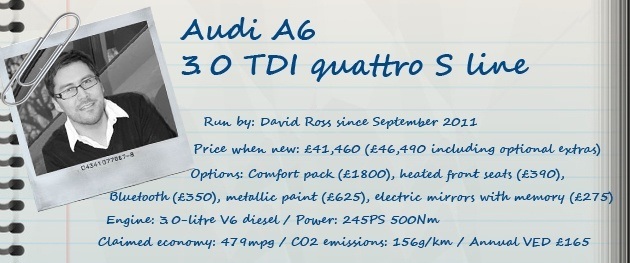 3 February 2012: A6 or A5 Sportback
The Details
| | |
| --- | --- |
| Current mileage | 8413 |
| Claimed economy | 47.9mpg |
| Actual economy | 39.8mpg |
Once upon a time car manufacturers had very simple line ups. There'd be a small hatch, a medium sized family model and then a larger saloon. They might even mix it up with a coupe or a convertible plus something with a bit of performance like a GT special. Now however, the boundaries between models are far more blurred and there's plenty of cross over between those traditional models.
Last week I was testing the revised Audi A5 Sportback which just happened to be exactly the same Daytona Grey colour as the A6. And when I parked the two next to each other I realised how similar they are. The A5 Sportback is a more practical five-door version of the good-looking A5 and comes with pretty much the same engine line-up as the A6.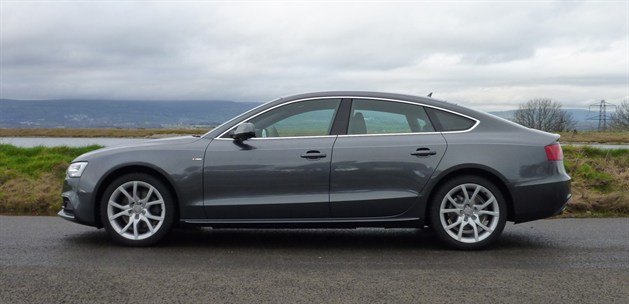 The car I drove was a 2.0 TDI 177PS, a very economical and surprisingly quick engine, but you can get the A5 Sportback in the same 3.0 TDI quattro S line guise as our A6. In terms of performance the two are very close. The lower weight of the A5 means it's a smidgen faster from 0-62mph, taking 5.9 seconds as oppose to 6.1 seconds. It's also a little more economical by 2mpg.
When it comes to interior quality both are excellent with great attention to detail and a top class finish. In fact it's pretty hard to tell the difference as you can see in our pictures below. The A6 (below left) has the edge slightly with a better instrument cluster and a smarter multi function display between the dials, plus the design flows a bit more with neater air vents and that large block of aluminium-finish trim on the passenger side dashboard and doors.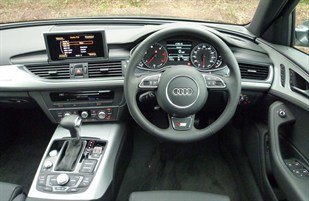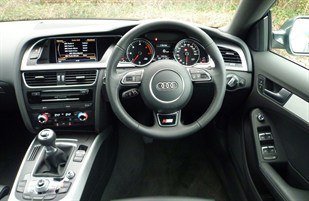 I think the A5 Sportback is the better looking of the two cars though, particularly after its mid-life facelift. In my opinion the A5 Coupe is the best looking modern Audi and the Sportback isn't far behind. Although it's a five-door it still has a coupe look and a nice svelte appearance. The A6 is a little ordinary in contrast and looks quite heavy at the rear. View them head on at the front though and there's very little difference.
The A6 has the edge on refinement though. The A5 Sportback has pillarless doors which mean more wind noise at speed, something which isn't an issue in the A6. It also has more comfortable rear seats and a touch more legroom in the back too, helped by the fact it's 20cm longer and has a larger wheelbase. But the A5 is more practical thanks to its tailgate which means a more useful boot, even though it's actually smaller in size.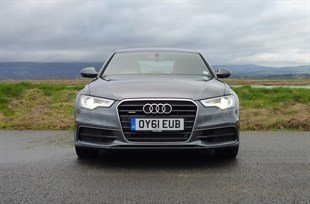 But it's how closely priced they are which is more of a surprise. The A6 3.0 TDI quattro S line has a basic price of £41,460 while the equivalent A5 Sportback is £39,005. Both are enjoyable to drive with that lovely V6 engine that's impressively quick in-gear and makes for a superb motorway car. For my money, I'd choose the A6. While the A5 is the better looker, the A6 is a nicer car on the motorway with superior refinement. For the kind of long distance driving I tend to do, the saloon is perfect.

« Earlier: The top 5 optional extras on the A6 Later: The front fog lights mystery »
Updates

The past six months with our A6 have absolutely flown by and it's proved to be a real favourite so we're sad to be saying goodbye.

The A6 doesn't come with front fog lights. Well, not the traditional type - instead it gets 'all-weather' lights which are actually more effective.

3 February 2012: A6 or A5 Sportback
A recent test of the revised A5 Sportback got me thinking about how similar it is to our A6. And surprised at how closely matched they are.

There's a vast number of optional extras available on the A6 and here are what I reckon are the best five.

Fuel saving engine start-stop systems are becoming more common on new cars, indeed even our A6 3.0 TDI has one.

I've left it a little late but with the cold weather on the way it's time to get our A6 properly prepared with some winter tyres.

The A6 is fitted with plenty of advanced technology under the skin, with lots of features designed to make living with it easier.

Our A6 has already racked up 5000 miles in less than three months and the 3.0 TDI engine is getting better and better.

I've spent a lot of time behind the wheel of the A6 lately. Much of it in traffic. But it's given me plenty of time to play with the Audi MMI.

Audi offers a great choice of alloy wheels on its models with some superb looking designs. And when it came to the A6 we were spoilt for choice.

The A6 goes straight to work with a mammoth pan-European trip to Frankfurt and a chance to test out motorway economy.

The new Audi A6 is the latest addition to 'Our Cars' and the 3.0 TDI quattro S Line version we've chosen has already had a hectic start to its time with us.