Vauxhall Zafira Tourer (2012 - 2018)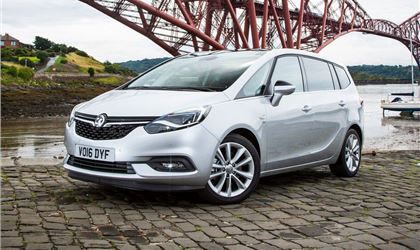 1.4T 140 TechLine 5dr
reviewed by PJT578 on 14 June 2020
3
Tax/Insurance/Warranty costs
3
Cost of maintenance and repairs
4
Experience at the dealership
4
How you rate the manufacturer
Simple effective & flexible the petrol engined Zafira Tourer does the job for growing family...
Exit of company car scheme and growing family necessitated a purchase of a car for medium-long term, key requirements included petrol with modest power output and 5+2 seating, the Zafira was one of a small group we considered but ultimately chose itself due to lack of direct competition. We ended up with the TechLine as it was equivalent to the SE with Nav for a much reduced purchase cost, owing to the intention for Vauxhall to sell this as a company car spec with low P11D value. The vehicle has now completed 40k miles in 3 years without issue or incident, it is spacious, quiet and comfortable on long journeys, the service from the recently disenfranchised dealership has been trouble-free. Economy varies significantly both with route and driving style, around town my partner gets 32-36 mpg whereas on higher speed cross country journeys I can coax between 42 & 48 mpg, which given it's a fairly weighty 1600 kgs and has no regenerative battery charging tech is not bad. Our lifetime average is 40.0 mpg and if we don't spend much time in urban areas with start stop traffic we get 42-44 mpg, the most annoying feature of this euro-6 emissions compliant engine is the 'rev-hang' when coming off-throttle, a feature that unless you have the adaptive dampers with the obligatory 'sport' button is a feature you just have to live with, that combined with the relatively soft ride does not encourage spirited driving! It has lived mostly on regular RON 95 supermarket petrol occasionally it gets a couple of tankfuls super RON 97-99 and it does respond better and gives you a couple more mpg but it is not a cost saving. There are a few niggles, you get the impression GM Europe had to spent their money wisely on some of the fixtures and fittings, particularly frustrating is the lack of low level warning for the screenwash reservoir and the relative ease at the which the paint is marked, but this may be symptomatic of modern water based paints.
I hope that this summary has been of use and I encourage you take a better look if this car is suitable for you, although it does seem that SRi diesels are more prevalent.
reviewed by John Boast on 28 September 2018
reviewed by Steve Garrett on 1 September 2018
reviewed by Tony Widdows on 7 December 2017
reviewed by Anonymous on 9 September 2017
reviewed by teddyboy on 26 December 2015
reviewed by rtz62 on 11 December 2015
reviewed by lowephi on 16 September 2015
reviewed by BW1 on 12 June 2015
reviewed by Anonymous on 11 January 2015
reviewed by theoldboy on 1 May 2014
reviewed by theoldboy on 23 January 2014
reviewed by Anonymous on 7 January 2013
reviewed by CaptainBiggles on 6 January 2013
Write your review
About this car
| | |
| --- | --- |
| Price | £17,815–£32,995 |
| Road Tax | B–H |
| MPG | 39.2–68.9 mpg |
| Real MPG | 75.9% |
Just reviewed...