Vauxhall Grandland X (2018 on)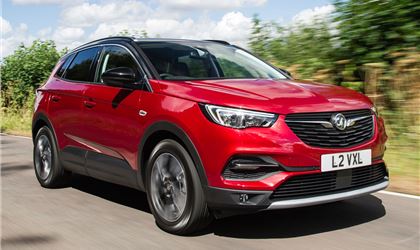 Hybrid 4 PHEV Ultimate
reviewed by Anonymous on 26 November 2020
2
Tax/Insurance/Warranty costs
4
Cost of maintenance and repairs
4
Experience at the dealership
3
How you rate the manufacturer
Quick,smooth and quiet,comfortable, great autobox
Generally happy with the car,although very expensive for what it is,road tax extortionate from year two, cos list price over £40000, was informed of this by the dealer when purchasing.I use household socket for charging,takes around 5 hours for a full charge, decided not to go with the wallbox installation.Car is cheap to run if you can run on batteries,I run in hybrid mode and I'm getting 62mpg atm.Vauxhall say 35 miles max from a full charge, most I had is 31 miles,but now its got colder a full charge gives me 20-25 miles,have heard some people getting less than that which is slightly disappointing.Engine is fantastic and very quiet, becomes very audible in sport mode with your foot to the floor, but driven normally its great.Inside the car virtually identical to the standard Grandlands,with the addition of a hybrid battery state of charge meter.My previous car (grandland 1.2 elite nav 2018) had a heated steering wheel,heated rear outer seats and heated windscreen, this car does not which i'm not happy about, but the vauxhall app gives me the option to heat the inside of the car on cold mornings which is great, can be set with a timer and programmed to come on to your choice.No room for a spare wheel as there is no wheel well, space taken up by batteries. 8 speed auto box is superb,and the adddition of paddles below the steering wheel for manual override gearchanging,is nice, need to use sometimes as gearbox can be a bit slow to change up on occasions.
reviewed by Anonymous on 4 March 2020
reviewed by Anonymous on 9 December 2019
Write your review
About this car
| | |
| --- | --- |
| Price | £24,600–£32,710 |
| Road Tax | B–D |
| MPG | 53.3–70.6 mpg |
| Real MPG | 67.8% |
Just reviewed...