Vauxhall Ampera (2012 - 2014)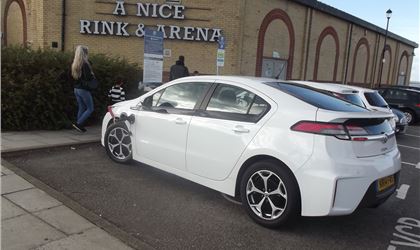 Electron
reviewed by Graham W5 on 20 July 2018
5
Tax/Insurance/Warranty costs
5
Cost of maintenance and repairs
5
Experience at the dealership
5
How you rate the manufacturer
Very pleased with it.
The Ampera is a plug in hybrid (strictly a range extended electric vehicle). The car is always driven by the electric motor but once the battery gets to 22% charge the petrol engine starts an drives a generator to retain the level of charge in the battery. The official range on a full charge is up to 50 miles, in practice for most of the year we get 40 - 45 miles and in winter this drops to 30 - 40 miles. The most we have got is 48.5miles. However we still only use petrol for less than 20% of our mileage, we do about 1,000 miles per month. We average over 250 miles to a gallon (235mpg is the official figure) (we spend about £20 per month on petrol on average plus £25 on electricity: takes 6 hours for full charge at home: not a problem as it is charging overnight whilst you are sleeping). Obviously with a car a like this the achieved mpg will very much depend on your mix of driving, most of our journays are completed within the battery range hence the low petrol usage, with the occasional long journey. To drive the car is very pleasant, being electric there is very little noise, even at 70mph all you hear is a bit of tyre roar and wind noise. Even with the petrol engine running the car is still very quiet, occassionally the engine revs is the battery is getting low and then you notice it more. Drving is easy, no gearbox, just stop and go pedals. The car is well equipped, leather, climate control, Sat Nav, prioximity sensors, rear camara, good infotainment system. I like the look of it and they are fairly rare. So far no problems and £20 per month for service and MOT contract. And of course it produces a lot less pollution then a conventional powered car.

Any complaints? Yes oddly the car does not come with a normal parcel shelf over the boot just a sort of piece of clothe which does not hide the boot contents. This was soon resolved by buying a VoltShelf from USA (in US the Vauxhall Ampera is a Chevy Volt) which is the parcel shelf Vauxhall seem to forget to fit. The only other point is it is a strict 4 seater, there are two seperate seats in the back rather than a bench seat so no option to take a 5th passenger.
reviewed by tuneless wonder on 1 May 2014
reviewed by old clavian on 23 January 2014
reviewed by P4man on 27 October 2013
Write your review
About this car
| | |
| --- | --- |
| Price | £33,750–£35,495 |
| Road Tax | A |
| MPG | 235.4 mpg |
| Real MPG | 67.1% |
Just reviewed...