Vauxhall Tigra (2004 - 2009)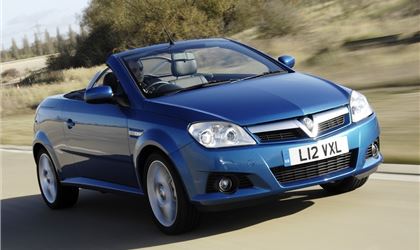 Twintop
reviewed by Gary Gamble on 6 October 2017
4
Tax/Insurance/Warranty costs
4
Cost of maintenance and repairs
4
Experience at the dealership
3
How you rate the manufacturer
Cheap convertible experience
Covered approx 10000 miles in 2 years of ownership. Generally reliable with a couple of issues. Good points: easy and light feeling with steering, clutch and gear change when the car is warmed up; tractable engine that pulls easily from low revs; economical (I'm averaging 48 - 52 mpg in mixed driving); great hardtop roof that folds down in about 25 seconds and offers full security; excellent boot space when not using the roof; fabulous heater.

Unfortunately, for every positive, there are negatives. When the car is cold, the gear shift is baulky and nasty, the overall performance is sluggish; the car leaks a little at the roof seal in heavy rain; the handling is predictable but there's not a lot of grip, especially in the wet and the car can slide. Thankfully, the handling is predictable and safe. The ride is bouncy and crashy, worse at the rear suspension where the springs hit their bump stops quite often. The roof needs to be operated at least once or twice weekly to avoid stickiness in the hydraulic system, otherwise it won't operate reliably and the electronic system throws up a warning light with impaired performance at least 2 or 3 times per week. Thankfully, it resets when switching off the engine.

It is a cheap car with cheap components and is built to a price but on a summer's day when the weather is warm and dry, it can redeem itself. Overall, it's a likeable car with personality.
Write your review
About this car
| | |
| --- | --- |
| Price | £15,055–£17,240 |
| Road Tax | D–I |
| MPG | 36.7–61.4 mpg |
| Real MPG | 92.5% |
Just reviewed...