Kia Cee'd Sportswagon (2012 - 2018)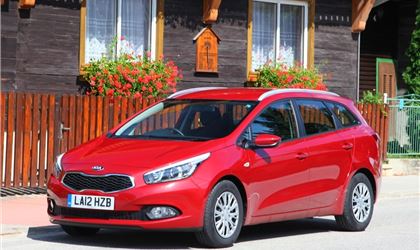 Sportwagon 1.6 CRDi 134 3 DCT ISG 5dr
reviewed by SM, Surrey on 16 May 2021
4
Tax/Insurance/Warranty costs
5
Experience at the dealership
5
How you rate the manufacturer
A medium sized estate with a sporty character
I bought this fine car to replace a Golf 1.6 diesel bluemotion, as I wanted an estate. Similar to the Focus estate of the same year, it's also about the same size as a modern Golf estate with all the seats down, but its powerful diesel engine has more power by about 30 bhp (that's the 134 figure in the name) and has very similar economy, possibly better: A steady 65-70 mph yields about 56 - 68 mpg (depending on weather etc), with harder driving extra-urban, about 48 mpg. (This isn't what Kia tells you it can do at over 70 mpg extra-urban, but that was the old testing regime figure). So Overall I am pleased with the economy, considering it's got an automation Dual Clutch Transmission which adds a bit of extra weight to the car.
The DCT auto box is flexible and a pleasure to use in the sport mode on twisty roads when one needs a lower gear for entering and running round bends. Both paddle-shift and gear selector nudge work well.
Road noise is slightly more than my old Golf, as is engine noise above 2000 rpm, but it's not excessive or disturbing. The one thing you have to get used to is putting your foot hard down on the accelerator, if you want to pull away smartly at a busy roundabout to get into the flow. It can be a little unnerving, compared to driving a manual gearbox.
The car tends to understeer slightly more than I expected, but with several electronic modes of steering to choose from, it is not noticeable really at higher speeds or when tight cornering, interestingly. The roll characteristics appear well engineered, and the tyre wear is very even across the tread.
So far the ISG (Intelligent Stop Go) fuel-saving stop and restart system has not worked, so I may ask my dealer to look at it. The forums suggest this can be a bit intermittent but is normal as many conditions must be met for it to be activated.
Heating and ventilation are good, and the built-in nav equipment well designed. Phone bluetooth connection is good. No CD player, but DAB / FM radio options are all good. The instrument panel display is nice, but it's taking me sometime to get used to the red display of the computer. Maybe it's just me, but I would prefer a white display. Instrument lighting does not automatically get brighter in bright sunlight but the adjustment knob does the trick.
The seat comfort is a little harder than I have been used to but has not made me uncomfortable. There is nowhere to put your right foot when in cruise mode (although the left foot does have a recess on this automatic, and is essential for comfort). This is the "3" model of trim; the GT Line version being the most superior.
The interior finish is good but simple, and lacks some of the nice cubby-holes some VW models have. But it does have really excellent storage options of large soft-lined removable trays, and a deep rear pocket, over the compact spare wheel area which allows for a lot of stuff out of site under the boot base that I would otherwise have to keep in a messy box.
Night driving is definitely assisted by the extra lamps that come on for cornering even on open roads when the turn is a very sharp one. But that's really useful for car-park movements.
The spare wheel was a 'must have' for me, and I have already benefited from it. A hole from a bolt on the motorway would probably not have been filled by any foam system.
The 205 / 55 / R16 rims are ideal, in my opinion, for economical and good performance. Tyres are between 66 to £85 to replace.
I have no doubt the newer version of the car from 2018 is an improvement (the styling is very different on that marque) but the 2016 version benefits from £25 road tax because of excellent g/km CO2 emissions, and I prefer the old styling. For some reason Kia (and Hyundai) don't offer the 134 bhp diesel engine anymore. They have reduced its power, so I am glad to have the sportier one. With 2 years of the maker's 7 year warranty still remaining on it, this was another plus point. I am glad I replaced my Golf. Well done Kia.
reviewed by Anonymous on 15 May 2021
reviewed by Mr D Og on 23 February 2017
reviewed by Penner on 10 December 2015
reviewed by dave1978 on 3 February 2014
reviewed by dave1978 on 20 November 2013
Write your review
About this car
| | |
| --- | --- |
| Price | £16,200–£25,695 |
| Road Tax | B–F |
| MPG | 42.8–72.4 mpg |
| Real MPG | 75.0% |
Just reviewed...