Kia Stonic (2017 on)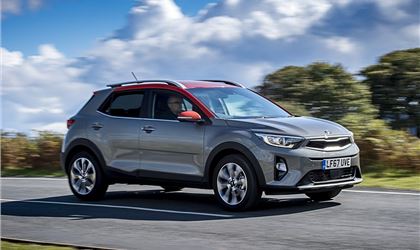 1.4 MPI 98bhp 2 ISG 5dr
reviewed by Anonymous on 5 August 2020
5
Tax/Insurance/Warranty costs
4
Cost of maintenance and repairs
4
Experience at the dealership
3
How you rate the manufacturer
meh... it's alright
So, we've owned our Stonic for 1.5 years and covered 16,000 miles. And honestly, it's been pretty uneventful... whether that's a good or a bad thing really depends on your personal preferences. Now, let's be honest, this is no SUV. 1. It is no bigger than a supermini 2. The driving position isn't even remotely high up 3. It's literally a Rio with some plastic cladding. FYI, we originally went in for a Rio but my wife preferred this, and I only agreed because it had a larger engine than the Rio, better standard specification and the same long warranty.

Now, if you don't care about driving like a boy racer, but need a safe, reliable, compact car to get you from A-B with no stress, I'd recommend this car. It's a good, simple car to drive and Kia have got the fundamentals spot on. The Gearbox is lovely - short and snappy shifts- and I'm very impressed that EVERY model gets a 6 speed gearbox as standard. The base 1.4 petrol engine we have is quiet, refined and lively enough IF you use your gears well and rev the car out... it is a rewarding car to drive when you do push it harder than usual. Kia also offers a 1.0 Turbo for an extra cost on higher specced models, but I wouldn't recommend this as it doesn't offer much more performance than the 1.4, it's hardly any more economical, and crucially - it's much less refined - the exhaust note is thrashy and loud, typical of any 3 cylinder. There's also a 1.6 diesel, which is ok, I'd recommend if you mainly drive on motorways.
The steering is great, it offers decent levels of feedback and isn't stupidly light like so many smaller cars. Because it's nicely weighted, you'll find it gives you more confidence on tighter bends and roundabouts, so you don't crawl through them like usual.
Basically, you'll appreciate the way a Stonic drives, as it gives you confidence in trickier situations, making driving relaxing.

In terms of specification, it's brilliant. I'd never normally go for a base model because they simply look cheap, but all Stonic's look great. it comes standard with Cruise Control, 4 electric windows, Air/Con, 17" Bi-Tone alloy wheels, Automatic Projector Headlights with LED daytime lights, rear parking sensors, a 7" Infotainment screen with Bluetooth, and 6 speakers. We personally didn't feel the need to go any higher, but "3" models add Tinted Windows, Navigation, reversing camera and a different cloth for the seats. "4" models add some extra safety features, heated leather seats and steering wheel, and a bi-tone colour scheme, e.g red with a black roof.

However, it's not all great. Although it feels well built, all the materials used feel cheap. The seats are a real negative... they are frankly awful. The cloth is rough and feel like sandpaper, and they offer very little support. Even my teenage grandson complains about back - ache, and he never normally speaks, never mind looking up from his phone, so they must be bad. The Center armrest is shockingly bad, it's rock solid. The dash, door cards etc. feel equally nasty. But, when you remind yourself of the price for a new car, and the fact it feels sturdy, I guess you can't complain.

Basically, it's a white-good car. It will get you to where you want to be, albeit lacking in style, street cred and performance. Don't be fooled by marketing gimmicks pretending it's something it's not. Its not wow, it's a Kia. But It's an affordable, decent roundabout which can still handle faster roads with ease, and be very reliable in the process.
It's not a bad car, but it's not a good one.
If you desire more than this, I'd recommend spending your £17k+ on a used car... you'll get more for your money. Also, remember a Polo/Fiesta is around the same money, and they have much nicer interiors.
reviewed by Mo Akram on 19 May 2020
reviewed by Anonymous on 7 December 2019
reviewed by Anonymous on 21 March 2019
reviewed by Anonymous on 21 March 2019
reviewed by Nicola Stahl on 16 November 2018
reviewed by Anonymous on 27 July 2018
Write your review
About this car
| | |
| --- | --- |
| Price | £16,540–£20,720 |
| Road Tax | Alternative fuel, D–D |
| MPG | 49.6–70.6 mpg |
| Real MPG | 75.3% |
Just reviewed...