Kia Picanto (2004 - 2011)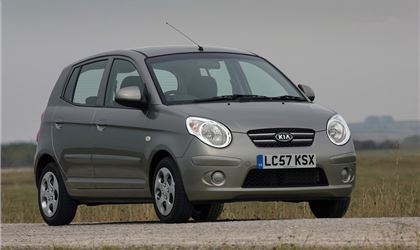 1.1 LX 5-seater 5dr Hatchback
reviewed by David Street on 16 August 2019
4
Tax/Insurance/Warranty costs
4
Cost of maintenance and repairs
3
Experience at the dealership
4
How you rate the manufacturer
A decent little runaround with a few minor annoyances!
This car has served myself, my fiancee and our dog very well for over a year now! It's an ideal little cheap runaround if there's one or two of you who occasionally take back seat passengers.

Practicality Pros:
Folding rear seat
Four doors (ideal if you have a dog cage on the back seat and for when you can't be bothered to put small bags in the boot)
Decent rear legroom despite the car's size - back seat passengers will thank you!
Cubby holes EVERYWHERE. You will not want for in cabin storage space.
Deep spare tyre well and under boot storage tray. Handy for not often needed items.

Practicality cons:
The decent size rear seat robs space from the already tiny boot - only really big enough for a week's shopping or a weekend's worth of luggage for two people.
Rear parcel shelf tends to detach from its hinge a bit too readily.
All the cubby holes do rob space from the glove box.

Driving Pros:
Easy to drive. Good responsive steering and sporty (ish) suspension make it fun to chuck down a B-Road.
Responsive and forgiving engine. Kia absolutely nailed the idle!
Its small size, responsive engine and steering make it very nippy in car parks and around town.
The brakes are equally as responsive. Discs all round mean this featherweight car will stop on a sixpence if you need it to!
Minuscule turning circle.
Surprisingly refined, even at motorway speeds you can still have a conversation without shouting. Comfy seats too. Better than some more expensive cars.
Cheap insurance.

Driving cons:
The driver's seat doesn't really go back far enough for tall people.
Slow on the open road. It takes a while to get to those motorway speeds I talked about.
Wind noise at motorway speeds - it's not loud but it's enough to be irritating.
Fuel economy not the best - official figures are quite high but watch your MPG plummet with spirited driving or if you do a lot of short journeys on a cold engine.
Still not the lowest tax bracket.

Maintenence Pros: (I do most of the repairs and maintenance myself)
Parts are cheap
Easy to work on (mostly)
Most underbonnet work can be carried out easily due to good placement of fluid reservoirs, battery and air intake. The spark plugs are placed at the front of the car and so are easily replaced. The manual even tells you how to change the engine oil and gives other maintenance tips. Very handy!

Maintenance cons
Awkward placement of engine oil filter
Tiny engine bay does not lend itself to large hands
Lack of self - tensioning auxiliary belts. Fortunately the manual tensioner is easy to adjust.
I found the rear brake calipers difficult to wind back in after replacing the brake pads.
The radiator plug for draining the coolant felt delicate and was difficult to thread back in. I shall be buying a spare next time I do it!

So in conclusion, it's and Ideal little runaround if there's one or two of you. The boot is ideal for a week's shopping or a mini break. If you go away for more than a weekend you will need the back seat for your stuff! Fourtunately the four doors will make this easy! The car will get you there in good comfort for its class, although you may need to stop for fuel on the way, especially if you hold on to the revs to get the most out of the small but solid engine.
There will be plenty of places to put your phones, snacks and drinks on the way though, making it a good drive through car if that's what you're after!
If there's more than two of you or you carry people in the back seat regularly, consider a fiesta or a golf. Otherwise the Picanto will suit you down to the ground!
reviewed by Anonymous on 9 February 2018
Write your review
About this car
| | |
| --- | --- |
| Price | £5,895–£9,515 |
| Road Tax | C–E |
| MPG | 48.7–58.8 mpg |
| Real MPG | 79.6% |
Just reviewed...