Kia Rio (2005 - 2011)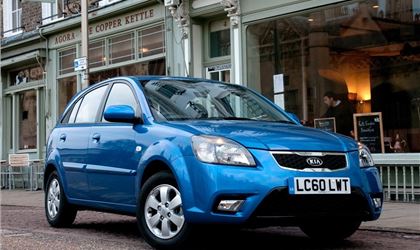 1.5 CRDi GS 5dr Hatchback
reviewed by Chrome on 27 April 2019
5
Tax/Insurance/Warranty costs
4
Cost of maintenance and repairs
2
Experience at the dealership
5
How you rate the manufacturer
The Rio is a rather good car.
I've had my Rio (from new) for 6-years and 46k. Purchased because it has a big load space and because it was good value, and HJ had written a positive review as well. He was correct because the Rio is really rather good! Smooth diesel engine - good gearchange, positive controls and excellent supportive front seats. The steering is a bit lifeless but you soon get used to it. One of the first things I did was to change the yellow'ish headlight bulbs for better ones - a cheap modification. The car looks a bit like the last model Astra from the rear and a little like the last Fiesta from the front. The result is slightly bland and blends in with all the other common boxes out there. This is a good thing as I can park the Rio up anywhere and it attracts zero attention. The car is serviced by my local garage now (a good Independent). I abandoned my local Kia dealer as they left engine sensors unplugged on two occasions after servicing. Engine service items apart the car needed the front tyres replacing at 18k. I also had the car tracking adjusted slightly as the fronts had worn unevenly. Rear brake pads were changed and semi-seized calipers cleaned at 33k and the front pads changed at 38k. The Clutch Slave Master Cylinder started leaking at 38k (manifested by a reluctant gear change) and this was replaced. My garage is at the mercy of Kia who can be a bit slow with parts supply. Also Kia changed the design of the fuel filter fitment without telling anyone resulting in my car being off the road for 2 days waiting for a retro-fit kit in 2010. Good job I also have a motorbike to get around on! That apart the car at 6-years old is still good to drive with positive brakes and excellent power delivery from the diesel engine. Economy for me works out at between 50-55mpg which is a mix of urban/extra urban driving. I tend to keep to the speed limits. The interior is holding up well with no creaks or rattles nor any detached trim. The air-con stopped working 2-years ago which is partly my fault for not bothering to recharge it or indeed use it much. I don't care for air con as I find the dry air produced annoying. I recommend the Rio to all who want a dependable car for not a lot of money. My plan is to run this car into the ground which I suspect could be some time off yet..........


UPDATE 26/04/2019
I have now owned the Rio for 12 years / 91k. I really must like this car!
The Rio is still in good order and drives well. Economy constant at 52-55mpg. Given the car's age I service it myself and this is surprisingly straightforward. I will be applying wax to the underneath this summer as the car does have rusting /flaking issues on the metal chassis components. The steel battery support is rotten in places and I may have to sort out a weld repair for this as the battery earth lead also connects to this point. I tend to purchase service spares etc from GSF or Eurocarparts as they are much cheaper than the main dealers.
reviewed by Anonymous on 12 September 2018
reviewed by Anonymous on 23 February 2018
reviewed by pcvpilotmick on 25 October 2013
reviewed by Rio2 on 13 February 2011
Write your review
About this car
| | |
| --- | --- |
| Price | £7,495–£11,810 |
| Road Tax | C–G |
| MPG | 40.4–62.8 mpg |
| Real MPG | 82.1% |
Just reviewed...