Kia Picanto (2011 - 2017)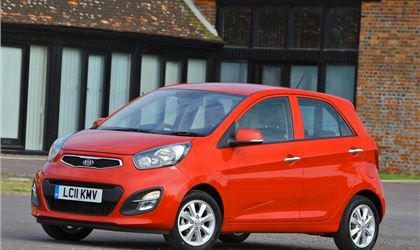 1.0 65bhp 1 5speed 5dr
reviewed by Mrs Patsy Mereweather on 2 June 2020
5
Tax/Insurance/Warranty costs
3
Cost of maintenance and repairs
4
Experience at the dealership
3
How you rate the manufacturer
Very Economical
Economical Wise i am extremely happy with it, however it is so sluggish if i have more than just myself and my Young Son in the Front, passengers in the back and it is really struggling to get up a steep incline without having to shift it down to Third if not Second if 4 people in the Car, in that respect i am really unhappy with it. It has taken me a long time to get used to it as in all honesty it does not feel that safe when driving on Major A Roads, when alternating between the Safety and Non-Safety Function it does tend to feel rather unsteady - more so when the Safety features are on and i feel i struggle to keep a safe speed and control of the Vehicle!
Stereo - well in regards to quality sound you may aswell play an old Mobile Phone through a Baked Bin Tin, this being my Third Kia to own i am extremely disappointed in the Stereo Quality and am purely embarrassed to play any Music when i have Passengers on board, i know it is only a low key Vehicle but to sum it up Kia could do a whole lot better than fitting a Stereo that at best sounds equals that of a screaching Seagull.
reviewed by victor platt on 9 August 2019
reviewed by Michael Moorhouse on 8 August 2019
reviewed by Anonymous on 17 June 2016
reviewed by Anonymous on 17 June 2016
reviewed by dogomatic on 31 May 2016
reviewed by Billy Whizz on 25 April 2015
reviewed by Anonymous on 7 June 2014
reviewed by truthseeker on 17 January 2014
reviewed by grovero on 13 January 2014
reviewed by col8756 on 27 July 2013
reviewed by carl233 on 5 February 2013
reviewed by kingpenda on 11 January 2013
reviewed by Boomer on 18 January 2012
Write your review
About this car
| | |
| --- | --- |
| Price | £8,145–£12,795 |
| Road Tax | A–D |
| MPG | 50.4–67.3 mpg |
| Real MPG | 74.7% |
Just reviewed...