Audi Cures 1.5TSI Hesitation with 48v Mild Hybrid Drivetrain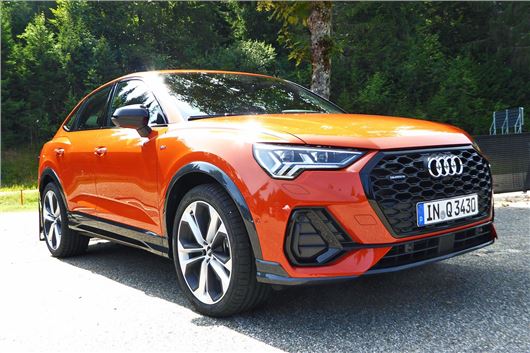 Published 30 August 2019
Audi's 48v Mild Hybrid drivetrain in the Q3 Sportback 35 TSI S tronic has overcome the hesitation and 'kangarooing' effect caused by cylinder-on-demand and coasting engine stop.
This system uses a belt-driven alternator/starter motor to seamlessly add 50Nm torque, filling the gaps drivers have been experiencing with 1.5TSI EVO engines. It also adds 12PS to the power output of the 1.5 TSI 150 engine.
The Mild Hybrid system is so far only available with the S tronic transmission, in theis case the DQ381 7-speed 'wet clutch' box which has a high torque capoacity of 420-430Nm and is the nicest S tronic to drive.
Driving impressions of the Mild Hybrid drivetrain in our Road Test of the new Q3 Sportback here.
Solutions tried by readers to reduce hesitation and 'kangarooing' of 1.5TSIs generally are to use Superunleaded, to switch off the auto brake-hold, and to switch off the stop/start, which eliminates coasting engine stop.
Report from reader on 3-9-2019 that VW dealers now have a software update that works.
Further report on 5-9-2019: Software update and coasting battery peramitization required: "I recently reported my 3,000 mile June 2019 VW Golf 1.5 TSI 130 EVO DSG suddenly losing power on the M25, with the car crippled within seconds and a serious RTA narrowly avoided. When the car recovered to VW dealer, the service dept contacted VW technical, who said a software update and coasting battery peramitization required. Got car back 2 days later. Dealer says fault messages should not reappear, but does not say fault will not recur. 
Yet another report from owner of Skoda Kodiaq 1.5TSI on 9-9-2019: "Skoda have finally rolled out a software update which I got installed on Friday and seems to have fixed the problem."
Further report on 16-9-2019 from owner of 2018/68 Skoda Karoq SE 1.5 TSI 150 PS 6G Manual that had suffered from hesitation and kangarooing. Now cured by the recently announced software fix by Pulman Skoda of Sunderland.
Comments
Author

Honest John
Latest