Volkswagen Passat Estate Review 2022
Volkswagen Passat Estate At A Glance
The Volkswagen Passat Estate is in the enviable position of being one of the defining cars in the large estate class that big rivals like the Skoda Superb, Audi A4 Avant and Ford Mondeo Estate are judged against.
Like its saloon counterpart, the Volkswagen Passat Estate is a significant step forward from the previous model. It's sharper-looking, more spacious, more comfortable and packed with the latest technology.
The all important load space has been increased - up to 650 litres from 603 litres, expandable to a huge 1780 litres by folding the seats. But not only is the load area large but it is also user-friendly.
The load lip is low and the opening is wide, so getting items in and out is easy. There's a variable height boot floor which is simple to adjust and the split rear seats tumble forward with one-touch levers, leaving a flat load area ideal for bigger items.
Like the saloon, the Passat Estate has a diesel-only engine range with four choices, ranging from a 1.6-litre with 120PS to 2.0-litre with 150PS, 190PS or 240PS in BiTDI form. The latter has a very impressive peak torque figure of 500Nm and is offered exclusively in conjunction with a DSG automatic transmission and all-wheel drive.
The Passat Estate is a good choice of tow car, rated for braked trailers up to 2200kg for the top 240PS model, or 2000kg for the 150PS diesel. One piece of technology that will really help is trailer assist, which will reverse a trailer in a straight line or at a set angle automatically. It also includes a camera to aid with hooking up.
Trailer assist is one of several high tech features, including advanced cruise control with lane assist. When specified in conjunction with a DSG gearbox this can bring a car to a halt in low-speed traffic, then follow the car in front at slow speeds automatically. The system also includes collision mitigating braking, plus there is a head-up display on offer.
What do owners think of the Volkswagen Passat Estate? Check out our
Owners' Reviews
from people who live with the car day in, day out.
Reviews for Volkswagen Passat Estate's top 3 rivals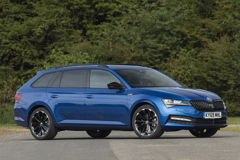 Skoda Superb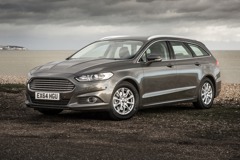 Ford Mondeo Estate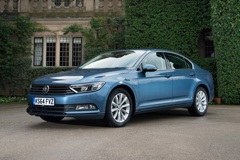 Volkswagen Passat
Ask Honest John
My Volkswagen Passat 1.5-litre Evo TSI judders when it goes under 20mph. Can this be fixed?
"I have a 2019 Volkswagen Passat Estate 1.5-litre Evo TSI, which often judders when it goes under 20mph. The diagnostic does not fix it and Volkswagen says its a characteristic of the vehicle. Do you know if this can be fixed, please?"
This is an issue we've received multiple complaints about. In mid-October, Volkswagen told us: "As far as we are aware the software update has been a success and no further measures are planned. We are unaware of any current cases relating to the 1.5-litre TSI engine." So, the software update has fixed the issue, according to Volkswagen. There's been no further news relayed to us since then, though we still get complaints about this engine, mostly in regards to used models rather than new models. We first reported complaints from our readers in regards to the 1.5-litre engines in Volkswagen Group (VW, Skoda, SEAT and Audi) models in January 2019. Our most recent article (from July 2020) on the issue is here: https://www.honestjohn.co.uk/news/driving-1/2020-07/volkswagen-confirms-no-further-measures-planned-in-regards-to-15-tsi-issues Your full consumer rights are here: https://www.honestjohn.co.uk/how-to-reject-a-car-your-consumer-rights/
Answered by
Georgia Petrie
I bumped into a car and the driver is now inflating the claim - what do you advise?
"I bumped the towbar of the car in front of me (both vehicles are Volkswagen Passat Estates). The damage to my car was a cracked number plate and a small dent in the plastic plate behind the number plate with no other damage at all. It cost me £10 for a new number plate. He is claiming that I bent his towbar and that his car is so damaged that it might be a write off. I've told my insurance company this, but am concerned that this very minor accident might cause trouble for me later with the so-called excessive damage to his car. Can you advise what I can do about this?"
It makes no difference to you personally whether he just has a scratch to his bumper or you write his car off. The effect on your policy and premium is the same. Leave it to your insurer, it is their responsibility to ensure any claim made against you is not vexatious. If his car has a tow bar fitted, it will need a tow-ball fitted at the least (they can fracture) and it is possible the vehicle has further damage than what may appear evident.
Our reconditioned engine was faulty and damaged our car - is the supplier responsible for the repair costs?
"We bought a reconditioned engine for our Volkswagen Passat Estate TDI online, which came with a two-month guarantee. They delivered it and our mechanic fitted it, but it was faulty. We had to send it back to the suppliers for them to repair it. However, it's still faulty and has resulted in an oil leak into the fuel lines. We've now had to have a new turbo, which cost £1200, as a result. Can we take them to Small Claims Court for engine, turbo and associated costs?"
Yes, but it might not do much good. There are more crooks in the secondhand engine business than there are in prison. If you get a favourable ruling, pay for a High Court Sheriff's Enforcement Order and that will give you your best chance of seizing assets to the value of your claim if the engine supplier fails to pay: https://www.gov.uk/make-court-claim-for-money
More Questions
What does a Volkswagen Passat Estate cost?
Buy new from

£25,659

(list price from £32,215)