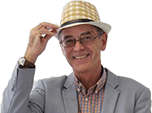 KIA Optima SW 2016 Road Test

At 4,855mm the KIA Optima Sportswagon is the same length as the Skoda Superb estate, but half an inch shorter than the current Ford Mondeo estate.
According to Stanley, its load length of 1,970mm is pipped by the Mondeo at 1,976mm and the Superb at 2,080mm, but it's still well over six feet in medieval measurements. Enough for most people to take a nap, even though the rear seatbacks fold into a slight slope. (The squabs don't seem to tip forward.)
With the back seats up, the load deck is 1,090mm long and 1,010mm between the wheelarches. It widens out to 1,380mm behind the arches for fishing rods and golf clubs, and has a capacity of 552 litres under the cover.
The Mondeo estate is 1,118mm x 1,039mm between arches with a capacity of 488 litres, while the Superb is 1,150mm x 1,000mm with a capacity of 660 litres.
Sorry for all the statistics, but for some people they are vital, particularly anyone seeking a big, reasonably priced station wagon capable of carrying a specific load.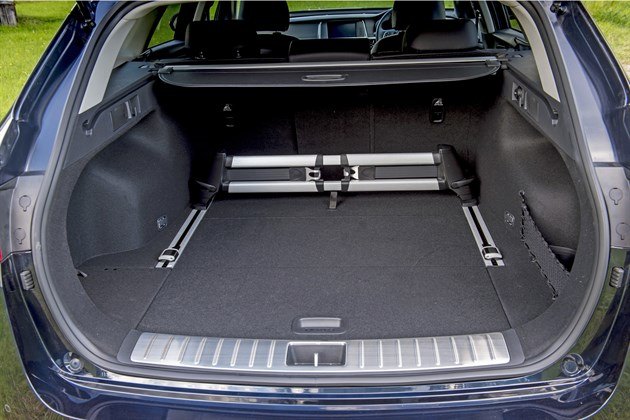 You also get a simple load retaining system to stop things sliding about like a drunk on an ice rink.
Looks are in the eyes of the beholder, but I found it quite a handsome car with a grin like Michael Fassbender. It looked particularly good in our '3 spec' car's 'Gravity Blue'.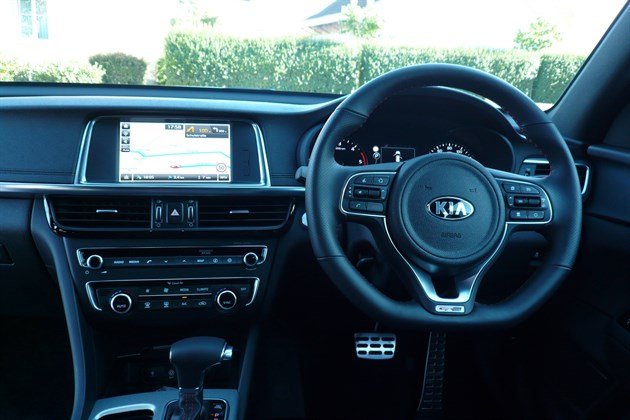 I like the fascia of the 2016 Optima that seems to me to define how the dash of a modern car should be. Simple, unfussy, with a line of sight satnav and everything in the right place. All necessary functions controlled by buttons rather than touch-screen, yet everything more suited to the touch screen controlled by that.
It could not contrast more with the original Optima dashboard, photos of which you can find here, if you really want to.
The seats are multi-adjustable and comfortable. The leather-covered steering wheel is nice to hold. The ride quality errs on the side of comfort rather than road racing, despite low profile 235/45 R18 tyres.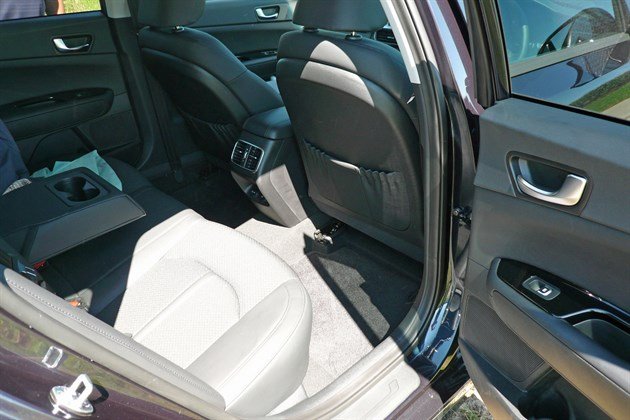 Legroom in the back is as spectacular as in a Skoda Superb estate, and there's a wide central armrest with cupholders that folds down when only two are sharing the seat.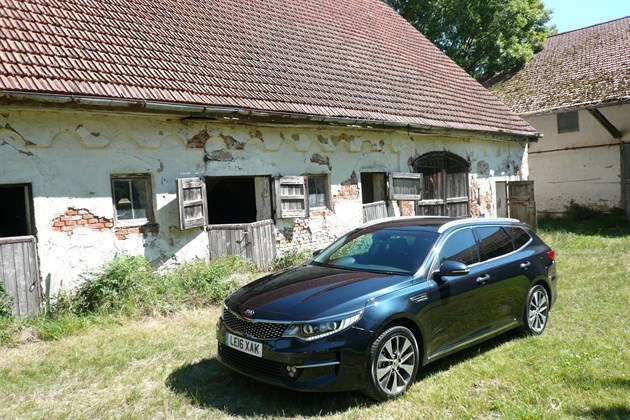 Bimbling around Bavaria on a sublimely sunny day, we found it pleasant enough, despite a lack of steering 'feel' and a tendency to wallow just a bit if pushed harder than it wanted to be. Grip is fine, though, on its Michelin Primacy 3 tyres and in general it's on a par with the Skoda Superb.
The six-speed manual transmission is fine. But, though the 1.7 litre chain-cam diesel engine is rated at 340Nm from 1,750rpm, grunt drops off sharply below that figure, so 2nd was often necessary when we'd have preferred to stay in 3rd. It's also long geared at 40mph per 1,000rpm in 6th, which makes for a relaxed cruise and decent economy, though an occasional need to drop into 5th.
The 7-speed DCT automatic, available for £1,400 more, masks this, with only a slight performance drop-off, so is worth paying the extra for. From our experience driving a 2016 Optima to Geneva and back, we'd estimate real world economy of between 45mpg and 55mpg.
On a long trip, the electrically adjustable lumbar support is a blessing. And, with two drivers, so is the two-driver seat memory, allowing driver changes without a lot of messing about.
The base model '2 spec' Optima Sportswagon is priced slightly over the base Skoda Superb 1.6TDCI and slightly less than the Mondeo 1.5TDCI.
Other contenders include the Volkswagen Passat estate, the Mazda 6 Tourer, the Toyota Avensis Touring Sport and the Hyundai i40 Tourer. (The Vauxhall Insignia Tourer and Volvo V60 are significantly smaller inside.)
But, of course, none come with KIA's 7 year, 100,000-mile warranty.
More at KIA
Road Test 2015 Ford Mondeo Vignale estate
Road Test 2015 Mazda Six Tourer
Road Test 2015 Toyota Avensis Touring Sport
Road Test 2015 Volkswagen Passat Alltrack estate
Road Test 2015 Skoda Superb estate