Ford Focus ST 2005 Road Test
Mon, 28 Nov 2005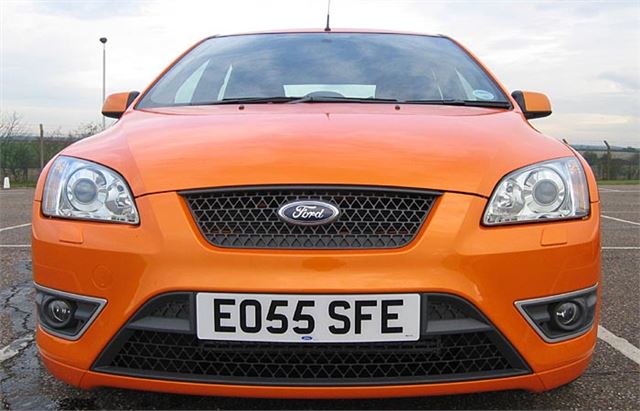 The Focus ST170 came and went in the first Focus bodyshell. Now it's time for a Focus ST in the second.
Fast Fords have been around a lot longer than fast VWs. Think back to the original Ford Cortina GT and Ford Lotus Cortina. In those days VWs still had sluggish flat-four engines in the boot. It actually took VW another ten years to come up with the Golf, and thirteen to launch the Sloane's favourite okay yah GTi.

Then, in the decades that followed, snobbery dictated that that fast VWs were for yuppies and fast Fords were for chavs. And the truth was that the Mk II Golf GTi was a better car than the Escort XR3i. The Mk II GTi 16v was better than the Escort RS Turbo. Lines were drawn. Plumbers and plasterers wouldn't be seen dead in a Golf. Snobs turned their noses up at anyone in an Escort.

Then with the Mks III and IV Golfs started putting on weight and losing their reputation for reliability. While Ford had the audacity to come up with a better car. So much better that when VW re-thought its Golf for the fifth time it used the Focus as its benchmark.

Desperate to regain the high ground VW pulled out all the stops to make its Mk V GTi 2.0T top of the class once again. And succeeded. It's a sweet engine in a fine handling car.

So what could Ford do? Well actually one of the first cars to be launched on the current Focus floorpan was the Volvo S40. And by far the best version of that is the 225PS 2.5 litre T5. So Ford has been testing the essential components of the Focus ST out there on the roads for at least two years. All the company had to do was tweak the chassis, re-work the styling, and buy a few thousand litres of 'Electric Orange' paint and the Focus ST was born.

It's very smartly priced as well.

Unlike VW which (possibly for the last time) actually got away with asking a premium price for the Golf GTI 2.0T, Ford pared the ST down to the basics of engine, wheels, seats and tyres with a CD player and a/c for just £17,495. You want more, you pay more, but you don't actually need any more than you get with the basic car.

That offers you 0-60 in 6.5 seconds, tops out at over 150mph and has a solid wall or torque from 1,600rpm to 4,000rpm that means, like the Golf, there aren't any holes or hiccups in its power delivery.

And, of course, it's a hoot to drive.

As you'd expect, it's an understeerer. 225PS and 320Nm torque in a front drive car don't exactly promote oversteer. But it's all very well and very safely contained.

Out on a track you can push it into a glorious powered slide round a long left-hander, then link that it into an equally wonderful drift round the following right-hander. All totally under control. Obviously not the sort of thing you're going to indulge in on a public road, but the ability to link a left drift into a right drift is a very good testament to the fundamental safety of the chassis.

Sure on hairpins you have to be careful about how you feed in the power or with the ESP off you'll spin some of it away. And even out on the open road, with ESP on, when it's bumpy and greasy you can feel the car choosing which wheel to put down its power. But with 225PS and 320NM torque through the front wheels, that's inevitable.

It's got legs as well. 6th gear gives you 30mph per 1,000rpm. So high speed cruising is reasonably relaxed and economical. The deep Recaro bucket seats have a massive range of adjustment including height and tilt, but require a bit of agility to get into. The nice, thick leather steering wheel adjusts up and down and in and out. And, while £2,000 is a lot of extra money to spend on DVD satnav, the Ford system combines touch-screen operation with touch-screen radio and climate control. Just enter a postcode and the system will get you from one end of the country to an address at the other end.

As well as the Golf GTi 2.0T, the Focus ST is also up against the Astra VXR, The new 220PS Toyota Corolla Compressor and the slightly less powerful Octavia VRS and Leon 2.0TFSI which undercut it by £1,500.

Outrageous Astras have had their own select band of devotees for as long as Fast Fords, and I won't persuade a Vauxhall man to transfer his allegiance to the Focus ST. He'd just better be prepared for the much more aggressive delivery of the Astra's 240PS and 320Nm torque. Toyota has entered the fray with a supercharged Corolla, but reports suggest it hasn't been as well developed as the Focus and Golf. Look hard enough and you might still find an example of the Honda Civic Type R with its sensational chain cam 2.0 litre engine that develops 200PS without the need for a turbo or supercharger. Look very hard and you might see a RenaultSport Megane 225 on the road, but its rock hard suspension hasn't helped it become a best seller.

And, of course, if you want ST power without the Ford badge and with a boot or estate car behind you, you can always opt for the Volvo S40/V50 T5, used examples of which are now feeding through the auctions from as little as £13,000.

But the Focus ST is an excellent 'fun' car and a fine only car, even for a family with kids, which is its big advantage over an MX5 or a Cooper S.

It's neck and neck with the Golf GTI 2.0T, and a lot less money.