Ford B-MAX (2012 – 2017) Review
Ford B-MAX (2012 – 2017) At A Glance
Ford enjoyed much success with its C-MAX, S-MAX and Galaxy MPVs which managed to be as practical as you would hope but not insufferably dull to drive, and the B-MAX is the brand's attempt to shrink those attributes down to a supermini size. 
Introduced in 2012, the B-MAX took a different route to practicality by adding sliding rear doors for a significant advantage over the competition, such as the Vauxhall Meriva and the Fiat 500L. Sitting on the same platform as the Fiesta, the B-MAX has a strong engine range, is good to drive and is relatively cheap to run too.
The B-MAX is Ford's answer to small MPVs like the Vauxhall Meriva - a practical family car that blends plenty of exterior space with a compact, hatchback-like footprint.
But unlike the competition, the B-MAX has a trump card in the form of a unique door arrangement - the rear doors slide open and there is no central pillar between the front and back doors. This makes access to the back row extraordinarily easy, and means the B-MAX is easily one of the most practical small MPV you can buy. 
Underneath the fancy doors, the B-MAX is based on the same platform as the Fiesta, so there's a well-judged balance between ride comfort and nimbleness.
For those moving from a hatchback to a people carrier for the first time, the B-MAX is a sensible choice, offering a similar driving experience to its small car sibling. On the other hand, those used to MPVs might find the B-MAX provides an overly-firm ride - always try before you buy.
The engine range is broad, kicking off with a simple 90PS 1.4-litre petrol. Fine though it is, it's worth spending a bit more time and money to find one of the other options, whether it's the 1.6-litre TDCI diesel or the 1.0-litre Ecoboost, offered with either 100PS or 125PS.
In particular the EcoBoost units are a great example of the modern downsized petrol unit, with strong performance and low fuel consumption. Those who want an automatic are restricted to the 1.6-litre petrol with 105PS, which unfortunately isn't particularly good when it comes to emissions.
It is better to drive than both the Vauxhall Meriva and Fiat 500L, and although the Meriva offers its own take on a more practical rear-entry system with a pair of 'suicide' doors, the B-MAX is also more practical than the main competition.
Despite the novel door arrangement, the B-MAX manages a five-star Euro NCAP rating, plus it offers a nicely trimmed interior and a large boot. Luggage capacity is 318 litres with the seats in place, expandable to 1386 litres if you fold them flat, something that's easy to do.
Children or adults will fit comfortably into the back row and – of course – they will have no issue getting in and out. Fitting child seats is a doddle too.
Practicality is further enhanced by plenty of little extra touches like map nets, bottle holders, 12v sockets, big door pockets and a wide-angle mirror for checking on the rear seat passengers. Altogether the B-MAX is a great package, only let down slightly by fairly high prices, slightly gruff diesel engines and a few confusing interior buttons.
Looking for a second opinion? Why not read heycar's Ford B-MAX review.

What do owners think of the Ford B-MAX (2012 – 2017)? Check out our
Owners' Reviews
from people who live with the car day in, day out.
Reviews for Ford B-MAX (2012 – 2017)'s top 3 rivals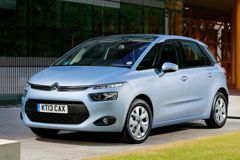 Citroen C4 Picasso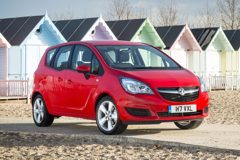 Vauxhall Meriva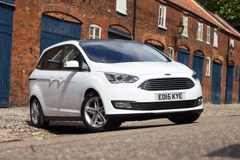 Ford Grand C-MAX
Ask Honest John
What battery charger should I buy?
"What is the correct type of battery charger to use for a Ford B-Max petrol engine with stop-start system?"
You need a trickle charger that works with AGM batteries. This should do the trick: https://amzn.to/39GTA0s
Answered by
Georgia Petrie
How much work is required to replace a heater matrix?
"I have a 2015 Ford B-MAX and water is coming into the driver's footwell. Our nearest Ford garage (which has been very good and I trust) has told me that it is something to do with the heater matrix - either pipe or matrix and this is unusual. They tell me that it is at least five hours labour (as they have to remove put back the dash board), before diagnosis and parts. Would you agree as this seems expensive on a vehicle that has just been serviced at 26000 miles?"
Any work on a heater matrix is very expensive because of the long time it takes to dismantle the dashboard to get at the heater matrix. Same with every car.
Are there any small cars with sliding doors?
"I am returning to the UK after some years and shall need to change my car. I currently have a Renault Kangoo diesel. It's economical, spacious, comfortable, with upright, high and I love the sliding doors in the rear. I don't need such a big car now but would still hope for sliding doors and also being high off the ground. Any ideas?"
There aren't many cars with sliding doors that are smaller than the Kangoo. A Ford B-MAX would meet your needs, but production ended in 2017. Alternatively, if you're happy to compromise on the sliding doors, a crossover SUV like the Skoda Karoq might be a good choice.
My car was written off - what happens to the finance payments I've made so far?
"My Ford B-MAX was involved in an accident and the other party accepted liability. I didn't want the hassle, so I claimed against my own insurer. I lost my excess but, as I have legal cover under my insurance, it should be recoverable. However, my car was under finance when it was written off. The same model isn't available, so I can't get a replacement even though it's new. Gap insurance will cover the difference, but they don't agree with the settlement figure. I need to know what happens to the finance payments I have made so far and the initial deposit to Ford Finance. Do I get that back? Is it counted as an uninsured loss? I don't want to be left with nothing when I have paid nearly £5000 towards the car already."
Any payments made after the accident are considered an uninsured loss, any made before are not. As for the gap insurance, it depends on what type you had - whether it was bridge the gap or back to invoice. I would be very surprised if you cannot get another B-MAX the same as you had, always ask for a new vehicle replacement if it is part of the policy. This way, if they cannot source the exact model, they should pay out the last list price of that vehicle. The market value at the time of loss can be very different and gap insurance should bridge the gap between the settlement and what you owe. This does, however, mean you may lose your deposit. Is your car actually a total loss? If the repair costs are less than the market value, insist on it being repaired.
More Questions
What does a Ford B-MAX (2012 – 2017) cost?