Ford Fiesta ST150, 1.6d, Fusion 1.6d 2005 Road Test
Wed, 13 Apr 2005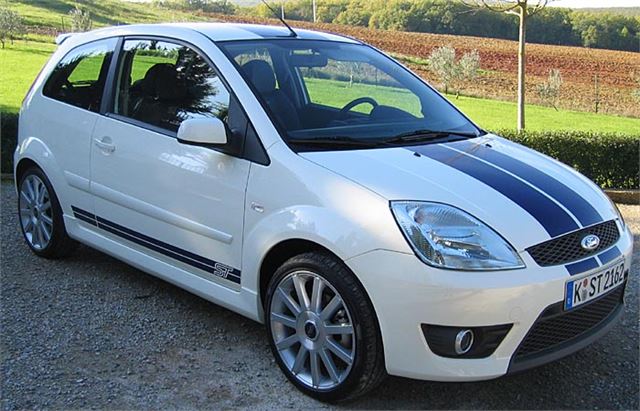 Ford model ranges are never complete until there's a quick one. And now, at last, there's a fast Fiesta. The Fiesta ST150. 

It has a mildly breathed-on chain-cam Mondeo engine putting out 150PS, dropped and stiffened suspension, big 17" alloys with 205/40 section tyres and, for £150 extra, two wide police alert Carlos Fandango 'go faster' stripes the length of the bonnet and roof.

It looks particularly good in white with blue stripes, the old Ford motor sports colours, but you can also have red, blue or black with white stripes, and stripes along the side for an extra £75. There's a single-slot CD player for that authentic 'boom boom' noise. And the exhaust pipe has been specially tuned to sound like a 1960s rally car. So the spirit of the original boy racer XR2 has been re-incarnated in the current Fiesta body.

How does it all come together?

The engine revs very freely, the suspension is rock hard and the responses are instant, so if you want to work at your driving you can put up some pretty quick A to B times on your favourite roads. And I guess it's stiff enough to be a decent track-day car too. There was a bit of variation between the cars on test; one displaying an alarming tail waggle at times, hopefully a pre-production quirk of that particular car. And the ancient Ford fumble of a big gap between 2nd and 3rd gears seems to have returned. Close ratios they aren't.

Though it goes well and the seats are very comfortable and supportive, the ST simply isn't for me. And I kind of wonder who it is for. In theory it's ideal for the under 25s who traditionally buy fast Fiestas. But it's Group 13 insurance, which is going to cost under 25s an arm and a leg on top of the £13,595 list price. I guess there'll be a race series that will shift some. Maybe the market is really 25 – 30 year olds. Perhaps thirtysomething former XR2 owners now running Jags will buy them as second cars out of nostalgia. The really keen will have them for track days. But I can't foresee Ford moving metal in the numbers they used to as XR2s. What I can crystal ball is a lot of youngsters hankering after the ST, then being quoted £3k a year to insure it, so plumping for the 100PS Group 7 Fiesta Zetec 1.6S instead (which we didn't get to test).

To Telegraph readers, the new slightly sporty Fusion Zetec S with a 90PS version of PSA and Ford's 'Duratorq' 1.6 16 valve common rail diesel makes more sense. Fusions never really took off in the UK, despite their slightly higher driving position and their huge rear loadspace with flat low-loading sill. A peculiar omission is no grab handle over the front passenger seat, which isn't going to help the elderly and infirm make entry and exit. But for a small, tall car the Zetec S version handles decently enough. A bit better than a Mitsubishi Colt or the class-leading Honda Jazz, though no better than its stablemate Mazda 2. And the EU IV 90PS diesel gives it a decent combination of performance and economy just short of the magic 120g/km CO2 so annual VED is £115 rather than £85.

Fortunately Ford saved the best for last. The Fiesta Zetec S with the same 90PS 'Duratorq' diesel engine.

This isn't just extremely cheap to run at £85pa annual VED and an average 63mpg, it's also a lot of fun. The suspension is more compliant than the ST, there's a bit less rubber on the road, no 'ESP' switch (and no need for one) and one of the sweetest revving diesels you can buy. It begs the question why they didn't go all out for the 110PS version as fitted to the Peugeot 205 GTI HDI 110. The answer could be that the 110 wouldn't have qualified for £85pa VED. Or that it would have been so good it would have stolen the thunder of the ST. Or that PSA simply wouldn't let Ford have it for the Fiesta.

Still, for me, despite just 90PS, the Fiesta Zetec S diesel was car of the day. It rode well. It handled astonishingly well and felt like it would continue to do so in the wet. It put a smile on my face. And I reckon I'd probably end up getting around 55mpg day to day against maybe 35mpg from the ST, so I wouldn't have to go and get robbed at a service station quite as often. It's even cheap to insure in Group 6E. So it's the fast Fiesta that gets the thumbs up here and I'll leave the ST to the enthusiasts who like that sort of thing.

Living With a Fiesta ST150

For reasons I won't bore you with I wound up with an all-black RHD ST150 on extended test for 3 weeks.

After our Thai Soluna Vios and a Mitsubishi Lancer estate, the Fiesta first felt so full-on tight, hard and darty I thought I was going to have a tough time not crashing it. Since I like a bit of compliance in the suspension, this was a real culture shock. And geared at 20mph per 1,000 rpm in top it's hardly a relaxing cruiser either.

But that's not what it's about. What it is about is making the Fiesta as close to a track-day car as can be done. And when you think of it that way, it succeeds very well.

It forces you to concentrate on driving it properly. And then it can be very satisfying.

They must have changed the gear ratios from the original test cars, because now a short third gear gives hard acceleration, which is very useful pulling onto a motorway. There is actually bags of grip and adjustability. On straights the din from the engine discourages serious speed. But get to some corners and that Mercedes that was eating your back bumper suddenly becomes a Dinky toy in your mirror. So the ST150 can be huge fun. And is even more accessible now that real world prices have been cut to around £11,000.