Porsche 718 Cayman (2016 on)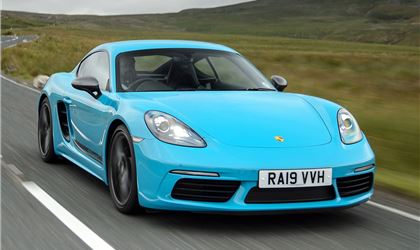 Coupe 2.0 300ps 2dr Coupe
reviewed by OGA on 16 June 2019
5
Tax/Insurance/Warranty costs
3
Cost of maintenance and repairs
1
Experience at the dealership
4
How you rate the manufacturer
SURPRISINGLY FLEXIBLE
Bought from a distant main dealer, obviously expensive and ,disappointingly, faults were apparent after just 80 miles. 5k worth of repairs carried out under warranty by my local dealership. Windscreen not in great shape so replaced it via car insurance and was reimbursed the excess. Porsche gave me (after some dispute) £1k compensation. Not a great start but all now well and it's a great car. Obviously designed to be driven hard and it seems to like it and with surprisingly good consumption, 39 MPG over the 1000 miles so far (manual - my PDK boxster managed around 42). Having said that it'll poodle around town happily at 35 in 6th gear. More than adequate for the supermarket run or travel in terms of cargo space. Massive spec made mine pricey for its age but basic spec, whilst not lavish, is better than Porsche used to provide. I've noticed that for pre owned, they do after a while drop the price quite considerably so go with your bargaining hat on if they say the price is the price. And walk away if need be. Renewing the warranty is a must, as my experience shows.
reviewed by James176 on 26 November 2017
Write your review
About this car
| | |
| --- | --- |
| Price | £40,233–£61,852 |
| Road Tax | G–K |
| MPG | 31.4–40.9 mpg |
| Real MPG | 89.1% |
Just reviewed...