Porsche Cayman (2013 - 2016)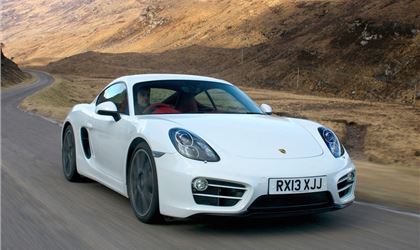 3.4 330 2dr Coupe
reviewed by ScottCurtis on 18 November 2014
2
Tax/Insurance/Warranty costs
3
Cost of maintenance and repairs
5
Experience at the dealership
5
How you rate the manufacturer
Porsche's Finest? I'm certainly impressed with mine....
I bought the car new in September 2014 and although I have only done 1500 miles at the time of writing, I feel sufficiently qualified to give my thoughts on the car.

Despite having had a reasonably quick version of the Caterham 7 for a number of years, the Cayman took a while to get used to and it was only after about 800 miles that I felt I was at last 'in front' of what the car was doing from the perspective of the car responding to my inputs rather than the other way around! And this despite religiously sticking to a 4250 maximum rpm during the running in period as per the handbook!

I have been assiduous with regard to running in the car properly with plenty of gearchanging, lots of variations of road and engine speed, no 'lugging' etc and the car is now starting to loosen up nicely. I have just started, on the advice of the dealership, taking it up to 5k rpm periodically, which is where things seem to get interesting (and there's another 2.5k to explore, which I shall build up to over the next 500 miles). The gearbox (manual on mine) is truly excellent (almost as good as the rear wheel drive Ford Escort circa 1978) and the ride acceptable given the handling set up, which is utterly beyond anything I've experienced, including the Caterham. This car really corners well....

The dealer in Tonbridge has been faultless so far (I insisted on an oil change at 1400 miles to get rid of any residual muck from the manufacturing process, despite Porsche saying one is not needed until 20k or 2 years. Not in my car, sunshine. This car needs to last the rest of my motoring life and that means 6k/yearly oil changes...and this in spite of the cost of an oil change, which is £300...Wow Wee etc. Well, it was 7 litres of Mobil 1....) and the salesman I dealt with was both knowledgeable and helpful.

The purchase of this car represents, for me at least, a once in a lifetime motoring treat. I'm thoroughly enjoying it, and if you get the chance, buy one for yourself. It feels beautifully built and is a real pleasure to both sit in and look at! Do make sure you specify the sports exhaust option though - it's great to listen to in tunnels on the overrun... :-)
Write your review
About this car
| | |
| --- | --- |
| Price | £40,249–£65,391 |
| Road Tax | I–L |
| MPG | 27.4–35.8 mpg |
| Real MPG | 88.7% |
Just reviewed...