Mazda MX-5 (2005 - 2015)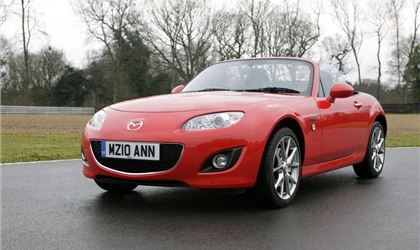 Kuro 1.8
reviewed by Anonymous on 15 November 2020
3
Tax/Insurance/Warranty costs
4
Cost of maintenance and repairs
3
Experience at the dealership
4
How you rate the manufacturer
Best cheap fun car out there.
I've had loads of mx5s over the years and I've got to say this one so far has been great, I've already put 3500 miles on it and I've loved every mile. I actually look forward to my commute to work even though its taking me to a place I don't particularly like.
The heated seats and 25,000 miles steered me towards this one also the chassis was like new.
The engine is really crisp and sweet and loves to be revved, it's quick enough for fum and also looks after your licence.
It returns approximately 36 mpg on my commute but has returned 43mpg on a run to the lakes.
I sold my ducati scrambler and replaced it with the mx5 and wish I'd have done it years ago as with the bike anything over a 60mile journey was agony but the kuro we've travelled 200+ with no complaints.
Great car
reviewed by Anonymous on 29 August 2020
reviewed by Anonymous on 27 November 2018
reviewed by Rod1969 on 12 October 2017
reviewed by doi209 on 18 October 2016
reviewed by tangent on 3 February 2015
reviewed by cliveac on 16 October 2014
reviewed by Bobbin Threadbare on 29 June 2012
reviewed by RupertRocks on 17 October 2011
reviewed by Alan50 on 18 August 2011
reviewed by HUD Engineer on 15 June 2011
reviewed by NARU on 8 May 2011
reviewed by dreamon on 12 February 2011
reviewed by rockdad on 21 November 2010
Write your review
About this car
| | |
| --- | --- |
| Price | £15,420–£21,725 |
| Road Tax | H–J |
| MPG | 34.5–39.8 mpg |
| Real MPG | 93.6% |
Just reviewed...