Mazda 2 (2015 on)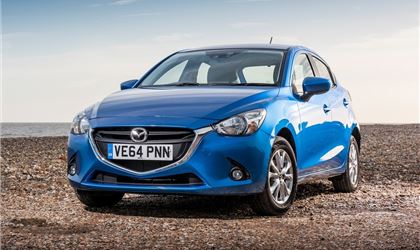 Mazda 2 SE-L 90 bhp
reviewed by up north on 30 November 2019
4
Tax/Insurance/Warranty costs
3
Cost of maintenance and repairs
3
Experience at the dealership
3
How you rate the manufacturer
A Tin Can on wheels
The car looks nice and it is fantastic on fuel for a 1.5 petrol engine as averaging 52 mpg and even driving very hard it is still 49 mpg. It also drives nice and quick enough for most, yet for a modern car it is poor quality. Mine was bought just coming out of its 3 year warranty and with 19k on the clock and one previous owner. It immediately needed two n/s shocks replaced, as leaking. There is a noise from the rear like a wind tunnel and though it has been back to the Mazda dealer twice it is still there. There is no accident damage, so it is just what is classified as 'normal' noise for a 66 plate. Everyone who has been in the car calls it excessive loud noise! I have never heard the same in 30 years and too many cars driven to count!

The paintwork chips very easily and was a problem with the 'Soul Red', but mine is metropolitan grey and the bonnet is covered in stone chips. The paintwork in general has an orange peel effect but pre 2019 models all seem to look the same, so it isn't just mine. The panels are like coke cans when you press with your fingers. The wind noise and exterior noise is 'excessively' loud. The drivers seat is very uncomfortable and the position is causing me back and leg issues. The rear doors are difficult to access for anyone over average height and there is no solid clunk when you shut them. Every morning the car is steamed up on the outside glass when other cars are clear. Frosty mornings it is thick with ice unlike any other vehicle on the street. It takes ages for the car to warm up, but glad of the blue warning light that goes off when the engine is at temperature...eventually. The rain on the roof sounds like hailstones. The suspension is jittery on poor road surfaces and the car can be jerky.

Now before you think I am being unfair the updated Mazda 2 and the new Mazda 2 in 2020 have addressed most of the above. The 2020 Mazda is apparently a completely different car, according to the dealer. Wind and cabin noise has been addressed with more sound insulation. New seats that are more supportive. The suspension was tweaked. Metropolitan grey is no longer available. One can guess I am not the only one dissatisfied with the quality of my 2016 model, so early Mazda 2's from 2015 must have been similar!

The gear change is slick and the performance is good and the drive in many ways is better than a fiesta. The build quality though isn't as good as a Fiesta, especially the paint and body panels. The interior is dark but still quite nice. The wheels on mine are small alloys at 15 inch which is great for tyres as 4 Michelin Crossclimate plus cost £250 fitted, as just booked in for next week. The tax is £20 and the insurance cheap.

Possibly I am either unlucky with my Mazda 2 or early models the same spec have similar issues that eventually brought Mazda to correct and eventually redesign. I want to love the car after 2k miles, but I might require some counselling first at this rate.
reviewed by Anonymous on 23 September 2019
reviewed by Marcus T. on 6 February 2019
reviewed by GingerTom on 5 January 2019
reviewed by gd1210 on 16 November 2018
reviewed by Anonymous on 4 August 2018
reviewed by Tom Day on 4 April 2018
reviewed by Anonymous on 3 April 2018
reviewed by Anonymous on 11 February 2018
reviewed by Anonymous on 18 July 2017
Write your review
About this car
| | |
| --- | --- |
| Price | £13,595–£17,395 |
| Road Tax | A–D |
| MPG | 50.4–83.1 mpg |
| Real MPG | 90.7% |
Just reviewed...