Mazda 3 (2004 - 2009)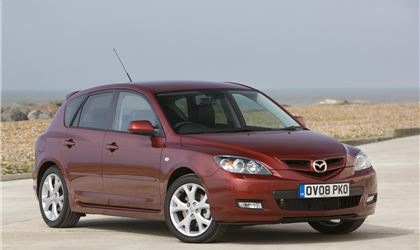 1.6 TS 5dr
reviewed by ladiesman 217 on 26 April 2020
4
Tax/Insurance/Warranty costs
4
Cost of maintenance and repairs
4
Experience at the dealership
4
How you rate the manufacturer
Efficient, reliable, and great to drive
Purchased as a stop-gap car in April 2018 but kept it because it was too good and was worth more to us than the £1000 we paid a local home based independent dealer we found on Autotrader. Very quiet at urban speeds, not so at motorway speeds though. Improves with good quality tyres though (ours had obscure, budget makes on all wheels, now has Goodyears), makes a noticeable difference. Also makes a noticeable difference to the feel through the steering. Reasonably lively up to 40ies mph, but slower to pick up to motorway/dual carriageway speeds. Build feels a bit light but has good NCAP crash test result. V reliable, and a bit more interesting to look at than the equivalent Ford Focus. Easy to get routine servicing type parts for, and so far they haven't been expensive. Reasonable space to work around the engine if you need to, and quite easy to get at the headlight bulbs to replace them for a change. Alloys beginning to show small amounts of surface corrosion where lacquer flaking off. Space saver spare wheel with ours. Simple controls for heating and climate control, good quality sound from radio and CD. Engine warms up very quickly. Ride is reasonable neither hard nor soft, and quite roomy for the size of car. Rear seats fold down but don't form a flat load area - has a step in it where the seat backs fold. Probably about 40 mpg overall. First Mazda I have owned and would definitely consider the make again.
reviewed by Anonymous on 31 July 2019
reviewed by Anonymous on 12 June 2019
reviewed by Jonathan Pickard on 3 June 2018
reviewed by bobx on 9 December 2015
reviewed by Engineer Andy on 14 October 2015
reviewed by balleballe on 1 July 2014
reviewed by ecalperif on 11 May 2014
reviewed by The Idlar on 28 November 2013
reviewed by balleballe on 25 April 2013
reviewed by stlee on 21 June 2011
reviewed by pjw956 on 1 June 2011
reviewed by robmar0se on 15 February 2011
reviewed by turbo11 on 7 January 2011
reviewed by hendomem on 1 January 2011
Write your review
About this car
| | |
| --- | --- |
| Price | £12,659–£20,345 |
| Road Tax | C–J |
| MPG | 35.8–62.8 mpg |
| Real MPG | 85.5% |
Just reviewed...