Mazda 5 (2005 - 2010)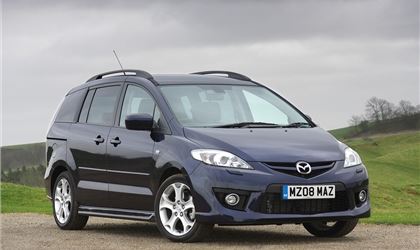 2.0 TS2 Diesel 5dr People Carrier
reviewed by Richard browne on 5 June 2017
3
Tax/Insurance/Warranty costs
2
Cost of maintenance and repairs
1
Experience at the dealership
3
How you rate the manufacturer
Versatile Pig
The Mazda 5 is a 6+1 Seater (7 seats, but the middle of the middle row can and should be folded away because it's little use to anyone other than Stickman) which is designed to be the compromise between big and small, town and distance driving, family and commute.

The good: it's an incredibly versatile car. The 6+1 format means you can turn the middle seat of the middle row into an arm rest, a table with storage or fold it away completely for open storage. The boot is cavernous considering this is a reworking of the Focus platform, and with the upright seating you have excellent space throughout the cabin. It's nimble and light to move around town, comfortable for long journeys and the diesel we've had has been excellent for eating up longer journeys. There's good torque delivery making overtaking simple. The cabin is well laid out, arm rests for driver and rear passengers, folding the rear seats up and down is a doddle and it's possible to fold the mid-row flat for massive load space. I have, at times, loaded it with dog, child, wife, bags, push chair, travel cot and extra and, with roof box attached, the car has taken it all happily.

The bad: the kit levels are a tad stingy, I think. I have the mid-trim level (TS2) and miss things like cruise control, mpg display, fogs, etc. The mileage isn't great for a Diesel engine- I reckon in practice I'm getting something like 32 in town and around 45 out. The middle seat really should be folded away as, especially with child seats in the back, it becomes nigh-on impossible to use. The higher torque means you need to drive conservatively around town unless you want to pay out for tyres. Mazda's trim levels meant you're very restricted in finding the right model - if you want all the toys, you have to buy the tyre-munching Sport with the higher-power diesel. If you want a vague improvement in fuel economy from the lower output you have to sacrifice phone connection, cruise control and so on.

The ugly: I bought the diesel for the occasional thousand-mile round trips I do to the grandparents. Big mistake. Owing to poor DPF design, the thing hates persistent short commutes. I have increasing levels in the oil system because the diesel fired in to regen the dpf is not burned off owing to engine temperature not getting up, then soaks back through the crank case. I discovered this 5 days out of warranty when my engine went into runaway. Neither Arnold Clark nor Mazda were at all helpful. So I change the oil every six months and blast the car every few weeks to keep it running smoothly. How do I know it's this? If I go on a long trip I can cover the same miles In a week as in the previous six months. Following six months of short town commutes, the engine oil level has risen significantly; following the long trip, there's no change at all. Tyres do wear faster than you'd expect. And silly stuff like the CD player no longer pushes out CDs properly, meaning I need to use a coffee stirrer to change from Disney sing-along to Iron Maiden.

In conclusion, a fine car but only get the diesel if your daily commute is over 20 miles.
reviewed by turbo11 on 19 November 2010
reviewed by Dr Ed on 8 August 2010
reviewed by chasb on 20 May 2010
Write your review
About this car
| | |
| --- | --- |
| Price | £17,045–£21,560 |
| Road Tax | G–J |
| MPG | 34.4–46.3 mpg |
| Real MPG | 85.5% |
Just reviewed...