Mazda CX-30 (2019 on)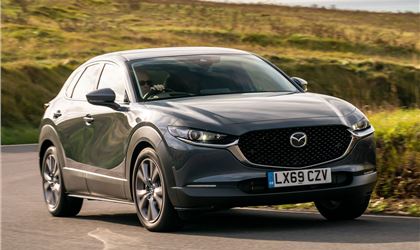 GT Sports Tech Sky activ -x MHEV 180
reviewed by Anonymous on 4 June 2021
2
Tax/Insurance/Warranty costs
1
Experience at the dealership
2
How you rate the manufacturer
Style over substance
Very disappointed with the car.
There have been a number of irritating issues. It would not start after owning car for a couple of months. The windows would not come down, the alarm kept going off and we we stuck on a hot day in the car.
Mazda assist phoned and suggested holding key against the Stop/Start. It did the trick but now, 8 months later Mazda say they will replace both keys as an issue has been found. At the time they said get the batteries changed in the key fob, the main dealer did with reluctance as it was only a few months old.
The car is supposed to lock when you walk away - not all the time, the dealer suggested turning the feature off - why in a fairly expensive car.
We have had a safety warning coming on when driving down the motorway, came off to be on the safe side but no idea what it was and what caused it.
Other frustrating issues too so we are now changing the car.
reviewed by Anonymous on 8 April 2021
Write your review
About this car
| | |
| --- | --- |
| Price | - |
| Road Tax | Alternative fuel, B–Alternative fuel, F |
| MPG | - |
| Real MPG | - |
Just reviewed...