Hyundai i40 (2012 on)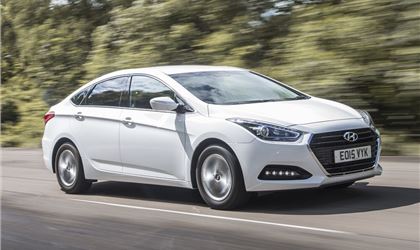 1.7 CRDi 115 Blue Drive Active 4dr Saloon
reviewed by Fordcougar on 21 January 2017
5
Tax/Insurance/Warranty costs
5
Cost of maintenance and repairs
5
Experience at the dealership
5
How you rate the manufacturer
Exceptional value for money and piece of mind
I have to say I'm new to the brand and settled on a i40 as it was the cheapest saloon of it's size I could afford almost new with low miles. I purchased mine with 10k miles and six months old for £12,600 - and at that point of time it was the cheapest i40 advertised on Autotrader in the UK - luckily for me it was at the local car supermarket. Previous to this purchase i've always been a Ford man, a) couldn't afford an almost new Mondeo and b) I feared it would plummet in value when the new Mondeo arrived in late 14 if I did buy one.

So having set the scene am I impressed with the car?- yes I am being the short answer. It rides well and i'm getting mid 40's to early 50's mpg in my driving mix. I have the lower powered manual and I don't find it underpowered and wouldn't have the higher powered version over the £30/year road tax.

The service interval on mine is 20,000/2 years - so I will only need it serviced twice in the whole 5 year warranty - which again will save me a great deal of money. I have used the warranty for a minor fault on the drivers seat and I have had to use the breakdown cover (another major cost saver) when the fobs would not unlock the car on the drive (only happened once) and in both cases the service has been excellent. I find the interior really well designed and all soft touch materials - a lot nicer place to sit than the company pool car Seat Leon I also drive which I find very bland by comparison.

So - what about the bad bits? - well the manual gearbox is very notchy when cold which kills any BMW/AUDI/MERC pretensions for me, although it is OK when warmed up and I can't help thinking the car was designed from the rear first as Hyundai seems to have spent money poorly for me with the twin exhaust and LED light clusters - I'd rather had better quality screens for the radio and between the dials that both look low rent to me - and you look at them all the time - not like the rear lights or exhausts!!
Would I buy another one? - I think I would it gives tremendous piece of mind to buy a nearly new car with 5 years finance. Factor in low servings costs during warranty, free breakdown and £30/year tax - I definitely feel the cost benefit. I guess the proof will be what it's worth on trade in when it hits 5 years old.
My only real regret was not getting the next trim level with cruise and reversing cameras - but it put £600 on the car and it was money I didn't have and you have to draw the line somewhere!

Hope this helps anyone make a decision on purchasing an i40.

2 Year update on buying the car (March 2016) - just thought I'd update my review as I was on the website. I have to say this i40 is turning into one of my favourite cars over the last 30 years. I had the car serviced at 2 years old in July and it was less than expected and nothing has gone wrong with the car at all. People who get past the badge have been impressed with the ride, but getting past the badge does seem to be a problem for some for sure.

I drove a brand new top of the range Mondeo as a hire car recently and that for me was a big acid test as I've been a big Ford fan in the past and I have to say I did'nt climb back into my i40 wishing I was keeping it.

Just thought i'd make this a trilogy of a review and give an update at 3 years as i've just traded it in. Probably the first car in 30 years of driving I was sad to let go. In 3 years I have not so much as changed a bulb or wiper blade and the running costs have been unbelievably low at well under £400 in 3 years for main dealer servicing, first MOT and 3 years of road tax. I believe the depreciation at £2k/year is in line with Mondeos and Insignias. I would have happily driven the i40 for another 16 months plus to get full use of the warranty if my circumstances hadn't changed (for once for the better!). Local dealer Vantage has given really good customer service in all my interactions. Only downside is almost every other i40 saloon i see now is a taxi. In summary I can't recommend Hyundai or the 140 high enough from my experience.
reviewed by Anonymous on 1 May 2014
reviewed by Anonymous on 5 February 2014
reviewed by simont on 23 October 2013
reviewed by Martin47 on 23 February 2013
reviewed by woodbar on 8 October 2012
Write your review
About this car
| | |
| --- | --- |
| Price | £22,995–£30,445 |
| Road Tax | B–G |
| MPG | 42.8–67.3 mpg |
| Real MPG | 75.8% |
Just reviewed...