Honda Civic (2001 - 2005)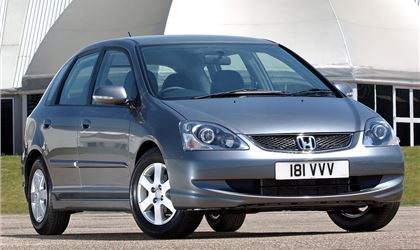 TYPE S 2.0
reviewed by Sharoz on 10 February 2017
4
Tax/Insurance/Warranty costs
5
Cost of maintenance and repairs
4
Experience at the dealership
5
How you rate the manufacturer
Still going, still great.
I bought this car knowing that it had 150,000 miles, I have had it for over 10 months and this car has been great, I have now reached 160k. A great engine, yes not economical and quite stiff but almost everything in the car still works and I am surprised that it still does, other more expensive cars would have electronics not working like a Mercedes E class my parents used to own. I will now miss this car as long distance driving forces me to get a diesel, if you are looking to get a fast family hatchback car like this and you don't mind about the stiffness and economy then I say this is a must.
reviewed by bubsqueaker on 17 January 2016
reviewed by jjgixer on 24 February 2015
reviewed by JPRD on 4 February 2014
reviewed by belknap on 23 January 2014
reviewed by caledonia84 on 28 May 2013
reviewed by Dan the civic man on 24 October 2012
reviewed by binao on 22 March 2012
reviewed by The Fox Hat on 18 July 2011
reviewed by Yanne on 18 October 2010
reviewed by TimPy on 13 August 2010
reviewed by Adam.G on 24 May 2010
Write your review
About this car
Just reviewed...