Nissan Qashqai (2014 – 2021) Review
Nissan Qashqai (2014 – 2021) At A Glance
The Nissan Qashqai is the nation's favourite SUV. The original version spawned countless imitators, but the second-generation model picked up where the old Qashqai left off, cementing a prime position in a fiercely competitive segment. Launched in 2013, and facelifted in 2017, the Qashqai is certainly showing its age. Rivals such as the Renault Kadjar, Skoda Karoq and Peugeot 3008 are actually more appealing, but the Qashqai remains popular..
The chances are somebody in your street owns a Nissan Qashqai. If not, somebody at work does. Maybe you've owned a Qashqai at some point. It's the most popular crossover in the UK. As ubiquitous on the high street as a discarded Costa cup and vaping smoke from outside a pub.
Launched in 2013, the second-generation Qashqai takes all that was good about the old Qashqai and makes it better. The styling is even more SUV-like, there's more space inside, it's safer, more upmarket and even more efficient. No wonder it's Britain's number one.
Only it isn't. Although the Qashqai still tops the sales chart, in most other respects it has been overtaken by its rivals. The platform-sharing Renault Kadjar is larger and more spacious, the Skoda Karoq offers better value for money, while the SEAT Ateca is almost the perfect family SUV.
So why does the Nissan Qashqai hold such strong appeal? Partly because nothing attracts a crowd like a crowd, but also because Nissan has adopted a DFS-style approach to sales and marketing. Low monthly repayments, zero percent finance and low deposits put the Qashqai within reach of just about every car buyer.
In fairness, there's more to it than that. Glance at the spec sheet for the mid-range N-Connect and N-Tec models and you'll see an impressive list of equipment. Indeed, even the Acenta Premium model is well-equipped, while the range-topping Tekna and Tekna+ look and feel almost premium. The entry-level Visia is the only trim we wouldn't recommend.
Then there are the engines. The 1.5 dCi diesel is one of the best all-rounders, offering a terrific blend of performance and economy. Meanwhile, the 1.3 TCe petrol engine is a great choice if you spend most of the time in the city, with economy to rival a diesel. There's also a choice of transmissions and the option of four-wheel drive.
The driving experience is perfect for non-car people. That's to say it has been configured to be safe, predictable and comfortable. In the town or on a motorway, the Qashqai never seems out of place. The ride suffers on 19-inch alloy wheels, but not to the extent that it becomes uncomfortable. Does it matter that the handling is vague and uninspiring? Of course it doesn't.
Second-hand prices have dropped below £7000, which makes this a terrific used SUV to buy. There are some question marks over its long-term reliability, so we'd recommend buying a later version that's still covered by the original three-year warranty.
It's not the most exciting car in the world, and you won't win any points for originality for buying a Qashqai, but tens of thousands of people can't be wrong. Follow the crowd to see what all the fuss is about. Or go your own way. Whatever, you won't be too far from a Nissan Qashqai.
If you're looking for the newer version, you need our Nissan Qashqai review. 
What do owners think of the Nissan Qashqai (2014 – 2021)? Check out our
Owners' Reviews
from people who live with the car day in, day out.
Reviews for Nissan Qashqai (2014 – 2021)'s top 3 rivals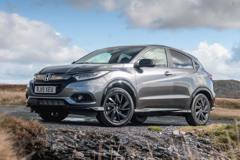 Honda HR-V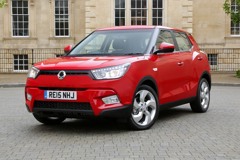 SsangYong Tivoli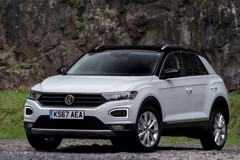 Volkswagen T-Roc
Ask Honest John
Premature rust, what are my rights?
"I have 2019 Nissan Qashqai. All four doors have small spots of rust at the top and bottom. Whilst being serviced they also said a door isn't aligned properly. They've said they can touch the rust spots up but I'm concerned that they will just rust again. Do I have the right to ask for the doors to be replaced fully or are there any other options legally open to me?"
Every new Nissan in the UK is sold with a 12-year perforation from corrosion warranty. This covers you against a manufacturing defect that results in rust. Your vehicle may also be within its three-year paintwork warranty. If the rust spots are caused by a manufacturing defect then I would expect the dealer to respray the doors. However, if the rust spots are caused by damage (stone chips, for example) then it'll be classed as damage and you'll need to pay for the doors to be repaired.
The car I recently purchased has several faults - what are my rights?
"We've purchased a 2019 Nissan Qashqai and in the 10 days we've had it we've had a number of problems with it. We had tyre pressure warning light come on within 30 minutes of collecting the car and found a split in one tyre. The system fault warning light is on all the time and doesn't recognise all speed limits, while the stop/start only holds engine off for a few seconds. Yesterday the battery in the first key fob packed up so I used the second key fob. Having parked the car for a short while, the fob wouldn't unlock the car. I removed the key from the fob to open the door at which point the alarm went off. After holding the key fob next to the stop start button for 20 minutes I managed to start the car and drive home with the fault light showing system failure and various other symbols also lit up. I phoned the main agent who we bought the car from and told them they could come pick it up and as far as I was concerned they could have it back. We were told when we bought the car they checked everything - nothing had been checked since it was last serviced in July and has been siting on their forecourt ever since. I'm waiting to hear back from them but I've lost confidence in the car."
If you have owned the car for less than 30 days then you may have grounds to reject the car under 2015 Consumer Rights Act. However, if you have owned the car for longer than 30 days then the dealer is entitled to be given the opportunity to fix the car. Obviously, if you are really unhappy with the vehicle the dealer may agree to take it back. But they will probably make a deduction for the usage you've already had from the car. For your consumer rights, see: https://www.honestjohn.co.uk/how-to-reject-a-car-your-consumer-rights/#what-are-your-rights-if-you-want-to-reject-a-vehicle
Downsizing from a Nissan Qashqai - what should I buy?
"I'm on my third Nissan Qashqai since 2013 and this current one (petrol/automatic) will be three years old in May 2022. Recently my partner bought a Mazda 6 so we have two roomy cars siting on the drive. So I think it's time for me to change to something smaller and more environmentally friendly. I'm now retired and don't drive long distances every day. In fact, some days the car doesn't leave the drive or only travels a few miles. However, I need to be able to drive from the West Midlands to Essex or similar distance on occasions to visit family. I've been spoilt with the Qashqai and its top of the range features, comfort, reliability and high driving position. Is there something smaller that fits the bill? The replacement car can be new or second-hand up to three years old. A small/medium hybrid or electric automatic with lots of spec including heated seats are preferable. My budget would be to use the Qashqai in part-exchange and then fund the rest. I hope you can help."
Take a look at the new Toyota Yaris Cross. It's a small hybrid SUV (smaller than your Qashqai) with a high seating position and generous equipment levels. It's likely to be a very reliable choice with low running costs and should be well suited to your journeys. Alternatively, consider an electric model like the Hyundai Kona Electric. If you buy one with the 64kWh battery pack, it'll be able to travel up to 300 miles between charges.
Which diesel engine is best for the Nissan Qashqai - 1.5 or 1.6 dCi?
"I would like to buy a Nissan Qashqai. I'm looking ats 2018 cars with an automatic gearbox and diesel engine. Which engine should I choose, the 1.6 or the 1.5 dCi? "
I'd recommend the 1.5 dCi – it's smoother and quieter, while there's little to choose between the two in terms of real-world performance.
Answered by
Russell Campbell
More Questions
What does a Nissan Qashqai (2014 – 2021) cost?