All-new Dacia Jogger unveiled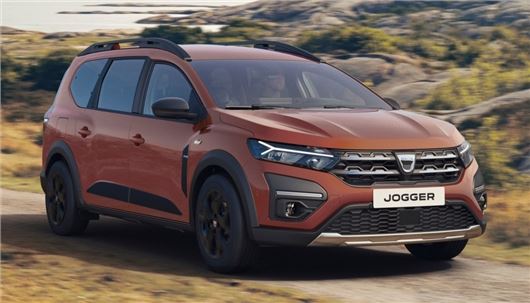 Published 09 September 2021
Bargain load-lugger has space for seven
You can fold the two rear rows to free up a massive 1819 litres of boot space
Order books open in November and prices will start in the region of £15,000
The Dacia Jogger was revealed at the Munich motor show earlier this week and is set to be the hot ticket in town if you want to carry seven people (and a fair wad of their stuff) for a knockdown price.
2022 Dacia Jogger price and release date
How much? UK prices have yet to be confirmed but we do know the car will retail for €15,000 across the water so around £15,000 seems possible, here. Frightening value when you consider a Skoda Octavia Estate tips the scales at £22,680 and the Volkswagen Touran seven-seater is yours for an eye-watering £29,750. 
If you like the sound of that, the Jogger will be available to pre-order in November with the first cars delivered to their new owners in the first quarter of 2022.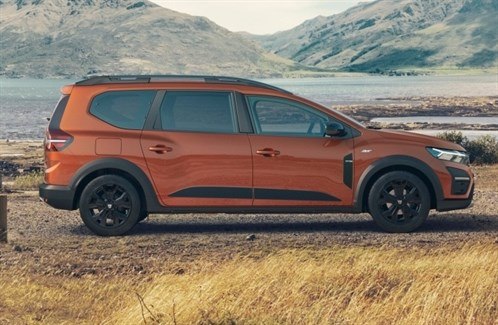 2022 Dacia Jogger Design
That Octavia/Touran comparison makes much more sense when you see the Dacia Jogger and realize it is quite literally a cross between an estate and an MPV, with a dash of SUV for good measure. 
Looks better than it sounds, doesn't it? 
At 4.5m in length, the Jogger is the longest car Dacia makes – though still 2cm shorter than an Octavia – and it shares its platform with the Dacia Sandero. 
The new Dacia draws all kinds of comparisons to the late Talbot Rancho, something Dacia has been only too happy to court by giving the Jogger Rancho-aping blistered wheel arches, a 200mm raised ride height and black bumpers.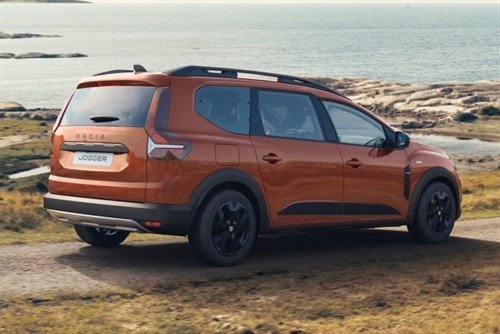 The roof rails, meanwhile, are cleverer than they look, their modular design means they can accept anything from cycles to skis and they can handle an 80kg payload. 
LED low-beam headlights give the Dacia a modern hue at night, while tail lights integrated into the C-pillar give the boot a large opening to aid loading. Even the 'flex wheels' are practical, they look (almost) like alloys but are actually plastic-trimmed steel wheels. Diamond cut alloys are available if you want them. 
The car in these pictures is the limited-edition Extreme model. You can have it in Pearl Black, Slate Grey, Moonstone Grey, Glacier White, or (seen here) Terracotta Brown and it comes along with black roof rails, black door mirrors, a black shark-fin antenna and black alloy wheels. Skid plates finished in Megalith Grey, protective door strips and Extreme badging complete the look.
2022 Dacia Jogger interior and practicality
The 2022 Dacia Jogger offers "unrivalled interior space for a family of seven" according to Dacia and much of this is thanks to its 2.9m wheelbase. You get seven full sized seats, even the third row is claimed to be "comfortable for adults" or you can fold the two rear rows away to free up a massive 1819 litres in total.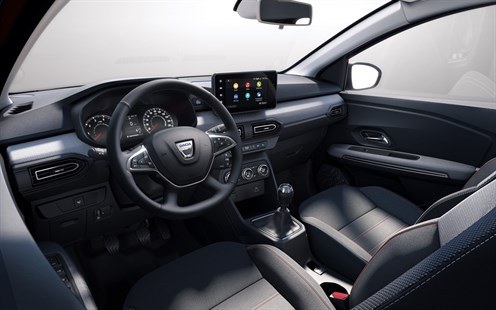 That drops to 712 litres with the middle row of seats in place – still more than a Skoda Octavia Estate (640 litres) – or 213 litres with all the seats occupied. That latter figure is perhaps the most impressive, meaning you can carry seven people and still have room for a city-car-boot's worth of luggage. 
Dacia has thought about the little things, too. You get three shopping hooks, a 12v power socket, the middle row seats have Isofix points and all rows have their own roof lights. You can even have fold-down picnic tables if you splash out on a high-end model. Fancy! 
Keeping this venerable family wagon tidy should be easy, too. You get 24-litres worth of smaller storage spaces including a 7-litre glovebox, four door pockets that'll swallow a litre bottle each, six cup holders and a 1.3-litre lidded storage space in the centre console.  
The familiar dashboard design is carried over from the new Sandero. It's by no means fancy, yet is perfectly acceptable for the price and posher models get nice textile trims.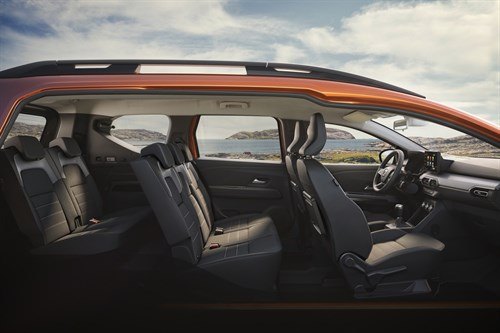 As you'd expect, the Jogger Extreme gets everything bar the portable camping sink thrown at – including climate control, a reversing camera, keyless entry, floor mats and a rugged rubber boot lining. 
Safety features are generous across the range – all models get six airbags, automatic emergency braking, blind-spot warning, stability control and a speed limiter. You also get front and rear parking sensors and hill-start assist. 
Cruise control is fitted to higher-end models, while the options list includes things like heated seats, climate control, auto wipers and an electric parking brake. 
2022 Dacia Jogger infotainment
The Dacia Jogger comes with a choice of three infotainment systems.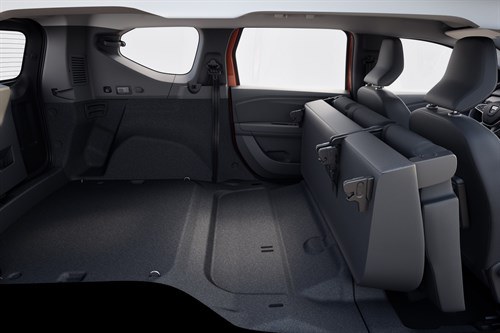 The entry-level Media Control system is essentially an integrated holder for your smartphone. You download the Dacia Media Control apps and voila your phone becomes an extension of the car's dashboard, providing phone calls, music, sat-nav and driving information. Conveniently, it can be controlled using buttons on the steering wheel and there's a USB plug-in on the dash so there are no trailing cables. 
Next up is the Media Display which gives you a built-in eight-inch screen with Apple CarPlay and Android Auto – to protect your phone's display onto the car's big screen to use apps like Google Maps and Spotify. The stereo's speaker count also doubles from two to four.  
The Media Nav is the same system but with built-in sat-nav and wireless Android Auto/Apple CarPlay, you also get an extra USB plug and two more speakers.
2022 Dacia Jogger engines and performance
The Dacia Jogger will initially be offered with two engine options with a hybrid to follow later.
Stalwart of the range is the TCe 1.0-litre three-cylinder petrol with 110PS, mated to a six-speed manual gearbox. Dacia doesn't quote figures, but you can expect it to get from 0-62mph in around 12 seconds (or quite a lot more than that when the car is fully loaded). Real world fuel economy of around 40mpg should be possible.
Your only other option for now is a 100PS Bi-Fuel version of the same engine. It returns 37.1mpg and has a standout range of 621 miles, thanks to having a 40-litre LPG tank to back up its 50 litres of petrol. 
The hybrid model will come in 2023. It has a 1.6-litre petrol engine, two electric motors, a 30V battery, automatic gearbox and regenerative brakes. The result? According to Dacia, it'll do 80 per cent of town driving on electricity and it should be 40 per cent more efficient than the standard petrol. 
We'll update this page with full UK specifications and prices when we have them.
1
How much will the Dacia Jogger cost?
Exact UK prices and specs for the Dacia Jogger have yet to be announced but you can expect it to cost around £15,000 (it will cost from €15,000 on the continent). It will sit at the higher end of a range that includes the Duster (£13,995 starting price), Sandero Stepway (£11,895) and standard Sandero (£8,995).
2
Why is the Dacia Jogger so cheap?
'Keep it simple, stupid' could well be the design philosophy behind the Dacia Jogger. Dacia's managed to keep the Jogger's prices low by avoiding fancy features like adjustable boot floors and rear seats that slide forwards, back and recline. So, while the Jogger is extremely practical, it's perhaps not quite as well designed as more expensive options on the market.
3
How practical is the Dacia Jogger?
The Dacia Jogger is extremely practical. Its 712-litre boot dwarfs the load capacity of cars costing the same price  – the current Skoda Fabia costs a little less than £15,000 and has a mere 305 litres of luggage space. The Jogger has more boot space than either a Skoda Octavia Estate (640 litres) or a Skoda Superb Estate (660 litres), both of which cost lots more than the Dacia. 
4
Will the Dacia Jogger be four-wheel drive?
Four-wheel drive will not be available with the Dacia Jogger, despite its SUV-like appearance. However, its 200mm raised ride height means the jogger won't be averse to tackling heavily rutted roads and tracks.
5
Will the Dacia Jogger be available as an automatic?
To get your hands on an automatic Dacia Jogger, you'll need to wait for the petrol-electric hybrid model that goes on sale in 2023.
Ask HJ
I need a four-wheel-drive SUV - Dacia Duster or Honda CR-V?
I do about 5000 miles a year, live in the country and require a 4-wheel-drive during snow conditions. You have mentioned the Dacia. Would I be better off buying a new Dacia or a 2-year-old Honda CR-V, particularly in terms of depreciation?
The headline-grabbing £8995 Dacia Duster is only 2WD. The cheapest, very basic 4WD Dacia Duster petrol model is £10,995: www.honestjohn.co.uk/carbycar/dacia/duster-2012/. For snow, 'winter tyres' on a front-wheel-drive car are more effective than standard tyres on a basic 4WD system. Obviously a two to four-year-old Honda CR-V 2.2iCTDI 4WD is a much more luxurious vehicle than a Dacia Duster. I can't predict Duster depreciation in the UK, but can tell you that it has held its value well in mainland Europe.
More Questions
Ask HJ
Is the Bi-fuel Dacia Sandero a good option?
Is the Dacia Sandero Stepway Bi-fuel version a good option? What are the advantages and disadvantages over the petrol-only engine?
The biggest disadvantage is finding an LPG supplier. They're increasingly difficult to find so you could easily waste a lot of fuel looking for one. If you live near one (or regularly drive near one), a bi-fuel Dacia could be a lot of financial sense. It won't cost a lot more than a petrol model to buy and, as LPG is significantly cheaper than petrol, could save you a lot of money in running costs.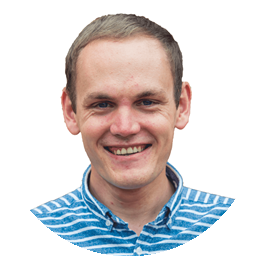 More Questions
Comments
Author

Russell Campbell
Latest