Geneva Motor Show 2014: Kia upgrades its powertrains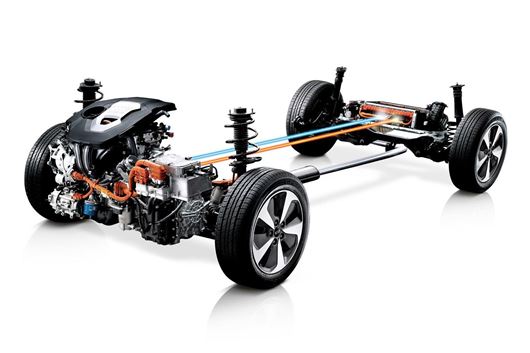 Published 07 March 2014
Kia chose the Geneva Motor Show to reveal all-new 'mild hybrid' powertrain using an electric supercharger to simultaneously reduce emissions and improve engine performance in KIA's next-generation models.
Developed by Kia's European R&D centre in Russelsheim, Germany, the new hybrid system uses a 48 volt lead-carbon battery that powers a small electric motor to increase the engine's power output and cut exhaust emissions. Lead-carbon batteries were chosen in preference to lithium-ion equivalents as they require no active cooling, are more easily recyclable at the end of the vehicle's life and can function much more efficiently in sub-zero temperatures.
Kia's mild hybrid system will enable a car to be driven in an electric-only mode at low speeds and when cruising, while the battery is recharged under deceleration at all speeds. In heavy traffic and on urban roads, the powertrain will also feature a zero-emission stop-start system. Using a belt-driven starter generator - replacing the conventional alternator, starter motor and flywheel starter ring - the engine is able to restart with almost no noise or vibration.
The battery also supplies energy to an electric supercharger, which increases torque and power at low engine speeds. Engineers behind the development of the powertrain see the electric supercharger supporting a larger conventional turbocharger, which would seamlessly take over to provide greater power and torque as engine speeds rise. The new hybrid system could also be fitted without the electric supercharger for a simpler powertrain layout in smaller models.
In applying the technology to production cars, Kia is targeting reductions in CO2 emissions of up to 15 per cent, while the electric supercharger is designed to deliver power increases of 15 to 20 per cent, depending on its application.
The new powertrain would also allow vehicle development engineers to reduce the size of a vehicle's existing battery and starter motor.
The new mild hybrid powertrain will be available on new diesel and petrol production cars from KIA in the near future.
Kia also unveiled its all-new seven-speed dual-clutch transmission (DCT) at the Geneva Motor Show. The new transmission has been engineered to balance greater fuel efficiency with improved performance and to deliver a sportier driving experience.
Designed as a more fuel efficient replacement for Kia's existing six-speed automatic transmission, currently available as an option on the majority of Kia models, the new DCT combines the advantages of both manual and automatic transmissions while allowing for faster gear changes than both.
Throughout the development process, Kia been targeting a seven per cent improvement in fuel efficiency and a five percent improvement in acceleration (0-62 mph) over itsx existing six-speed DCT transmission.
NVH has also been a key focus for the team behind the DCT's development, with an external damper ensuring a high level of refinement for the new transmission.
The DCT is made up of two dry clutches, each fitted with an electric motor-driven clutch actuator to improve fuel economy, and a pair of gear input shafts, one each for the odd and even gear ratios. This set-up enables the DCT to operate sequentially or to jump immediately to any of its seven forward gears (and reverse) depending on the driver's requirements.
The continuous power delivery offered by the DCT minimises the loss of torque by the powertrain during gear shifting and ensures a smoother drive in all conditions. The wide ratio coverage afforded to the engine by the seven-speed gearbox results in improved fuel efficiency and performance over rival six-speed DCTs.
The new seven-speed dual-clutch transmission will start to appear on production Kia cars in 2015.
The upgraded Optima Hybrid was unveiled by Kia Motors at the Geneva Motor Show, marking the European debut of this streamlined saloon with a drag coefficient of just Cd 0.26 in its latest form.
Visually, the upgraded Optima Hybrid features newly-designed front and rear bumpers, the front incorporating new four-spot LED fog lamps and a revised design for Kia's trademark 'Tiger nose' grille. The car's profile is also improved with a new side-sill garnish, wing garnish and new, five-spoke 16- and 17-inch alloy wheel designs. At the rear, the boot lid sports Kia's new style eco-hybrid badge, the bumper has a black lower section and the exhaust tailpipe is hidden.
With the upgraded model, customers will also be able to specify a new 'White Package' interior option, with white upholstery and gloss black cabin accents. Two new exterior paint finishes, Smoky Blue and Aluminium Silver, complete the visual changes and join three carry-over colours - Snow White Pearl, Aurora Black and Bright Silver.
Available only in left-hand drive (as previously), the latest Optima Hybrid will also be fitted with a range of new features, including a new touchscreen interface specific to the Hybrid system, an 8-inch display for the navigation system, iPod connectivity, ventilated front seats and air vents in the rear of the cabin.
A new 'High Tech Pack' is available as an option, incorporating Blind Spot Detection, Lane Keep Assist and Smart Parking Assist systems.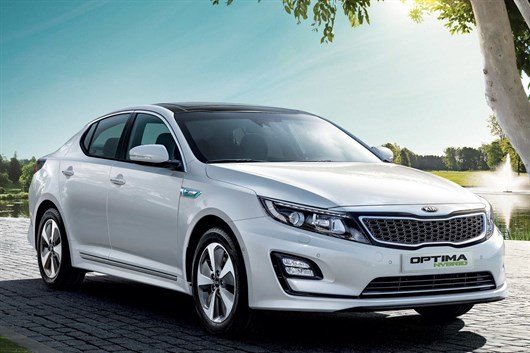 Kia's third-generation regenerative braking system is fitted to the upgraded Optima Hybrid. The new system is 1.2 kg lighter and is faster reacting with a new iBAU (Integrated Brake Actuation Unit) which cuts the time delay before the ABS is activated and shortens braking distance from 62 mph by 1.7 metres. For the driver, there is also greater braking feel and an improved response to pedal inputs.
The petrol-electric hybrid powertrain is carried over unchanged in the latest version of the Optima Hybrid. Together the 2.0-litre engine and 35 kW electric motor produce a combined output of 177 ps at 5,500 rpm and 319 Nm of torque between 1,000 and 2,000 rpm. The saloon delivers a remarkable blend of performance (0-62mph in 9.4 sec, top speed 118 mph), fuel economy (5.1 l/100 km) and low CO2 emissions (119 g/km) with 17-inch wheels. In The Netherlands, where Optima Hybrid is fitted with 16-inch wheels as standard, the vehicle's CO2 figure is 117 g/km.
Production of the upgraded Kia Optima Hybrid is scheduled to start in Korea during April 2014 and the new model will go on sale across Europe later in 2014.
Comments
Author

Honest John
Latest