Rev Targets Top Executives With Supercar Tax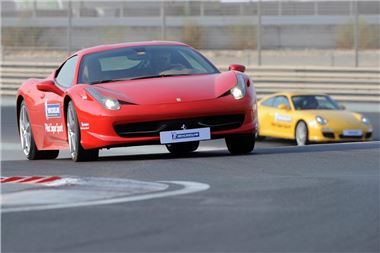 Baker Tilly warns that senior executives who benefit from generous company car schemes and owner-directorswho run their luxury cars through the company are to be hit with a new income taxcharge after 6 April.

Under new rules coming in on 6 April, the P11D tax paid on company cars, such as Ferraris, Lamborghinis, Rolls Royces, Bentleys and top-end Mercedes, Audis and BMWs, will increase significantly as the £80,000 maximum list price is abolished.
Under the current system, income tax and NICs have been restricted due to this £80,000 cap, resulting inmaximum income tax of £14,000 pa and NICs of £3,584.

The tax increase would mean that an executive who drives a Ferrari 612 with a listprice of around £222,000 would pay income tax of almost £39,000 pa, and the employer would face a bill for Class 1A NICs of over £10,000 pa, giving a total tax bill in 2011-12 of almost £50,000. This is an increase of 182% compared to this year with the £80,000 cap in place.

Drivers purchasing second-hand cars will need to be particularly wary because what could seem a bargain could turn into a tax headache. HMRC charges car benefits onthe list price, the amount the vehicle would be purchased for if new.

David Heaton, Employer Consulting Partner at Baker Tilly says: "Removing the £80,000 maximum list price is an easy hit for the Government, as it affects only a select group of wealthy drivers. The tax hike was described in 2009 by Alistair Darling, when he introduced the legislation, as ensuring drivers of expensive cars paid a "fair level of tax", but the result is more likely to be the disappearance of the supercar from companies.The super-rich may not worry about the extra tax, but there is a real danger that some drivers of older company-owned supercars could be caught out. You can pick up a 2005 model Ferrari 612 Scaglietti for about £65,000, but, as a company car, the tax bill is based on its original list price of £177,000: £39,500 of tax and NIC per year to drive a car worth £65,000 is not very attractive."
Honest John adds: "This is bound to affect the top end of the UK new and used car trade to some extent. Many RHD cars, such as the Ferrari 458 and the new McClaren MP4-12C that would have attracted substantial "overs" to secure them will now lose a chunk of those premiums, in the UK at least. LHD cars will be less affected because Russian oligarchs are not affected by UK tax laws. It might also preclude UK company investment in classic cars as works of art, unless the cars simply sit in glass cases and are never used."
A summary of other company car tax changes on the horizon:
Cars with CO2 emissions of no more than 120g/km; Qualifying LowEmissions Cars or QUALECs; will be taxed at 10% of list price (+3% fordiesels); Cars with CO2 emissions of over 125 g/km will be taxed at between 15% and 35%; Subject to the 35% maximum, a 3% surcharge will apply to all diesels.

There will no longer be any special discounts for hybrid or bi-fuel cars, or for those that run on E85 ethanol.

Plug-in electric cars (and vans) will attract no benefit-in-kind charge for the next four years. 

From April 2012 we will have a new tax rate of only 5% for cars with ultra-low CO2 emissions of 75g/km or less, with a new emissions scale starting at 10% (for 76-99g/km) and rising by 1% per 5 g/km to 35%.
More at BakerTilly
Comments