Ford S-MAX (2015–)
Model History
August 2013
Ford unveiled S-MAX Concept
Continuing Ford's theme of unveiling its next generation products in concept form years before they hit the showrooms, the 2015 S-MAX was presented before it took centre stage at the Frankfurt Motor Show. It previewed a more exciting-looking car, along with class-leading technology, to replace the current S-MAX, which has proved so successful for its maker since its launch in 2006.
4,796mm long x 1,916mm wide (2,137mm wide inc mirrors) x 1,655mm high
Ford S-Max wheel and tyre sizes are:
16-inch with 215/60 R16 tyres
17-inch with 235/55 R17 tyres
18-inch with 235/50 R18 tyres
19-inch with 245/45 R19 tyres
The styling, overseen by Design Director, Martin Smith, continues themes laid-out with the original S-MAX, but with considerable evolution, including a dramatic front end that takes the swept-back headlamps and Aston Martin-style grille of the recently facelifted Fiesta, and extends them back even further.
Power units include the new turbocharged petrol 1.5-litre, four-cylinder Ecoboost engine, which is an extension of the family of engines that started with the innovative 1.0-litre three-cylinder. Ecoboost production is in Bridgend, Wales. It's unconfirmed whether the smaller three-cylinder will also make it into the S-MAX range to complement the existing range of turbodiesels.
Importantly, instead of the 6-speed 6DCT450 dual wet clutch Poweshift transmission previously fitted, for the 2.0 EcoBoost SCTI 240, Ford switched over to the 6F35 6-speed torque converter automatic transmission which it developed jointly with General Motors. This transmission was originally released in 2008 in the 2009 Ford Escape and 2009 Mercury Mariner. Diesels continued with Powershifts.
Inside, the concept is an equally stylish affair, which according to Ford, is tailored to existing S-MAX's buyers needs. And that means it's a luxury item, with some very interesting technological advances, reflecting the fact that 70 per cent of S-MAX buyers buy the Titanium X-spec model, and then option it further.
The adaptable interior continues to seat up to seven people, but in concept form, it's finshed in high-quality soft-touch materials including hand-finished suede- and leather-finished interior surfaces. There are also a number of carbonfibre inserts in the tastefully coloured interior.
The package of tech features is extended from the previous model, and includes much more of Ford's Sync technology. Primary to this is the connectivity set-up, which allows occupants' smartphones and tablet devices, as well as laptops, to connect to the car by means of its wirelss hotspot. There is also be tablet and 'phone docking stations, and an extended package of smartphone-enabled apps (such as Google maps and Spotify), which work seamlessly with the car's entertainment and navigations systems.
More intriguingly, the 2015 S-MAX will features a number of health-monitoring systems. Driver's heart rate and blood levels can be monitored by the car's seat-mounted sensors - and if any serious irregularities are detected, Ford's Sync system can alert the medical authorities - and in extreme emergencies it triggers active safety systems to bring the car to a safe stop.
March 2015
Prices announced for 2015 Ford S-MAX range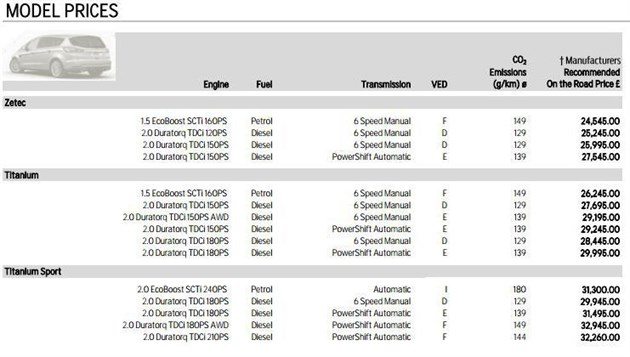 September 2015
Ford's Intelligent All-Wheel Drive (AWD) now available in the S-MAX. Note that the 'Automatic' transmission of the 2.0 EcoBoost SCTi 240 is now 6-speed torque converter.
September 2018
New engines for Ford S-MAX
Now available with Ford's 2.0-litre EcoBlue diesel engine. 6-speed dual wet clutch Getrag Powershift transmission replaced with an advanced new 8-speed torque converter automatic transmission controlled using a stylish and ergonomic Rotary Gear Shift Dial instead of fore/aft selector lever.
By year end, both Ford S-MAX and Galaxy ranges will add 1.5 EcoBoost 165PS petrol engines to their powertrain line-ups.
Available for the Ford S-MAX and Galaxy with 120PS, 150PS and 190PS power outputs – and with 240PS in bi-turbo form – the 2.0-litre EcoBlue diesel engine delivers the power, torque and driving performance of a larger capacity engine.
A six-speed manual transmission is also offered for S-MAX and Galaxy models, and both vehicles can be equipped with Ford's Intelligent All Wheel Drive technology, which measures how the car's wheels are gripping the road surface and can adjust torque delivery up to 50/50 between the front and rear wheels in under 20 milliseconds – twenty times quicker than it takes to blink. The system seamlessly transitions torque between all four wheels and provides a more secure footing on the road especially in slippery conditions.
The eight-speed automatic transmission enables ACC, which helps the S-MAX and Galaxy maintain a comfortable driving distance from vehicles ahead, to be enhanced with Stop & Go, which brings the vehicle to a complete halt in stop-start traffic, and automatically pulls away if the stopping duration is less than three seconds. For stopping durations greater than three seconds, the driver can push a steering wheel button or gently apply the accelerator pull away.
Both models' BLIS technology is now able to warn sooner of vehicles approaching the driver's blind spot at higher closing speeds. Using new Variable Rear Range functionality, BLIS can now detect vehicles up to 18 metres behind.
In addition, the new Ford ClearView Front Wiper System helps drivers clear a dirty windscreen more effectively using multiple washer-jets mounted within the wiper arm – improving visibility in challenging driving conditions while using screen-wash fluid more efficiently.
For drivers of right-hand drive models, the electric parking brake switch in both models is relocated to the driver's side of the centre console, for more comfortable deployment. Drivers can also view vehicle information more clearly with a 4-inch, LCD, colour instrument cluster display as standard. A sophisticated 10-inch, customisable digital screen with animated analogue-style speedometer and rev-counter is also available.
October 2019
Ford S-MAX updated for 2020
The updated Ford S-MAX is now more easily distinguished with unique front-end designs. Driver and front passenger seats available on S-MAX can be adjusted in 18 ways for maximum support – contributing to even more comfortable journeys and earning the seal of approval from the leading spinal health organisation Aktion Gesunder Rücken e.V. (AGR) – the German Campaign for Healthier Backs.
FordPass Connect on-board modem technology is also now offered on the S‑MAX for the first time. FordPass Connect turns the models into mobile WiFi hotspots with connectivity for up to 10 devices, and enables new Local Hazard Information that can inform the driver of hazardous situations in the road ahead before they become visible to the driver or vehicle sensors.
The updated S-MAX features a revised upper front facia and unique combinations of grille and lower fascia designs for more distinctive style. Highlights include:
Bright chrome upper grille and foglamp surrounds
A unique honeycomb upper grille with a black surround, and black foglamp surrounds for Ford Performance-inspired S-MAX ST‑Line models
Unique "flying V" signature upper grille with a satin chrome surround, and satin chrome foglamp surrounds for upscale S-MAX Vignale
New optional 19" 5x2 Premium Luster Nickel alloy wheels are available.
New 18-way adjustable driver and front passenger seats available for the S-MAX Titanium can help provide relief for back pain-sufferers on the road, having achieved recognition from the AGR's independent testing committee of medical experts.
To obtain the AGR seal, the seat must be able to adapt to the person in their sitting position, rather than the person adapting their position to the seat. Adjustment includes height, length and inclination, in addition to back, neck and thigh support. The four-way lumbar adjustment is controlled electronically from a switch on the seat's side.
In addition to enabling WiFi hotspot capability, optional FordPass Connect technology allows a range of convenient features via the FordPass mobile app, including Vehicle Locator; Vehicle Status that checks fuel levels, alarm status, oil life and more; and remote Door Lock Unlock.
New Local Hazard Information functionality – enabled by the FordPass Connect on-board modem – can inform drivers of a hazardous situation on the road ahead, even if the incident is not visible due to a bend in the road or other vehicles.
Local Hazard Information notifications are delivered independent of sat-nav, based on up-to-the minute data provided by HERE Technologies – sourced from local authorities, emergency services, and driving data from other vehicles connected to "the cloud".
Notifications of hazards including road works; broken down vehicles; animals, pedestrians and objects in the carriageway; and even hazardous driving conditions are delivered to the vehicle over-the-air, giving drivers advanced warning of developing situations beyond their field of vision.
Available for the Ford S-MAX with 150PS and 190PS power outputs, the 2.0-litre EcoBlue diesel engine delivers the power, torque and driving performance of a larger capacity engine alongside the fuel efficiency and low CO 2 emissions synonymous with a smaller engine capacity, says Ford.
The available eight-speed automatic transmission – controlled using a stylish and ergonomic rotary gear shift dial – has been engineered to further optimise fuel efficiency and deliver responsive performance and smooth, swift gearshifts. A six-speed manual transmission is also offered.
Available advanced S-MAX comfort and convenience technologies include ACC with Stop & Go. Enabled by the eight-speed automatic transmission, the system helps drivers maintain a comfortable driving distance from vehicles ahead, including bringing the vehicle to a complete halt in stop-start traffic and automatically pulling away if the stopping duration is less than three seconds. In line with the Ford Mondeothe updated Ford S-MAX now offers Pre-Collision Assist as standard. If a potential collision is detected, an alert sound is emitted and a warning message displays in the message center. If the driver's response is not sufficient, Automatic Emergency Braking (AEB) will precharge to provide full responsiveness when the brakes are applied – culminating in brakes being applied in the absence of any corrective action.
Ford's SYNC 3 communications and entertainment system is also offered, enabling S-MAX drivers to control audio, navigation and climate functions plus connected smartphones using simple voice commands. Supported by an 8-inch colour touchscreen that can be operated using pinch and swipe gestures, SYNC 3 is compatible with Apple CarPlay™ and Android Auto™ at no additional cost.
The enhanced Ford S-MAX is available to order now from £30,490.
What does a Ford S-MAX (2015) cost?
List Price from
£31,151
Buy new from

£23,941

Contract hire from

£288.05

per month
Buy a used Ford S-MAX from £15,500