Ford Mondeo (2015–)
Last updated 17 April 2018
Impressive quality and refinement makes it stand out from the competition. Rides exceptionally well but still with keen handling. Very spacious and practical interior.
Steering isn't as sharp as the previous Mondeo.
Updated 17 April 2018
rear brake discs on 2016 Ford Mondeo found to be heavily scored at 15,000 miles.
Introduction
We had to wait a long time for this Ford Mondeo. First shown in late 2012 we expected it be launched soon after but it was delayed until later the following year due to the global recession. When Ford closed its factory in Belgium, the Mondeo was once again put back as production was moved to Spain. But finally in 2015 it went on sale here.
So has it been worth the wait? Well Ford says the two year delay has allowed it to focus on getting the Mondeo perfected for Europe - it's already sold in the US as the Fusion - and the results are certainly impressive. Most notably the quality. Inside the Mondeo has an upmarket feel we've not seen before and it's a cut above the usual family car rivals.
Like the previous Mondeo, this is a big car. In fact it's only slightly shorter than a Jaguar XF but has the same wheelbase as before. Ford has worked wonders with the styling, adding a dash of coupe-like flair to the profile that makes it appear a lot less bulky than the model it replaces. 
Yet it still has huge amount of space inside with a massive boot and rear leg room that could rival the Mercedes-Benz S-Class. From behind the wheel it's incredibly refined with superb sound insulation and barely any wind or road noise at speed.
Consequently it's an ideal motorway cruiser helped by economical engines. These include a 1.6 TDCi diesel that emits just 94g/km and will average more than 78mpg according to the official figures.
Intriguingly alongside this will be a 1.0-litre EcoBoost petrol. Despite its tiny size, the 125PS unit should give decent performance although it's more likely that the 1.5-litre EcoBoost will prove more popular along with Ford's trusty 2.0 TDCi. For the first time there is also a Mondeo Hybrid although it's only available as a saloon.
Running throughout the latest Mondeo is a feeling of quality previously unseen on any Ford model. This Mondeo could mark a big change in how people perceive the Ford brand and as a family car it's a superb all rounder. The steering isn't quite as sharp as its predecessor but the Mondeo still handles incredibly well given its size. Overall it's head and shoulders above the competition.
Ford Mondeo Vignale Hybrid and 2.0 TDCI 210 estate 2015 Road Test
Ford Mondeo 2.0 TDCI 150 2015 Road Test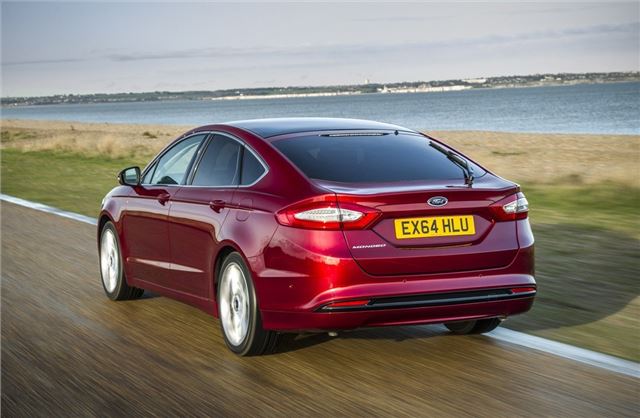 Owners' reviews
Ford have done a brilliant job with this car
Amazing refinement and a real joy to drive.
Amazing difference from the Mk 4.5
Stunning looks dont live up to the promise
Big improvement on the (US) Fusion.