SEAT Alhambra (2010 – 2020) Review
SEAT Alhambra (2010 – 2020) At A Glance
The SEAT Alhambra was in production from 2010 until 2020, during which time it cemented a reputation for being one of the best seven-seat MPVs you can buy. It shares much in common with the Volkswagen Sharan, but a more affordable price and arguably nicer styling give the Alhambra an edge over its German sibling. Today, although you can't buy a new SEAT Alhambra, there are plenty to choose from on the used car market. Take a closer look – this could make more sense than the seven-seat SUV you were considering.
The SEAT Alhambra is one of the best seven-seat MPVs you can buy. But that's not enough in 2020. Today's families prefer the chunky looks, low running costs and high driving position offered by the glut of crossovers and SUVs.
But what if we told you that the SEAT Alhambra is just as cheap to run, offered the same commanding driving position and is infinitely more practical than the majority of SUVs on sale today? Would you be prepared to look beyond the slightly drab styling?
Make no mistake, the SEAT Alhambra is an excellent family car. It shares its platform, running gear and sombre styling with the Volkswagen Sharan and is one of a decreasing number of seven-seat MPVs on sale today. Indeed, the Alhambra was axed from the SEAT range in 2020, with the company hoping you'll buy the stylish yet less practical Tarraco SUV.
The major difference between the Alhambra and the Tarraco – aside from the styling – lies in the back. While the Tarraco is an excellent '5+2' SUV, the Alhambra is a genuine seven-seater. Not five seats and a couple of cheap seats in the back. Seven seats that are suitable for adults.
It's even practical with all seven seats in use. There's enough boot space to rival a small supermini, and the passengers in the third row aren't pressed against the tailgate. Fold away the rear seats and you've got an estate car-conquering 658 litres of luggage space, which extends to 2,297 litres if you convert your Alhambra into a two-seater.
The sliding rear doors, which are electric on all except the base model, provide excellent access to the back. Predictably, there are plenty of storage boxes and pockets throughout the cabin, including hidden boxes below the floor. There are even a pair of cupholders, a storage compartment, air vents and roof-mounted lights in the third row.
So far, so good. You might be wondering if the SEAT Alhambra has any vices. It does, but not as many as you might think. Because it dates back to 2010, the Alhambra doesn't boast the suite of driver assistance systems and connectivity tech that we take for granted in 2020. The infotainment system is a generation or two behind other units.
As an ownership prospect, it's not the last word in excitement. Practicality, flexibility and ease of use are the Alhambra's greatest strengths. That said, because it's based on a car platform and not a commercial vehicle, it's actually pretty decent to drive. Exciting, no. Decent, yes.
All models are well-equipped, but we'd recommend one with electric sliding doors. We'd also suggest opting for the 2.0-litre TDI diesel engine, especially if you intend to travel 'seven-up' on a regular basis. If you can stretch to a facelift model, introduced in October 2015, even better. You'll enjoy an improved cabin, enhanced safety equipment, an updated infotainment system and better fuel economy.
You might want to own a SEAT Alhambra, but if you're a new parent and fancy a car that will see your children through to university, this might be one of the shrewdest purchases you could make.
Looking for a second opinon? Read heycar's SEAT Alhambra review.

What do owners think of the SEAT Alhambra (2010 – 2020)? Check out our
Owners' Reviews
from people who live with the car day in, day out.
Reviews for SEAT Alhambra (2010 – 2020)'s top 3 rivals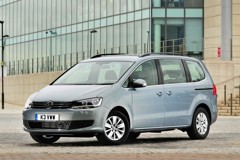 Volkswagen Sharan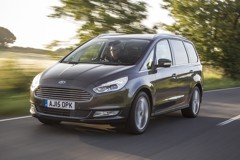 Ford Galaxy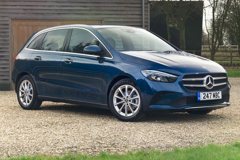 Mercedes-Benz B-Class
Ask Honest John
We need a family car that'll fit three child seats. What should we look at?
"We need a car to fit three child car seats and a boot to take all the family clobber. We want a petrol and have less than £10,000 to spend."
We'd recommend a Citroen Grand C4 Picasso. It's a versatile choice capable of taking three child seats side-by-side in the back. Petrol models are rare but you should find one with the 1.2 Puretech engine within budget. Alternatively, consider a SEAT Alhambra or the slightly smaller Volkswagen Touran.
What's the best secondhand MPV?
"Which secondhand MPV would you recommend for about £12,000?"
A Vauxhall Zafira Tourer represents excellent value for money and there are plenty available on the used market. Also look at the Citroen Grand C4 Picasso or a SEAT Alhambra if you need more space.
Are there any cars with sliding doors that fit three child seats?
"I want a car or MPV with sliding doors for a family of three kids and two adults. I currently have a Ford S-MAX and we can get three child seats in the middle row but obviously that doesn't have sliding doors. I'm considering the Mazda 5 but want to know if the middle row will hold three seats. We don't want to go as big as the SEAT Alhambra. Hope you can help."
Unfortunately, the Mazda 5 is not compatible with what you want. It's very unlikely to seat all three kids in the back - and it only has two Isofix anchor points in the second row anyway. That leaves you with two options (unless you can think of an alternative model I haven't): 1) a larger car like the Sharan or MPV with sliding doors, 2) a slightly smaller car without sliding doors. You're unlikely to get a smaller car with sliding doors, essentially. Here are some models that fit three child seats across the back (but not all have three Isofix points): 1)Audi Q7 2) Peugeot 5008 3)VW Touran 4) VW Sharan/SEAT Alhambra 5) Citroen C4 Grand Picasso 6) Ford Galaxy 7) Renault Grand Scenic 8) Citroen C5 Aircross (two outer seats get isofix mounts) 9) Vauxhall Combo Life/Citroën Berlingo/Peugeot Rifter (second row gets 3 isofix points and fits 3 child seats, but the third row with two seats isn't suitable for car seats. It has sliding doors but is obviously much larger than your S-MAX as it's van-based). 10) Volvo XC90
Answered by
Georgia Petrie
Where can I buy an ex-Motability car from?
"I would like to buy a three-year-old ex Motability SEAT Alhambra. Other than going to my local SEAT dealership is there anywhere else I should try? "
Motability Operations sells most vehicles online at the end of lease to motor traders only, to ensure that anyone buying an ex-Scheme vehicle can easily access professional post-sale care, via the purchasing dealer. They have extended that approach to all vehicles sold via physical auction, to ensure that important part of the used car ownership experience is fulfilled consistently. Your local SEAT dealership will be best placed to help you find the vehicle you are looking for.
More Questions
What does a SEAT Alhambra (2010 – 2020) cost?