Volkswagen Golf Alltrack (2015 – 2020) Review
Volkswagen Golf Alltrack (2015 – 2020) At A Glance
Given the huge success of the Volkswagen Golf, you'd be forgiven for thinking it's impossible to stand out in the ubiquitous family car. But you'd be wrong, because the Golf Alltrack is a rare beast. Launched in 2015, it's based on the practical Golf Estate, but Volkswagen added a tough bodykit, raised the ride height and fitted 4Motion all-wheel drive as standard to make it a credible rival to a compact SUV. The result is a highly appealing, practical and rugged estate car that's a welcome tonic to the plethora of crossovers on sale in 2020. You just need to find one.
You'd be forgiven for having no recollection of the Volkswagen Golf Alltrack. It sold in such small numbers that you might struggle to find one on the used car market, especially since the Mk7 Golf has been replaced by the all-new Golf Mk8.
But what is it? Put simply, the Alltrack is a more rugged version of the Volkswagen Golf Estate. Launched in 2015, then facelifted in 2017, the Golf Alltrack features body cladding designed to tackle the great outdoors, a raised ride height to cope with rough roads, and 4Motion all-wheel-drive as standard. If your daily commute involves rutted tracks, green lanes and inclement weather, this is the estate car for you – especially if you don't fancy an SUV.
Rivals are few and far between. The Skoda Octavia Scout and the discontinued Seat Leon X-Perience are competitors from within the Volkswagen stable, but the Ford Focus Active is another SUV-inspired estate car. There's also the larger Volkswagen Passat Alltrack, which has been axed in the UK due to slow sales.
The Golf Alltrack stands out thanks to its chunky and upmarket styling. It looks like a Golf R on stilts, which is no bad thing. Unfortunately, the cabin is a little more conventional, but you do get a pair of Alcantara-trimmed seats. Elsewhere it's standard Volkswagen Golf, which means a rather sombre design but the use of upmarket materials.
At least it's practical. The 605-litre boot is much bigger than a Golf hatchback and a similar-size SUV. Fold the rear seats and you're greeted with a cavernous 1,620 litres of luggage capacity, which is ideal for mountain bikes or whatever lifestyle things you get up to at the weekend.
It's big in the cabin, too, with enough space for five adults. Thanks to the estate's longer roofline, there's also more headroom in the back, so you have to wonder why the Golf Alltrack didn't sell in big numbers. Price was its biggest problem. The Golf Alltrack cost around £35,000, so many buyers opted for the more affordable SUVs on offer.
Thanks to the raised ride height, the Alltrack is the most comfortable Golf in the range – the complete opposite of the Golf R. Not that you can chuck the Alltrack into a corner in the same way you would a Golf R. It handles in a safe and secure way, but it's far from exciting. At least the 4Motion running gear provides reassurance, regardless of the road or weather.
It should be cheap to run. Although insurance is relatively high, the 1.6-litre and 2.0-litre diesel engines provide excellent long-legged economy, plus plenty of torque for towing and off-road duties. Of the two engines, we'd favour the 2.0-litre unit, especially if you intend to make use of the Golf Alltrack's 2,400kg maximum towing capacity.
What do owners think of the Volkswagen Golf Alltrack (2015 – 2020)? Check out our
Owners' Reviews
from people who live with the car day in, day out.
Reviews for Volkswagen Golf Alltrack (2015 – 2020)'s top 3 rivals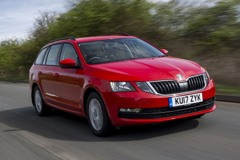 Skoda Octavia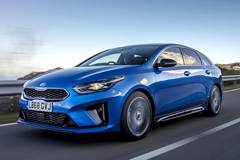 Kia ProCeed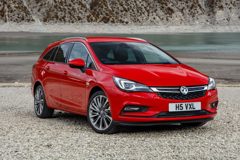 Vauxhall Astra
Ask Honest John
Can you recommend an estate with a raised seating position?
"I have a 2-litre Golf DSG which, with its low and sculptured seats, I find difficult getting in and out of. I want to replace it with a recent, used, low mileage estate, petrol, DSG with a seat /cabin higher than the Golf. I have about £15,000 pounds to spend."
An estate like the Volkswagen Golf Alltrack will have a higher seating position, you'll get a 2016 model (one generation out of date) for less than £16,000 with less than 15,000 miles. But for a car that's significantly taller than your Golf, you'd be better off going for an SUV. Your budget is enough to get you a 2015 old-model Volkswagen Tiguan with less than 50,000 miles on the clock. Or a 2016 version of the current model with closer to 100,000 miles on it. Reviews of all the cars mentioned above: https://www.honestjohn.co.uk/carbycar/volkswagen/golf-alltrack-2015/ https://www.honestjohn.co.uk/carbycar/volkswagen/tiguan-2008/ https://www.honestjohn.co.uk/carbycar/volkswagen/tiguan-2016/
Answered by
Russell Campbell
We need a car with good ground clearance but most SUVs don't meet the requirement. What do you advise?
"My partner and I are very fortunate to be taking early retirement and moving to Spain soon. Our property there is at the end of a 2km farmers' track, so we have been looking at cars with good ground clearance. However, we also expect to be driving around Europe so want a car that is economical and comfortable for long-distance driving. Many SUVs (e.g. Hyundai Tucson) may fit the bill, but their ground clearance isn't much higher than a standard car. Given that we will use the track a couple of times a week, but distance-wise most of our driving will be on smooth roads, should we just get a normal car and drive very carefully up & down the track, or is there a better compromise? Our budget is £13k to £18k and we'd like to keep the car for at least the next 5 years."
How about a rugged version of an estate car? Something like a Volkswagen Golf Alltrack, Skoda Octavia Scout or Volvo V60 Cross Country could fit the bill. They're four-wheel drive, with a bit of extra ground clearance and some extra body protection. With frugal diesel engines, they won't cost a fortune to run, although finding one might be tricky – they sold in much smaller numbers than comparable SUVs.
Need an all-roader - which model do you recommend?
"We want to change our Audi A4 All Road 2.0 TDI. Which would you suggest we replace it with? We quite like the Volkswagen Golf Alltrack, SEAT Leon X-Perience and Subaru Outback. Are there any other makes/models we should be considering?"
I was very favourably impressed by the VW Golf Alltrack: http://www.honestjohn.co.uk/road-tests/volkswagen/volkswagen-golf-alltrack-2015// Also by the SEAT Leon X-Perience: http://www.honestjohn.co.uk/road-tests/seat/seat-leon-x-perience-2014-road-test//
"I have a BMW 3 Series Touring (320d X Drive) with P7 runflats. I value the security they provide in being able to continue driving, albeit for a limited time and speed. However, in under two years I've had one destroyed rim & tyre and one destroyed tyre resulting in being off the road for 2-3 days for each incident while replacements could be found. It seems that the P7 run flats are not only expensive, they're difficult to find. I drive to the South of France and back three times a year and feel that I'm gambling on being able to complete the journey when I have no spare tyre, and yes, one of the tyre incidents was in France. I'm considering the options to solve this problem. BMW will sell me a space saver, or a full sized spare, but it would have to live in the boot. If i'm travelling with dogs in the back that's not a solution that would work. A space saver would probably fit in a top box, but I doubt I'd be able to lift a full sized spare that high! I do have European breakdown cover, so I wouldn't be completely stranded. I'm very unhappy with the car for a number of reasons, namely poor fuel consumption, notchy gearbox, lack of pedal box space, soft paint which seems to scratch very easily, tyre deflation system giving false alarms, poor visibility etc. I'd dearly love to replace the car with one which has a full sized spare tyre, if such a thing exists. My requirements are: four wheel drive, occasional towing, room for dogs in the back, rails for attaching a top box, capable of doing 600 miles a day in comfort, 20k miles per year. Budget - I could stretch to £30k, maybe a little more if I could find perfection. Any ideas to solve either the spare tyre problem or options for a suitable replacement for the car? Many thanks for a great web site."
I suspect you are on at least 18" and maybe 19" wheels which are notorious on BMWs for buckling or cracking. One way out is a set of 16" wheels from an 320ED with 205/60 R 16 non runflat tyres, but that leaves the problem of nowhere to put a spare (definitely not in a roof box; it could kill people). I think Mondeos still have spare wheel wells and you can get a 4WD. A Mazda CX-5 might do the job with a £400 optional space saver spare. The answer might be a VW Golf AllTrack that does come with a space saver spare. Very favourable test here: http://www.honestjohn.co.uk/road-tests/volkswagen/volkswagen-golf-alltrack-2015//?section=prices
More Questions
What does a Volkswagen Golf Alltrack (2015 – 2020) cost?