SEAT Leon 2013 Road Test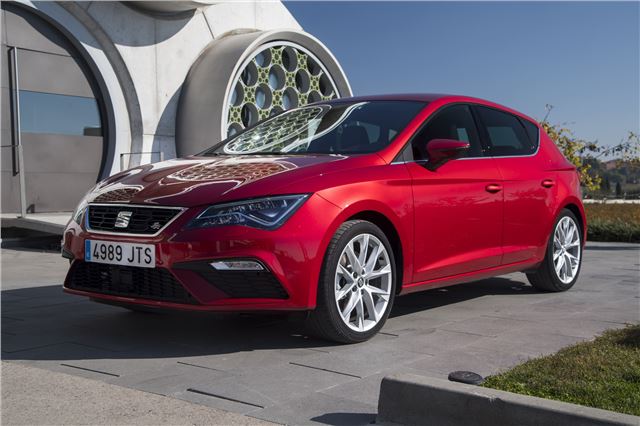 New SEATs have been bit thin on the ground in the past few years. Sure, there have been new cars, but these have either been shared models with other Volkswagen Group cars (Alhambra, Mii and Toledo), variants of existing cars (Ibiza ST) or, in Exeo's case, it's simply a re-heated Audi A4. All good cars, but they didn't start off as SEATs.
You have to go back to the Ibiza of 2008 for the last new SEAT that's not shared with another brand – so long ago that it's even been facelifted since then.
So, you can understand why this new Leon as been so hotly anticipated – there's a lot riding on what SEAT calls 'the best car it has ever designed and built'. It's traditionally a SEAT best-seller and a firm favourite with users of this site.
The reason is that the Leon has always managed to mix high value with a feel-good factor and there's plenty of that with this latest generation car. Not only is it packed with kit, but there are plenty of details that make you feel like you've bought something a little out of the ordinary. The biggest of those are the LED daytime running lights that showcase SEAT's new look and have previously been seen at motorshows on the firm's concept cars like the IBX.
Another tick for Leon – especially for buyers looking to place an order now - is a broad variety of engines from launch. Golf and A3 buyers have had to wait for a wider selection of engines, but Leon customers have them from the start. Those who cover lower mileages are catered for with a 1.2-litre TSI (105PS) and a 1.4-litre TSI (140PS). Both of these turbocharged engines are cracking; willing, great around town and more powerful than their meagre outputs suggests. 
SEAT has been shifting more diesels than ever over the past few years, thanks in no small part to several large fleet deals (including one with British Gas). So, it's no surprise to see a good spread of diesels. The low CO2 option at launch is the 1.6 TDI with 99g/km CO2, but this will be replaced next year with a version that goes even lower.
It cruises well on the motorway, but with its power delivered low down, it's harder work around town. Most people will opt for the 2.0 TDI with 150PS. It strikes a great balance between economy and performance and, with a wide band of power, is good fun to drive out on the open road. Economy is quoted at 68.9mpg, which sounds impressive, but it will be interesting to see if this is the case when Real MPG results start to come in.
Then there are the engines that go in the sporty FR versions - a 1.8-litre TSI (180PS) for the petrol and a 2.0-litre TDI with 184PS. Both would easily pass as hot hatches in another manufacturer's range, but this is the starting point for sporty Leons. The four-cyinder diesel is especially noteworthy for its smooth wave of power and all-round refinement. Even more powerful Cupra models are likely to put in a appearance later next year.
Out on the road, it doesn't really matter which Leon you opt for, as they're all great to drive, with light responsive steering, good body control and agile handling. The new Leon is 90kg lighter before and that shines through. 
There are two suspension set ups, depending on which engine you choose. Cars with less than 148PS get a standard set-up, whereas those with more power get a fully independent system and FR-badged cars have a lowered ride height and stiffer setting for better handling.
As you'd expect, the FRs are the firmest, but the ride is surprisingly comfortable. There may be a crash here and there on uneven roads, but they generally ride well and don't feel noticeably harsher than the other models in the range.
Interior quality is one area that has often let the Leon and other SEATs down, but this isn't the case with the new car. The plastics have a better look and feel to them, there's a higher attention to detail and it has much more of an upmarket feel – especially on SE spec and above. It may not be quite up to the standards set by the latest Golf, but it's certainly better than a number of its rivals. With back-lit door handles and chrome surrounds on switches on higher models, you get the feeling that Audi hasn't been a stranger at SEAT's factory just outside Barcelona.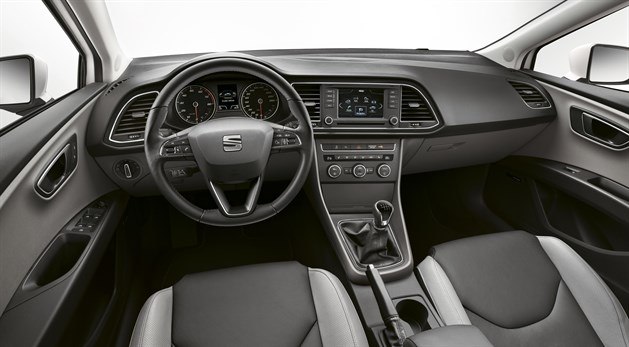 It's well kitted out, too, with SEAT promising not to offer any 'stripped-out' bargain basement specials. All cars get an LCD touch-screen display that's used for the car's sound-system and on higher-spec models it adds sat nav capability. 
Specification highlights include Bluetooth and air con on S, cornering lights and 16-inch alloys on SE and dual-zone climate control and SEAT Drive Profile on FR. It''s also the first car of its sort to get 'maintenance-free' LED headlamps, but this is a £995 option (or £1740 when combined with sat nav) on SE and FR models and one that's unlikely to add any value from when you come to sell - after all the standard cars still come with lights...
And yes, those are rear door handles that you can see. The previous Leon had hidden them away, to fool you into thinking that it was a sportier three-door. Trouble is, it worked a little too well and it turns out many buyers didn't even consider buying a Leon as they thought it was a three-door. Besides, there's no need to pretend this time round - a three-door SC plus an ST estate will be on sale by the end of 2013.