SEAT Leon Cupra (2014 – 2020) Review
SEAT Leon Cupra (2014 – 2020) At A Glance
Evolving steadily throughout its lifespan, the SEAT Leon Cupra that arrived in 2014 started with a healthy 265PS from its turbocharged 2.0-litre petrol engine. This grew to 280- and then 290PS, plus a final hurrah of 310PS in the last of the line Cupra R limited edition models. As such, the Spaniard kept pace in power and acceleration with its major rivals and made for a very able, enjoyable hot hatch. It also came with the usual Leon benefits of a well-made and roomy cabin, and sound build quality all in a fine-handling and swift package.
The 2014 SEAT Leon Cupra acted as a barometer of how much power was required to be considered among the top tier of hot hatches.
Throughout its lifespan, this Leon Cupra's engine output steadily grew in line with what was needed to fend off lesser rivals and keep the Spaniard very much in the hunt with the best in class such as the Ford Focus ST, Honda Civic Type R and, of course, the Volkswagen Golf GTI.
So, the Leon Cupra began with 265PS when it was unveiled in 2014. That seemed like a lot of poke back then, especially for a front-wheel drive hot hatch and only the likes of Vauxhall Astra VXR could outdo the Leon.
To sort that, the Spanish firm introduced a 280PS version of the 2.0-litre turbo petrol four-cylinder motor in 2015. That gave way in short order to a 290PS iteration of the engine and that's what we have in the later five-door hatch models.
SEAT still wasn't quite done with upping the ante, though, and for the Leon Cupra Estate power was increased to 300PS. This also comes with four-wheel drive and the same seven-speed DSG twin-clutch automatic gearbox as the hatch.
Even then, SEAT offered a limited edition Cupra R model with 310PS. Finding one will be the trickiest part as only 799 in total were produced. You'll have similar problems tracking down the earlier Sub8 models built to mark the Leon Cupra lapping the Nürburgring in less than eight minutes, which is quite an achievement for any car.
Whichever Leon Cupra you choose, the brash wheel arches and colour schemes have been replaced with a toned down design and from a distance you'd be hard pressed to tell the Cupra apart from the standard Leon. Yet, under the bonnet, the new Cupra is still highly potent and tremendous fun.
The Leon is also renowned for its impressive handling and the Cupra builds on that. It may be one of the older members of the hot hatch brigade and now replaced by the Cupra Leon, which is part of a standalone sub-brand of SEAT, but it's still a very entertaining, enjoyable car to drive.
All models get a limited slip front differential to help deal with the power of the engine and transmit it to the road without the wheels scrabbling for grip. Use the full force of the Leon Cupra and the 290PS hatch will dispense with 0-62mph in six seconds, which is on a par with the class best.
However, it's the four-wheel drive estate model that steals the performance show and stands out as possibly the most practical fast wagon money can buy. It dashes off 0-62mph in just 4.9 seconds, making it quicker than Honda Civic Type R.
What do owners think of the SEAT Leon Cupra (2014 – 2020)? Check out our
Owners' Reviews
from people who live with the car day in, day out.
Reviews for SEAT Leon Cupra (2014 – 2020)'s top 3 rivals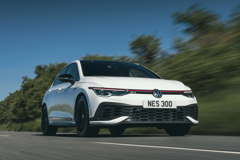 Volkswagen Golf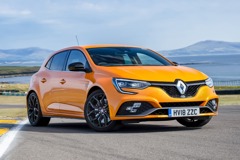 Renault Megane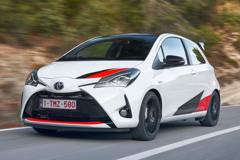 Toyota Yaris
Ask Honest John
Which hatchback should I buy?
"I have a fair budget for a used car, preferably a petrol hot hatch with reasonable MPG consumption and also suitable for everyday car use. I am thinking of something up to a 2.0-litre engine. I am looking currently at the SEAT Ibiza III FR, SEAT Leon Cupra, SEAT Ibiza VI FR, SEAT Leon, Audi S3, Audi A3, Audi quattro, Volkswagen Golf V GTI, and Volkswagen Polo V. Can you please advice me what is the best choice and also what are the most common issues with the above cars."
The current Ibiza Cupra 1.8 TSI or Polo GTI 1.8 TSI are good, but a Ford Fiesta ST goes and handles better. Avoid Audi A1, Ibiza and Polo with the 1.4 Twincharger engine and DSG transmission. Current A3 with EA888 engine okay; previous one had trouble with timing chain, piston rings and coking up of inlet valves. The current SEAT Leon FR 1.8 TSI with independent rear suspension is okay. I'd avoid the previous generation of hot Leon because they are ugly. Avoid Golf V and VI because they are the most troublesome cars recorded. Polo and Ibiza 1.2 with timing chains can have timing chain trouble. Check them all out at http://www.honestjohn.co.uk/carbycar/
Which performance Golf is best?
"I am struggling to decide which quick Volkswagen Golf to buy. Unusually, the diesel-engined GTD costs £500 less than the admittedly quicker and probably sharper GTI. On the other hand, the GTD is a lot less thirsty and has lower emission levels also. Both models are similarly finished inside and out. Maybe the deciding factor is that I drive fewer than 12000 miles a year, mostly journeys of 30 miles or less with a few longer trips thrown in. My head says GTD but my heart says GTI. What do you think? Of the two, is there a clear winner? Thank you."
Get the GTI, or a SEAT Cupra 290.
Buying a fast estate - Octavia vRS or Leon Cupra ST?
"I'm currently looking at buying a quick(ish) estate car. I'll be travelling approximately 10,000 miles a year, so petrol seems the best option for me. Having driven Skodas for some time, the Octavia vRS estate seems the obvious choice. However the Leon Cupra ST isn't a huge amount more to buy, especially when equipped as I would like, although the interior does seem a bit dull. Which car would you buy? "
The Skoda is a very solid feeling car but it gives away 60PS to the Leon Cupra ST so if it's poke you want the Leon wins. The other obvious contender is the Focus ST estate which journos generally reckon handles better, has 250PS (v/s 220PS and 280PS) but initially had a very dodgy ESC/Traction Control system that was best left switched off. Don't have a test of the Octavia VRS estate. Do of the others: http://www.honestjohn.co.uk/road-tests/seat/seat-leon-st-cupra-2015-road-test// http://www.honestjohn.co.uk/road-tests/ford/ford-focus-st-2012-road-test// Avoid the VAG DSG autoboxes. They spoil the cars.
Need a fast and comfortable car
"Are there any new cars on sale in the UK that are equivalent or superior in all respects to the ride, performance and safety of the 2008 Saab Aero 2.3 HOT 4dr Auto? This was my dream car before a reversing bin wagon changed its future. I've driven several other cars since, but nothing quite makes the mark. "
Presuming you need room as well as vroom, a SEAT Leon ST Cupra isn't too shabby: http://www.honestjohn.co.uk/road-tests/seat/seat-leon-st-cupra-2015-road-test/ Fair bit quicker than the SAAB with vastly better handling.
More Questions
What does a SEAT Leon Cupra (2014 – 2020) cost?