Toyota Corolla Verso (2004 - 2009)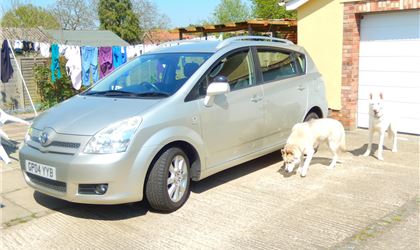 1.8vvti T-Spirit
reviewed by Anonymous on 24 May 2019
3
Tax/Insurance/Warranty costs
4
Cost of maintenance and repairs
4
How you rate the manufacturer
A very nice place to drive from.
I really like the vehicle. It's very comfortable so long runs impose no suffering. Versatility is its forte. With all the rear seats folding totally flat it becomes a van/carry-all. Around town is quite easy to use just 4 of the 5 gears due to what is perhaps a slightly under geared car, the 1.8 engine is long stroke so develops sufficient torque for that. Unfortunately the engine is the earlier series that uses oil, but since knowledge is power, then I check every 300 miles. (doing about 750 miles to the quart). Is it reliable? well yes, but ancillaries no so much. At 93,000 It needed a new Cat and 02 sensors (genuine Toyota from 60000mile wreck), cost £400.00 then at 98000 the aircon compressor went. £600.00 and because the clutch was "a bit weird" I had that changed. (previous owner a lady. just saying). So after 102000miles its cost £1400 plus service and MOT's -during which no faults found.
To date there is NO rust anywhere and paintwork excellent in silver. Alloy wheels need complete restoration, though second hand value not worth it. (only worth it to me).
Downside now is VED at £260 (must thank the DVLA)!! Buy another? well no Toyota doesn't to go down that road of MPV's, even as Hybrid. Shame on them. (all my repairs are by none Toyota agent.
reviewed by Anonymous on 25 April 2018
reviewed by Anonymous on 6 November 2017
reviewed by Paul Taylor on 2 October 2016
reviewed by mark Bu on 14 August 2015
reviewed by mark Bu on 27 January 2014
reviewed by LorrinB on 20 March 2013
reviewed by bulkedward on 10 November 2012
reviewed by TWOCARDAD on 30 April 2011
reviewed by markburnsw on 3 December 2010
reviewed by AKZ on 6 September 2010
reviewed by d_onions on 14 August 2010
Write your review
About this car
| | |
| --- | --- |
| Price | £14,890–£21,640 |
| Road Tax | G–I |
| MPG | 36.7–45.6 mpg |
| Real MPG | 94.1% |
Just reviewed...