Subaru Levorg (2015 on)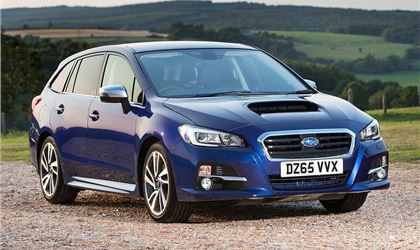 Levorg 1600 GT
reviewed by David B on 26 March 2016
5
Tax/Insurance/Warranty costs
5
Cost of maintenance and repairs
5
Experience at the dealership
5
How you rate the manufacturer
Great drive
I have been a Subaru driver since 2006. I started with an Impreza STI Spec D (turbo-charged 2.5 litres, 280PS) following a Rally School experience. This provided a brilliant drive over 3+ yrs and 65,000 miles. It was dependable, requesting only fuel and tyres (tyres are the downside of exuberant driving). But still, three sets in 65,000 miles is no great consequence for a car with its performance. I drove it 120 miles every work-day and regularly a 200 mile round trip in an evening. It was 100% reliable.
A change in lifestyle saw me move to a 2 litre Forester DX (diesel) that was also a pleasure to drive and 100% reliable over its 3yrs in my ownership; it provided comfort and ample luggage space for family touring holidays in some out-of-the-way places around Scottish mountains.
Next in line was a 2 litre petrol Subaru XV SE with CVT transmission. I bought this so that my wife could drive it, she suffering from an arthritic left knee (no need for clutch activation). This was also a 3yr driving pleasure; reliable, comfortable, adequate space and with the paddle-shift transmission it has sufficient get-up-and-go to overtake caravans and the like on country A roads. My mileage had come down a lot, covering just 21,000 in three years.

My first drive of a LEVORG was in September 2015 and it put a broad smile on my face. I was reminded of my Impreza days. The Levorg's 1600cc turbo engine provides a sparkling drive enhanced by the remapping Sport/Intelligent push-button; more comfortable but little to no loss of poise and feedback on twisting country roads; a very assured drive on Dunlop Sport rubber. In my view it lies at a mid-point between the impressive Impreza and the excellent XV.
It's good to see that a Subaru Levorg will feature in the 2016 BTCC in the hands of Colin Turkington and Jason Plato. I hope to cheer its success!

Nevertheless, it took me quite a while to make up my mind whether or not to switch to this new model. The reasons were not related to the drive, rather the host of electronic gizmos, which of course add to the cost and selling price. I offered my first opinions to Subaru UK through two local franchises – Smartphones and their Apps do nothing for me. The navigation system lacks a speed camera alert function. Because of this I think this 'media centre' should be an option but prefer to encourage Subaru to include a camera alert.
These opinions should not create an impression of anything other than a car that is excellent value for money. With everything thrown in, the price is every bit as remarkable as the drive. I checked out offerings from other manufacturers before making my decision, but anything of equal specification was significantly more expensive.

The determining factors for my eventual decision were the great drive, the CVT, comfort and then convenience through some of its technology. Following my first long distance drive from Derbyshire's Peak District to Falkirk in Scotland I was able to close out some of my remaining questions.

LED lights – I had no prior experience of LEDs in cars and didn't wish to find a reduction in visibility when compared with the HID headlights of the XV. I need have had no concerns; this type of lighting on murky country roads is just great.
I also found that the auto dipping of the headlights works effectively. Only on one occasion did an approaching driver flash his lights as we rounded a sharp corner over the brow of a rise in the road. But it was at the very instant that his lights dipped back, that my lights responded to the illumination ahead.
Drivers need to be prepared for the one, un-anticipated response when approaching road-side chevron signs. The modern, highly reflective surface acts as a mirror and the headlights dip when you might have preferred they stay on high beam. At some distance from tight corners at the end of a long straight, around fields in the Scottish Borders, you need good illumination. But you soon become accustomed and the chevron does not totally disappear from view. You can of course go to manual control but this means fiddling where the intention is to avoid this tedium on more busy roads.

Navigation – having decided to drive with TomTom in support but no planned route, I had the assurance of speed camera alerts and was able to compare the two maps and their voice activation.
I also had a question about map updates and this proved justified.
Navigation and voice guidance is good, but in comparison with TomTom there is room for improvement. Travelling along the A1 in Yorkshire, major road works have slightly realigned this dual carriageway. Over many miles the Navigation repeatedly advised me of "route re-calculation", yet the screen cursor was over the centre-line of the carriageway and the map showed the road continuing ahead! Cancelling the current route and calling for the same destination in a new plan seemed to stop this nuisance. The odd thing is that I did not have this same experience on the return journey, pointing to an algorithm shortcoming perhaps?
Traffic advice was spa*** and did not match what was being visually reported by TomTom.
Drivers also need to appreciate that the auto-switching from map display Day colours to Night colours will only function once you have switched the dash-board illumination to a setting below full brightness. I didn't find this advice in the Subaru manual.
Searching for Places of Interest – this doesn't match TomTom. I had to resort to it more than once. Example: The Kelpies at Falkirk, Scotland – completed in October 2013 these were not to be found, nor was the final road network shown on the search map beyond the final roundabout on the A9.
More frequent map updates, via the Internet, ought to be enabled rather than at 12 month vehicle service intervals. But clearly, the map of the UK, in some details, appears to be nearly three years out of date.
Another downside in comparison to portable navigation systems is the inability to plan a route itinerary in the comfort of home. Sitting in a cold car first thing in the early morning setting up such a route is an uninspiring prospect.

Voice recognition (navigation and telephone) – It took me a while to come to the conclusion that voice recognition in conjunction with the navigation system is in need of serious development. I could not get it to move beyond my calling for the navigation screen to be displayed. Example phrases are listed in the manual and example videos on the Internet show this function being employed to search for full town, street and house number addresses. But, in the silence of my garage the voice recognition was at best spasmodic and at worst, useless for this purpose. Only the touch screen method is reliable.
Voice recognition in conjunction with mobile phone calling, as was the case in the XV, is good and reliably consistent.

Radio – the addition of DAB is good, but switching reception between FM, DAB, AM and pre-set channels within each service by using the steering wheel mounted switches is a bit cumbersome. To use the touch screen is tedious due to the 'depth' of menu choice / selection. It is also easy to select the wrong item whilst using the touch screen on the move.

Fuel economy – drivers who like Subaru performance don't usually expect frugal fuel consumption. My first neck-to-neck tank-full was consumed along 300 miles of mostly motorways and dual carriageways and returned 34 mpg. The second full tank used over a mix of motorway and leisurely 'touring' returned 36 mpg. This is better than my 21,000 mile, real fuel consumption in the XV which returned a life-time average of 34 mpg and a best figure of 43 mpg on one occasion. The 'average fuel consumption' display appears to be closer to an instantaneous average, varying noticeably even after 2-300 miles. The same display in the XV was pretty much un-varying after this distance.

Auto-start/stop – this seems to be a lot better tuned to the vehicle conditions than it was in the XV where the engine restarted very quickly under all conditions (just a few seconds), so was of no benefit in terms of fuel saving.

Auto parking brake release – there are still circumstances, which I have yet to fathom, in which the parking brake does not release in response to just pressing the gas pedal. Again, the Subaru manual is short of information giving the impression that it should always work.
I can't really see a meaningful application for the hill-hold button which, as described, is a bit like a pre-selector for applying the parking brake as you come to rest on a steep hill. But since you are slowing down using the brake pedal anyway and there is no gear stick to jiggle, reaching for the parking brake button is no great shakes – unless there was worry on the part of Subaru designers that it could be applied prematurely. But surely that is true with a lever-actuated parking brake too?

Reversing camera – there is a feature referred to as "Back camera delay control". This is not explained but experimenting reveals that when turned ON the camera continues to show the rear view for a few seconds after selecting forward (D). This may be seen beneficial to drivers who unavoidably must reverse into a busy street; it provides a final chance to view rearward approaching traffic before moving off. Coupled with the rear-facing radar audible warning and visual alert in the door mirrors, just about everything has been done to provide good special awareness.

Comfort – I had worries when I saw the 18 inch wheels and low profile tyres; its low ground clearance was also in stark contrast to the 7 inches of the XV. But the comfort level is somewhat improved over the XV on its 17 inch wheels. The load area is generous with useful under-floor spaces.

Like all manufacturers these days the manual is a cumbersome read; too much of it is devoted to risk statements about driving safely and danger to life (you'll get my sarcasm) which is repeated unnecessarily. What it covers extensively in these respects is balanced by its lacking advice about the benefits and circumstances in which various vehicle features operate. It just explains "this is what you have" and not the 'why'. And too many features are explained poorly or not at all.
Write your review
About this car
| | |
| --- | --- |
| Price | £30,010 |
| Road Tax | G–H |
| MPG | 39.8 mpg |
| Real MPG | 83.0% |
Just reviewed...