Skoda Superb (2015 on)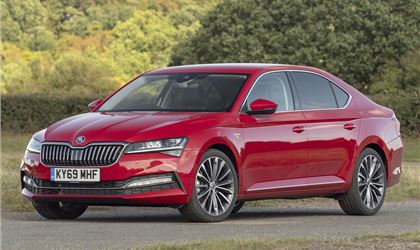 280 PS 4x4 Laurin & Klement hatchback
reviewed by groaver on 21 September 2019
5
Tax/Insurance/Warranty costs
4
Cost of maintenance and repairs
4
Experience at the dealership
5
How you rate the manufacturer
A bit of a sleeper
It's an odd one, the Superb. It sort of looks like a VW model but has little design touches to make it feel a bit different.
The interior is massive and the leather in cream looks and feels costly.
So many electrical toys that you wonder what will start to go wrong when the warranty ends.
The 2.0 turbo puts out 276 bhp and it sure can shift this big car when it needs to.
Most of the time it wafts along serenely with its DSG box.
An early use average of 29 mpg is an indication that it won't be particularly fuel efficient.
The legroom is ALL you could ever want, especially in the back.
The boot is enormous, I strained my back trying to reach a bag located at the back of the seats!

I love its fairly bland anonymous looks despite the power it hides under them.
Things to change? The first owner spec'd 19" alloys. They look nice but I don't think they do anything for the ride even with the help of the adjustable dampers.

21.09.19
Update:
Car given an oil service this week. Tecnician noticed a broken coil spring at rear of car.
Skoda immediately paid for it as a warranty job.

After a bit of running around by the dealer managed to get a loan car as the part was on back order.
Now back and running fine again after five days.
Those 19" alloys are to be avoided if you are choosing new. They ruin the ride.
Had a summer holiday run over 350 miles where the car managed to achieve 40mpg. Great for such a big car with so much power.
Not much I'd change about the car other than the wheels.
Still a highly recommended spacious car.
reviewed by Alan Brady on 23 April 2019
reviewed by Anonymous on 21 October 2018
reviewed by H Roy Harper on 27 September 2018
reviewed by Bryan Sharpe on 30 July 2018
reviewed by Bryan Sharpe on 30 July 2018
reviewed by Christopher davies on 15 October 2016
reviewed by jayemm on 23 June 2016
reviewed by prdisaac on 14 April 2016
Write your review
About this car
| | |
| --- | --- |
| Price | £24,430–£38,830 |
| Road Tax | A–G |
| MPG | 39.8–76.4 mpg |
| Real MPG | 79.4% |
Just reviewed...