Skoda Superb (2015 on)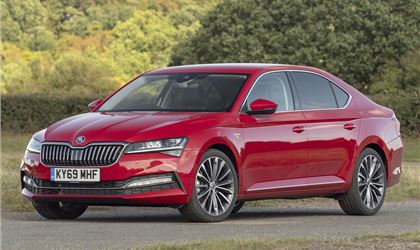 1.5TSI 150ps Act SE 5dr
reviewed by james VV on 9 June 2020
4
Tax/Insurance/Warranty costs
3
Cost of maintenance and repairs
4
Experience at the dealership
5
How you rate the manufacturer
Very spacious,comfortable well built car which is a pleasure to drive,
Got this car as I enjoy having a big car feel with lots of room inside,a large boot and it needed to be comfortable.I got the 1.5 tse petrol as I wouldn't cover nearly enough miles to justify a diesel.
Have to say since I got the car it has been everything I hoped for regarding space and comfort. When the wife's driving it I like to sit in the back where there is limousine like legroom.I have had a couple of small niggles,the start/stop stopped working a few weeks back and there's a very annoying jerking in first gear usually when cold which reminds me of what we used to call "kangaroo petrol" many years ago.
There's also one major problem in my opinion,when I was ordering the car I told the salesman I wanted the SE model and that was no problem.I eventually picked up my new car and drove it the 30 miles home,all was fine.It was only next morning I came out with the wife,she was going to drive.She got in and as it was raining she went to switch on the rear wiper.we both searched a good 10 minutes for the switch before realising there was no rear wiper fitted.
Now having owned too many cars to mention I have never heard of a hatchback car with no rear wiper,so I rang the dealer to find out why,I couldn't believe it when they told me the rear wiper on my car was a "no cost option',but I had to ask for it when ordering the car!
I honestly found that the most ridiculous thing I have ever heard,why would anyone not want a rear wiper on a hatchback?.Anyway they apologised but said there was no way to add one now.This leaves us now in wintertime if the rear windows misty,frosty or with snow on it having to clear it before leaving,and when it rains there's little vision through it.I am using a spray which beads the raindrops,this helps but it's a problem I think should never have arisen.
Will I buy another?definitely it really is a lovely car but I will certainly make sure next time I specify a rear wiper.
reviewed by Anonymous on 21 September 2019
reviewed by Alan Brady on 23 April 2019
reviewed by Anonymous on 21 October 2018
reviewed by H Roy Harper on 27 September 2018
reviewed by Bryan Sharpe on 30 July 2018
reviewed by Bryan Sharpe on 30 July 2018
reviewed by Christopher davies on 15 October 2016
reviewed by jayemm on 23 June 2016
reviewed by prdisaac on 14 April 2016
Write your review
About this car
| | |
| --- | --- |
| Price | £24,430–£38,830 |
| Road Tax | A–G |
| MPG | 39.8–76.4 mpg |
| Real MPG | 79.7% |
Just reviewed...