Peugeot e-208 (2020 on)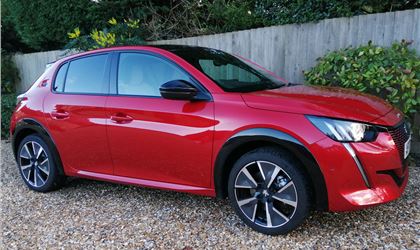 GT
reviewed by Andy Penny on 21 February 2021
5
Tax/Insurance/Warranty costs
5
Cost of maintenance and repairs
5
Experience at the dealership
4
How you rate the manufacturer
An amazing introduction into Battery Electric Vehicle (BEV) ownership!
I probably made more big decisions in deciding to buy this car than ever before. Are we really ready to down-size from a mid-size SUV to a Super-mini? Are we really happy to change to a non-premium brand? Of course the biggy was, is this really the right time to change to a BEV?

The Peugeot Design Studio are at the top of their game at the moment. The body panel crease lines perfectly accentuate the features of the car, like the muscular rear haunches that I love. The bonnet side flutes that accentuate the aggressive look from the front together with the 3 element Lion Claw lights. The front grill is also a great design feature and it exemplifies Peugeot's attitude to their model range. You don't have to use weird, extrovert design features on BEV's like so many other manufacturers do. They have come up with an excellent design elements that you can choose to have with petrol, diesel or electric propulsion. But, for those in the know, on the EV they colour match the grill highlights to the body colour, so subtly distinctive but not "gob smackingly" different.

The e208 has similar acceleration to one of my favourite late 80s/early 90s hot hatches, the Peugeot 205 1.9 GTI, at just around 8 secs. The beauty of






The e208 GT was the top of the range when I bought mine
Write your review
About this car
Just reviewed...